Ukrainian interior designers have been putting themselves on a design map by creating striking, unique, visionary interiors where colours, shapes and textures are mixed perfectly together. I've gathered different style interiors from wabi-sabi to revisited luxury industrial and playful visionary ones. Let's discover my selection of Ukrainian interior designers that have caught my attention!
Pin images to read later!
FAINO DECOR
Khrystyna, interior designer and her husband Nikita, artist and architect, can be found under interior design studio Faino Decor, based in Kyiv. This amazingly colourful and thoughtful interior immediately caught my attention. They explained that they had so much fun designing this space which awakes creativity. Despite the abundance of various items, there is air in the apartment. And its own paradoxical harmony.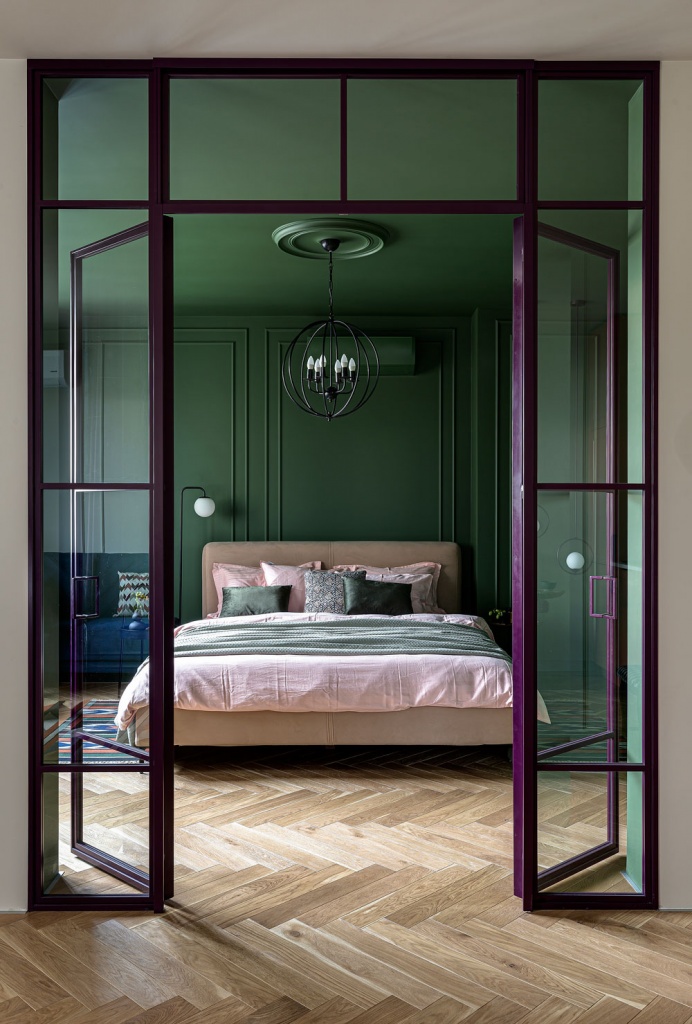 More inspiration:
LERA BRUMINA
Lera Brumina is an interior designer and a printmaker based in Kyiv. Her residential projects are inspired by Scandinavian design, are calm and soothing. However I have also found this colourful and cheerful bakery cafe which is indeed visionary and futuristic.
SOME OF HER PRIVATE INTERIOR DESIGN PROJECTS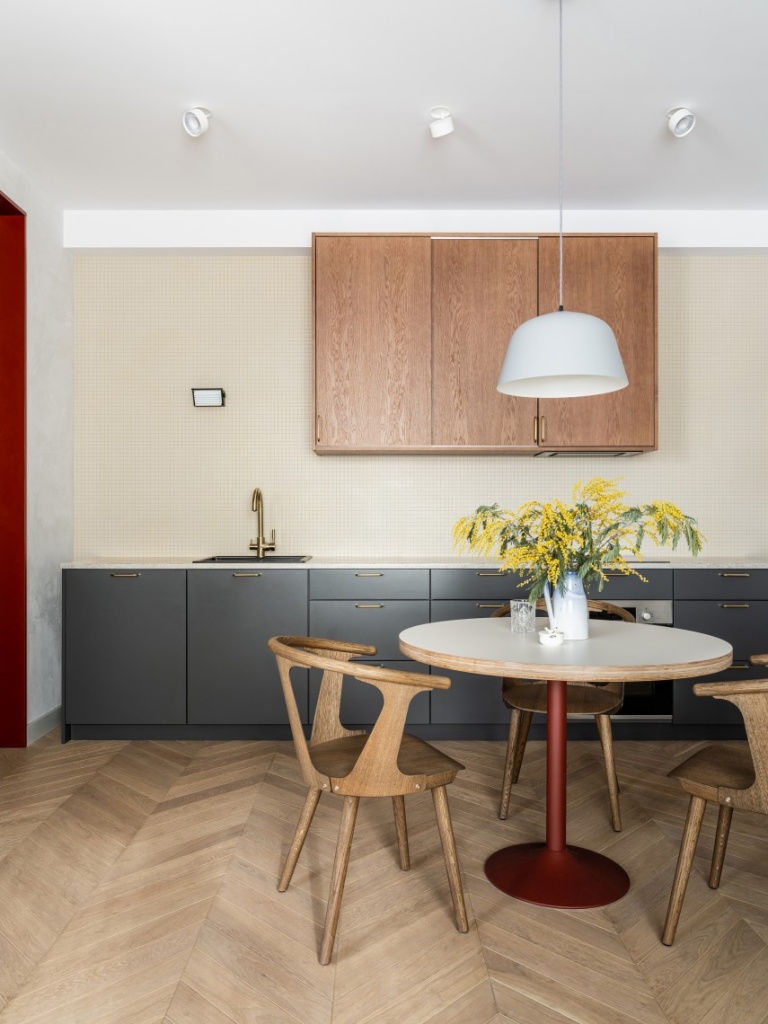 MAKHNO DESIGN
Serhii Makhno is a ceramist, interior designer and Makhno Design studio owner. His Wabi-Sabi approach is seen in many of his interiors. I would emphasise his own house where this Japanese technique as well as Biophilic design is strongly present. There are many textures, natural materials and elements as clay, stone, cement, wood and metal which create a cosy mood. He thinks out of a box as a visionary and brings nature closer to people.
Another breathtaking Makhno Studio project
ROSE HOUSE
BALBEK BUREAU
Balbek Bureau caught my attention with their sixth designed "This is Pyvbar" bar. A mix of copper, microcement, scandinavian design furniture, wood, Shou Sugi Ban wood burning technique and much more.
THIS IS PYVBAR
Another award-winning project of theirs is beauty studio "Say No Mo". The owner is Canadian and she knows that in order to make clients happy and comfortable, interior design needs to be more interesting than basic. That's why she adressed to Balbek Bureau.
SAY NO MO
NOOM
Noom is an emerging Ukrainian design brand specialising in furniture, lighting and decor. Company was founded in 2017 by industrial designer Kateryna Sokolova and designer, entrepreneur Arkady Vartanov. They have more than 10 years' of experience in fabricating bespoke furniture pieces in their workshop in Ukraine. They also collaborate with high-end brands as Ligne Roset, Forestier, Bolia and others.
Their design approach is to create furniture that can be passed from generation to generation. Noom furniture connects art with design in perfect proportions.
RINA LOVKO STUDIO
Rina Lovko is Kyiv based boutique design studio, designing residential and commercial interiors. Her style is very modern, yet colourful. I love that she uses colour blocking technique in some of her interiors.
BLUE TERRACOTTA
On the contrairy, her office space looks very warm, homey, as if you visited a friend in Paris, and not an architect's office. I love various textures used like raw walls pairing with soft crawling plants, vintage collectibles with old bricks and much more.
ARCHITECT'S STUDIO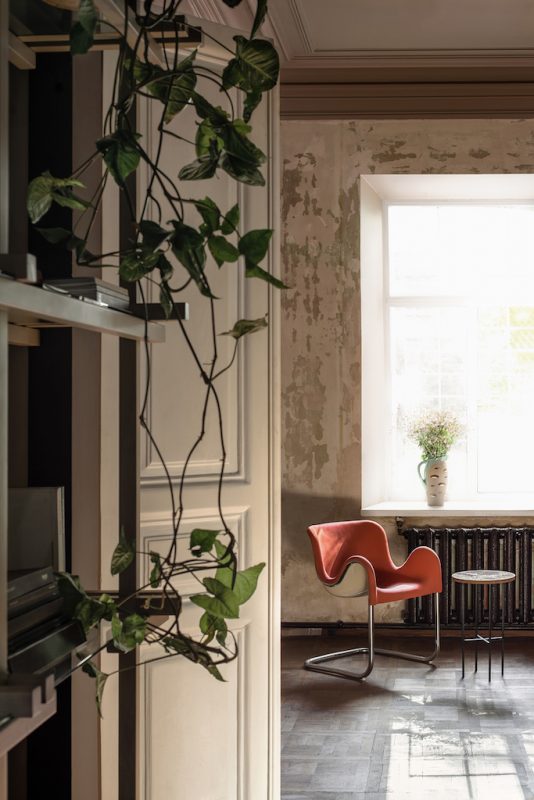 ATER ARCHITECTS
Ater Architects is an architecture and interior design studio founded by Alexander Ivasiv and Yuliya Tkachenko. They create modern residential, commercial and healthcare interiors, where they are not afraid of using bold colors. Just take a look how fresh these projects are!
OKSANA DOLGOPIATOVA
Oksana Dolgopiatova is a niche interior designer who creates stunningly eclectic yet very timeless interiors. She has amazing skills to mix french classics with raw materials, vintage with industrial, and adapting interiors to clients' needs.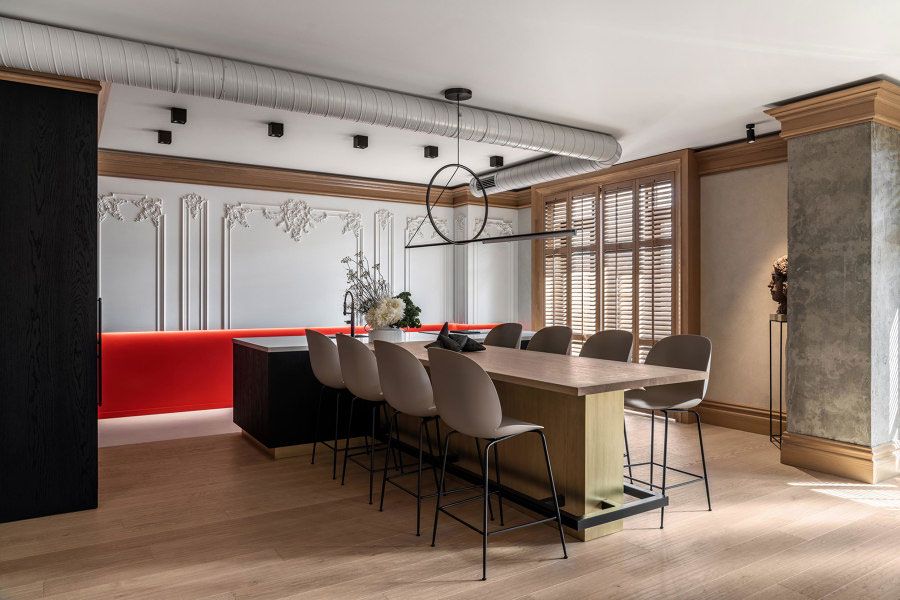 YAKUSHA
Yakusha is a multidisciplinary design studio, specialising in interior design, architecture, creative direction and product design FAINA. Their design credo is creating a "living design", with a tight connection to nature.
FAINA is authentic collection of decor, lighting and furniture, and with the events of 2014, it takes roots back to their heritage, their culture and represents modern Ukrainian design. They have a gallery in Antwerp.
Follow AUTHENTIC INTERIOR on Instagram for more inspiration, backstage and news.

Are you a design decor brand, interior designer, a hospitality space, artist looking for unique content created for your brand? We are professionals in this field and can help you grow – please use contact form and we'll send you media kit.