First of all, happy 8th of March! Would you be an office worker or a freelancer as I am, we must be happy that we can go to work and do everything we love. Today I chose to talk about interior design female icons of yesterday and today, because it's such a nice day to be inspired to do what you love to do. 
This is my "office" where I am writing this blog (yes, I love sitting on the floor and be inspired looking through my findow which you'll see some time later). Some beautiful flowers, a nice design notebook and, of course, coffee. And music, obviously.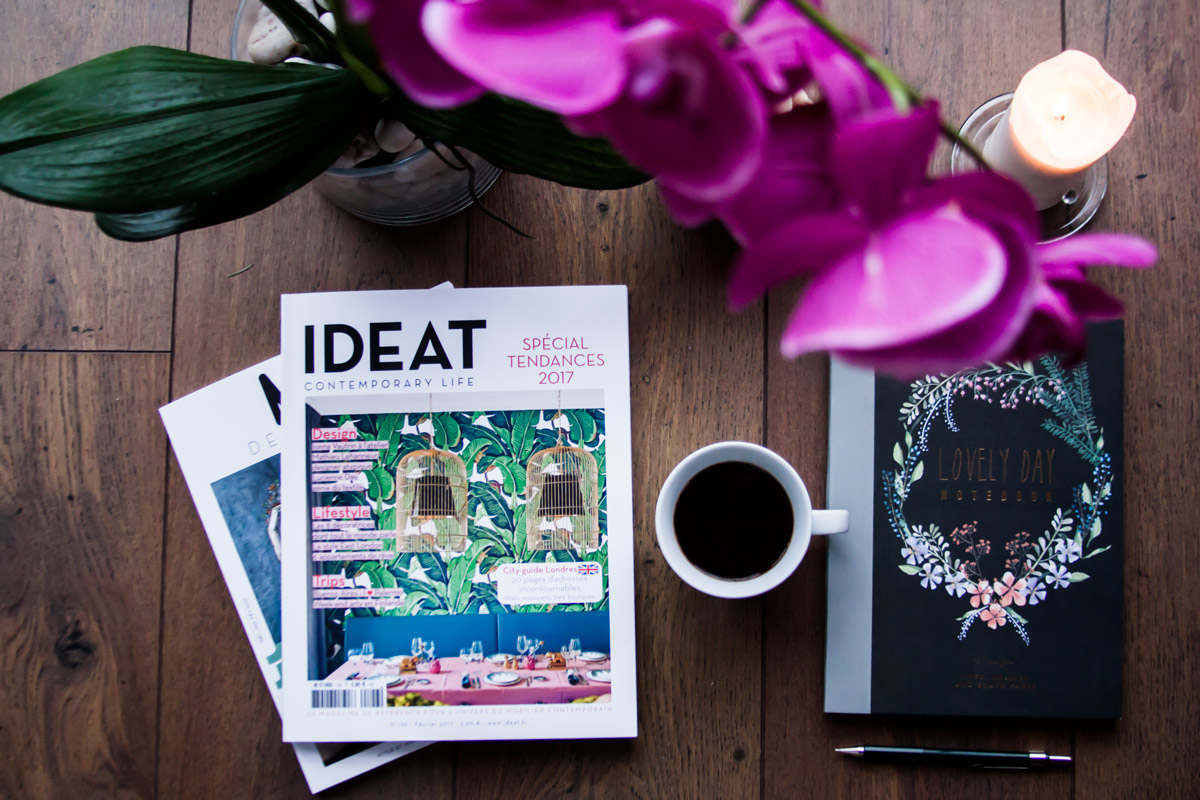 Interior designers' work and accomplishments, that are presented today, haven't been so easy and accessible for women. In early '60s women still didn't have many opportunities to enter the workforce and to become equal with men. Women could choose decoration, later interior design, as one of several existing professions for women, to enter the male-dominated workforce and try to survive between the sharks.

"A good example of this gender bias is mentioned in an article titled "Is the design's world still a boy's club?" that states Le Corbusier's response to Charlotte Perriand when she requested to join his studio and work in his architecture firm: "We don't embroider cushions here." This clearly presents the undermining of women designers at the beginning of the modern movement".
One of the most famous interior designers of '60 were Elise de Wolfe (first woman decorator), Dorothy Draper, and Sister Parish. Unfortunately, women's accomplishments and contributions in this field have been counted as unequal compared to the same amount of work added by men.
Even today, 60 years later, the same problem occurs when talking about women rights, recognition and equal salaries. But let's talk about good things, for example designs that these amazing women created a century ago.
My list of inspirational female interior designers:
Interior Design Female Icons #1: Dorothy Draper
Dorothy Draper, XXth Century iconic interior designer and decorator. Her signature were bold colours as well as black and white tile floor. Even a century ago she used jungle pattern wallpapers, velvet sofas, her colour choices for wall coverings were really spectacular, even compared with nowadays most of interiors. Overall, her interiors are artistic and scenographic, which I love a lot.
Interior Design Female Icons #2: Sarah Lavoine
Sarah Lavoine is a modern French interior designer and boutique owner. Her style could be described as timeless, chic and ethnic. Her signature colour is blue with some green, which matches well with black and white. I like a lot her boutique interior and how she matches different shapes, styles and textures. 
Interior Design Female Icons 

#

3: Abigail Ahern
Abigail Ahern is a famous interior designer, boutique owner, flower specialist, author. Her taste in decorating astonishes British Vogue, Gwyneth Peltrow, The Independent. She decorates a lot with inky dark moody colours, artisanal objects and fresh greens.
"SHE CHANGES THE FEEL OF A ROOM WITH HER KNACK FOR ARTFUL ARRANGEMENTS" – GWYNETH PALTROW
Interior Design Female Icons #4: Kelly Wearstler
Kelly Wearstler's eponymous global luxury lifestyle brand is renowned for its distinctive designs and sophisticated soulful vibe pioneered by the celebrated interior designer. Her eye for matching colours and patterns amazes me.
Who is your female icon? Maybe she is a stylist, designer, inspiring person? Let's talk about it on my facebook page!
(If you want that I remove some of the photos or correct credits, please contact me).