Uchronia, French interior design studio, invites you to discover "

Forest Marseille

"

restaurant

in Marseille, where culinary delights take you on an unforgettable sensory journey through nature, creativity, and sharing. After Forest Paris, it is time to go South. Located in the picturesque La Joliette district of Marseille, this restaurant was born out of the passion and vision of renowned chef Julien Sebbag. The warm and authentic interior design, brought to life by talented interior design studio "Uchronia", beautifully reflects the magic of South of France.
As you step into the restaurant, you are welcomed by a stunning crudo bar adorned with terracotta bricks and a marble top. The main dining area boasts orange banquettes and custom-designed chairs, with tables featuring enamelled lava-stone tops. The rust and earth-toned fabrics, made and custom-dyed by Royal Manufacture Bonvallet, envelop the chairs in cozy comfort. The terracotta pendant and wall lights exude a warm, intimate ambiance.
Don't forget to pin photos to save it for later!
Forest Marseille's cuisine is sensitive and benevolent, taking you on a multi-sensory journey through nature and creativity. The menu constantly changes, reflecting the seasons and the availability of local products. Chef Julien Sebbag's instinctive cooking style creates unique and surprising dishes that burst with flavor and texture. The octopus is a must-try, cooked to perfection and served with a fragrant aioli. The crispy-skinned duck breast is another favorite, with tender meat that melts in your mouth. For dessert, indulge in the refreshing and sweet strawberry sorbet with basil and lime.
"The decor of Forest Marseille is the solar counterpart of Forest Paris. A world enamored with the warmth and authenticity of the South", explains Julien Sebban, the founder of the multidisciplinary collective Uchronia, already at the origin of the restaurant concepts Forest Paris and Créatures on the roof of Galeries Lafayette Haussmann."
The arched Mediterranean blue alcoves create a warm, cozy yet intimate atmosphere, wrapped in a tonal blue banquette that surrounds a sculptural round tabletop of textured resin atop a voluptuous glazed ceramic base from Ravel pottery. Not to forget objects of curiosity such as shells, coral, and butterfly collections adorn the setting, as if washed up on shore. The plates, designed by ceramist Emmanuelle Roule, seem to emerge from the table itself, seamlessly fusing art and material.
The Forest bar, located at the back of the restaurant, beckons you to its radiant core under a dazzling dome of shattered stained glass. With its reflective metal lining, the round space appears like a kaleidoscope, reflecting the warm tones of its surroundings. Here, the skilled bartenders prepare elixirs and cocktails that leave a lasting impression.
Julien Sebbag, the self-taught chef, found his inspiration in Marseille after the opening of Forest Paris. He reconnected with the city and its fragility, which inspires authenticity. Marseille's encounters, freshness, flavors, and omnipresent nature give rise to new ideas and vibrations. With Forest Marseille, Julien invites you to a unique cooking experience, without copying and pasting from Paris, always made from the heart and instinct. A cuisine without cliché, which loves local products, craftsmanship, and reflects the different facets of Marseille culture.
More than just a restaurant, Forest Marseille invites you to connect with nature and each other. The sharing plates are designed to spark conversation and bring people together. The terrace offers stunning views of the Mediterranean sea, making it the perfect spot to relax and soak up the beauty of your surroundings.
Forest Marseille is a restaurant that promises an unforgettable experience. The warm and authentic decor, sensitive and benevolent cuisine, and instinctive cooking style of Chef Julien Sebbag make this restaurant a must-visit for anyone looking for a multi-sensory journey through nature, creativity, and sharing.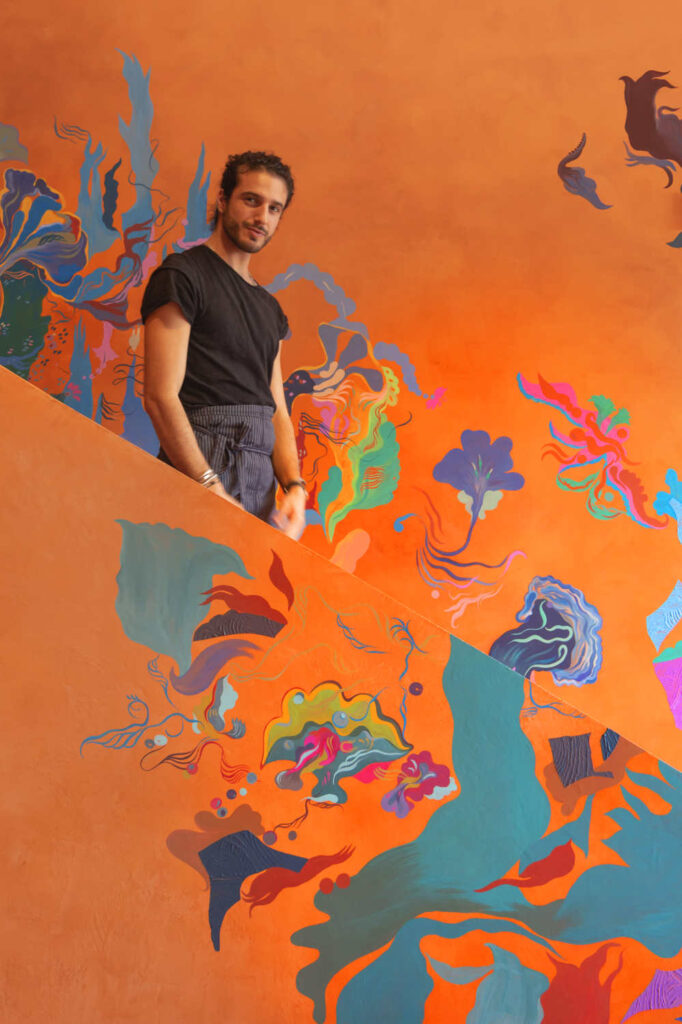 Location: "Forest Marseille"
Interior design: Uchronia
Photographer: Damien Fournier
Follow AUTHENTIC INTERIOR on Instagram for more inspiration, backstage and news.

Are you a design decor brand, interior designer, a hospitality space, artist looking for unique content created for your brand? We are professionals in this field and can help you grow – please use contact form and we'll send you media kit.