Let's travel to Seville – one of the most charming cities of Andalusia in South of Spain to discover Naked and Famous. It is a cocktail bar located in the center of Seville and designed by the renowned architecture firm Lucas y Hernández-Gil Arquitectos. Cocktail bar Naked and Famous is a stunning example of how uniquely designed spaces can enhance customers' experience. Design studio avoided traditional imagery of cocktail bars to establish new codes based on the essence of cocktail: the mixture of different elements in a new harmonious combination.
Don't forget to pin images to read later!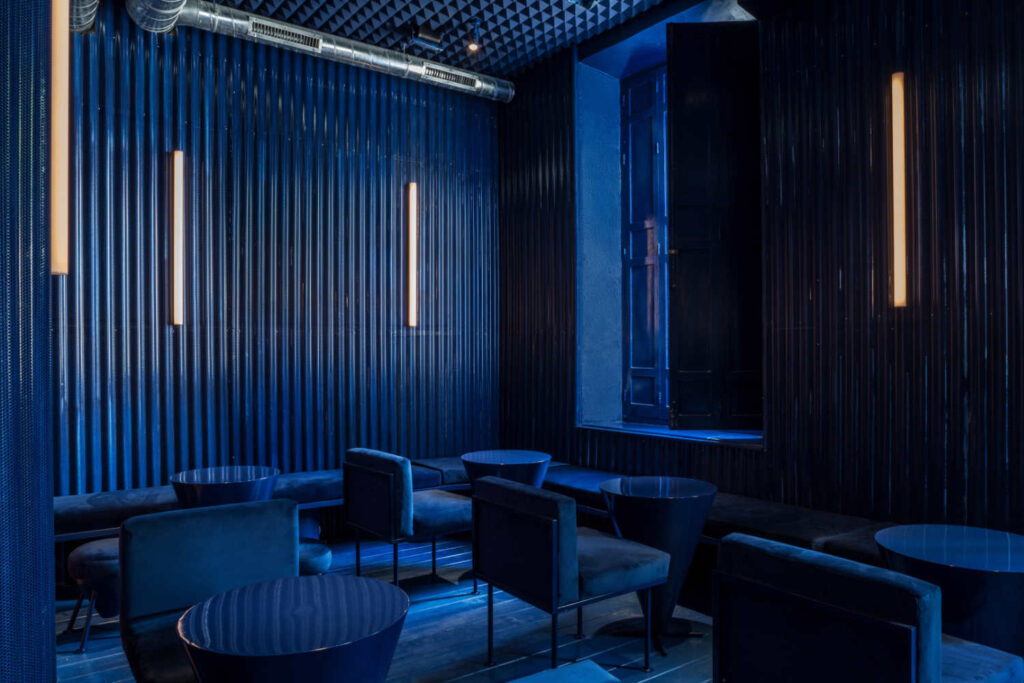 The design of the space is heavily influenced by light and color, taking inspiration from artists such as Dan Flavin, James Turrel, and Milton Avery. By using saturated tones, the atmosphere establishes a strong connection between visual perception and the sense of taste. The project is conceived as a sum of fragments, with crossed views and motion between the different rooms creating a sense of meaning through mixture.
Naked and Famous is an extraordinary example of how design can create a unique and unforgettable drinking experience.
As the day turns to dusk and night, a chromatic and light duality emerges, interrupted by the metalized shines of aluminum and steel. This game of contraries is also expressed in the materials used throughout the project. The space is built from sensitive and constructive premises, resulting in a functional scenography.
The design of the space comes from the abstract configuration of the rooms, the space's possibilities of representation and performance, as well as technical solutions in search of better acoustics. The materials used, such as acoustic foam, wood, stone wool panels, aluminum, and undulated metal sheets, generate textures that relate to the arabesques of Sevillian tiles and dialogue with the original forge elements of the building.
Location: Cocktail Bar Naked and Famous
Interior design: Lucas y Hernández-Gil Arquitectos
Furniture: Kresta Design
Follow AUTHENTIC INTERIOR on Instagram for more inspiration, backstage and news.

Are you a design decor brand, interior designer, a hospitality space, artist looking for unique content created for your brand? We are professionals in this field and can help you grow – please use contact form and we'll send you media kit.