In today's post, I'd love to show you an exciting rental project I did for a private client in Paris. The apartment is located in a dreamy Chaillot area near Passy Water reservoirs and Arc de Triomphe in Paris XVI. The property is filled with lots of natural light and offers magnificent views straight to the water. We can even spot the Eiffel Tower.
The brief was to create a welcoming, modern yet cozy space filled with original art, modern and vintage timeless furniture and collectibles, mixing them with some already client's owned furniture and art. The most important task was to source an exceptional dining table for 13 people to make family and friends' jaws drop and make client's heart jump from excitement. The client wanted to feel herself at home for the next several years of living at this rented property and wanted this interior to be her own reflection.
First of all, we took care of the space planning to decide how to use 6 rooms in the house. 3 of them are living spaces – living room, home office, and dining area, and 3 others are bedrooms. After a meticulous client analysis, we came up with a plan and took action. White walls and French moldings were the perfect canvas to welcome interesting design furniture, colors and art.
We also sourced unique, interesting pieces of art as well as furniture. What is the most exciting about sourcing hand-made, vintage or designer pieces is to learn their origin and the "why" – the real meaning of the design.
Let's take a tour of some of the spaces of this home!
When entering the apartment, clutter-free entrance invites to see more. Original artist's objects find its place in the spacious white space. Noble materials as wood, marble, brass, make statement. Finding the balance between the white space and a pop of colour. Sculptural curves meet sleek lines, heartwarming accessories, curated art and sourced vintage pieces make this house THE home.
Hallway has been chosen minimal and clutter-free. It accommodates a vintage sourced console and with its sleek shape it does not overwhelm the entrance as well as the view to the dining room. You can take a glimpse to a unique armchair, made of a welded inox with a mirror finish, created by Julian Mayor. We chose it as an investment piece as it is a limited edition and signed by the artist.
As you can see below, I've boldly married aluminum vintage Wassily chairs, a bronze sculpture, dark green marble-wood-brass coffee table, golden art, black floor lamp, copper decorative light, golden candle holder in one living room. Does it look chaotic? No. It has a cohesive and curated look despite mixing different materials. We played with form and materials. You can meet different textures and materials when looking at a different angle, which makes this room complete. And we found this amazing vintage style kilim to connect every piece together. The client's already owned Togo sofas are quite low so we have been looking for the armchairs of the same height so that everyone can sit equally.
Client already had the furniture for the master bedroom. We finished it up with the original canvas above the bed, added beautiful linen curtains and finished with a timeless table lamp "Ktribe" by a famous French designer Philippe Starck for Flos, meant for great evening reads and inspiration.
14-year-old girl's room's theme has been inspired by the tropics and this is the most fun room from the whole apartment. I sourced this vintage sourced wardrobe which has hand-painted doors, limited edition straw side tables with velvet drawers, linen curtains as well as a table lamp by modern French designer Sarah Lavoine, handmade Jujus as well as a unique one of a kind hand-made kilim make a perfect colourful statement on the white walls. There is still lots of space for self-expression!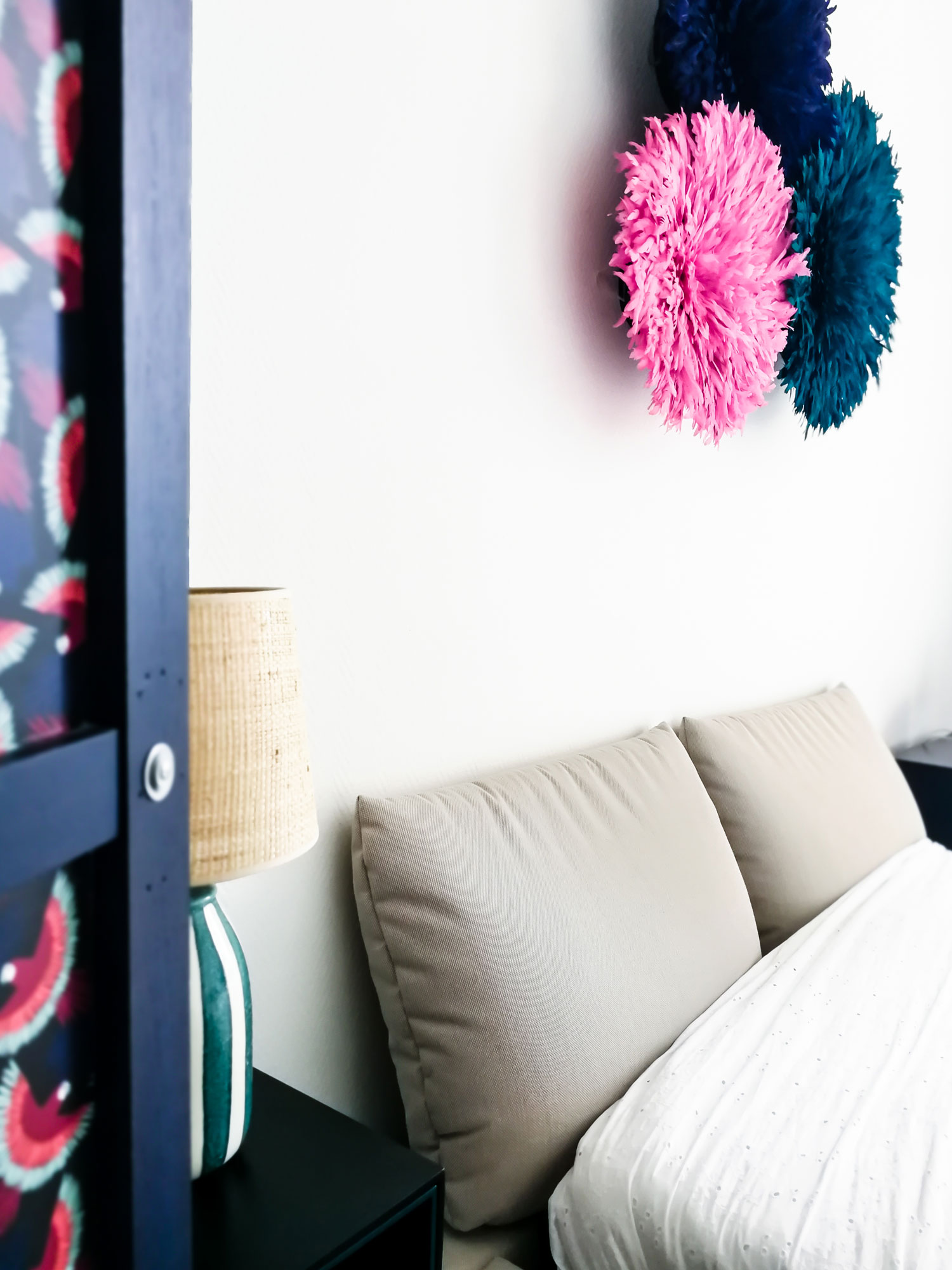 The office has been designed airy and clean. Inspiration has been taken from the existing white office desk and orange vase you can spot on the desk. Bookshelves have been chosen white so that it blends with the walls. Accessories, vintage orange chair, artwork and beautiful table lamp have been chosen in blue and orange to make a complementary statement on a blank canvas. I was lucky to find this exceptional, elegant, limited edition desk lamp "Model 548" which make a statement in this home office. It was designed by Gino Sarfatti in the 1951 for Arteluce and re-proposed by Flos in a new modern version.
For the dining room, I was able to find a limited edition dining table, created and signed by Julian Mayor which has been chosen as a perfect investment piece. Ir order to accommodate 13 people we had to enlarge the glass top.
Just take a look at this amazing welded inox skeleton core! We also matched a unique chair from the same collection as a separate piece of art. And for the dessert, a pendant chandelier completes the room and gives a really stunning, intimate light for perfect dinner conversations.
Interior design & Photography: Aida Sniraite, Authentic Interior. All rights reserved.
Here you can read more inspiring posts about French Design.
Follow AUTHENTIC INTERIOR on Instagram for more inspiration, backstage and news.

Are you a design decor brand, interior designer, a hospitality space, artist looking for unique content created for your brand? We are professionals in this field and can help you grow – please use contact form and we'll send you media kit.