Milan is considered to be the queen of marble, brass, formica, wood veneer and it can be seen in all the interiors and buildings entryways. You will see abundance of marble everywhere you go – from residential buildings to cafes, restaurants, museums. Usually Milan is imagined as luxury shopping city and it is true. But there are many other interesting events like Milan Design Week, Fuorisalone, Fashion Week etc during which you are able to discover city in another way. For example, during Milan Design Week the whole city becomes a museum or an exhibition centre. Thousands events happen during one week only, and usually closed historical places become available to visit for public.
During my stay in Milan I usually start my day with the best Cappuccino and corneto while planning my day. For the lunch I usually stop to grab a bite as piadina (must try when in Milan!), then a gelato (ice-cream) and more coffee, and finally, in the evening usually participate in some events and relax sipping Aperol-Spritz.

So let's discover some instagrammable cafes in Milan to feel Milanese vibe!
And don't forget to pin images to save the article for later!
7. The Manzoni
The Manzoni, created by Tom Dixon studio, has its own showroom, restaurant and the shop. This restaurant is more like an experiment, where the food is being served on a theatrical background. Although the restaurant showcases British design, but it represents Milanese vibe and values. It has well researched bold choice of materials like marble, brass, metals and wood, not to mention textures and colours. Totally worth a tour to see this instagrammable cafe in Milan!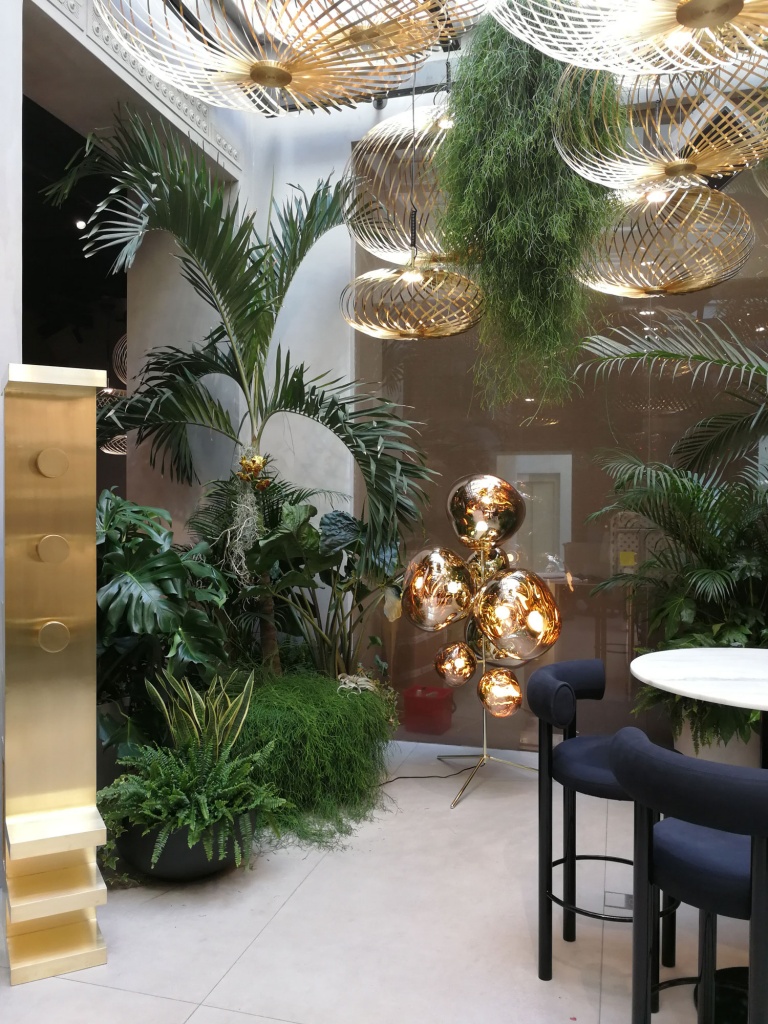 More inspiration:
6. God save the food
District: Piave
"God save the food" is a modern restaurant designed by Storage Milano, located in Piave district of Milan and is perfect to feel Milanese vibe during Milan Design Week or simply while travelling. There are 4 of these restaurants in Milan but the owners wanted this one to be different. Designers had a challenge to design a comtemporary place which would be open from morning until night. It is a perfect place to enjoy the food if you want to be in a modern space but yet discover Milanese interior materials and shapes like marble, wood, furniture design and a lot of brass.
You may like these articles:
5. Bar Luce
If you visit Fondazione Prada, you can enjoy coffee with a dessert in this place, designed by Wes Anderson. Bar Luce recreates real Milanese cafe feeling by using veneered wood wall panels, formica furniture, floor as well as colour palette from the 1950s and 1960s.
4. Motta Milano 1928
District: Duomo
Motta reopens inside the "Il Mercato del Duomo" flagship store. It offers a new concept of hospitality. Motta restaurant's design is described as a "continuous flow of sensorial experiences connected to the gastronomic offer, to the architecture that envelopes it, and to the dynamism of the dismantled geometry of the marble floor, which climbs sculptural walls in mirrors and glass".
When entering the space you can feel Milanese vibe as rounded retro counters with walnut and brass details, marble flooring, a brass clock, inspired by the 20s, and of course, a spectacular view of the Duomo.
3. Gerry's Bar
District: Brera
Gerry's Bar is located in Brera district, within a "Grand Hotel et de Milan". Interior design has been revisited by DimoreStudio, designers who respect history, tradition and modern living. You will be amazed by a spectacular choice of soft furnishings and antique details within this historic building.
2. Caffè Fernanda
District: Brera
Caffe Fernanda, which is part of the reconstruction of Pinacoteca di Brera is designed by Rgastudio. Interior offers classic petrol blue colour on the walls, matched with walnut tables and a bar, as well as peachy marble on the floor. Besides seating inside, you can of course enjoy sunny terrace.
1. Ristorante Teatro alla Scala il Foyer
If you want to experience theatrical dining – Il Foyer, designed by Michael Vincent Uy, is for you. From the early morning up to the late night you can come and immerse yourself in a perfect blend refined design and theatrical interior.
Which cafe/restaurant did you like the best?
Follow AUTHENTIC INTERIOR on Instagram for more inspiration, backstage and news.

Are you a design decor brand, interior designer, a hospitality space, artist looking for unique content created for your brand? We are professionals in this field and can help you grow – please use contact form and we'll send you media kit.