Located in Lithuania, in a cozy coastal town Palanga, after more than two decades of ghosting town guests, this late modernism building has been revived as a luxury apartment complex "Palanga Dreams". Originally designed by Lithuanian architect Irena Liksiene in the 1990s for a factory "Silk" as the guest house for its workers, it had to close only after one year after the opening. Luckily, Karolis Aidulis, visionary, businessman and co-owner of real estate development company "Reefo" had an idea to revive this pretentious complex and give it a new life by hiring interior designer Agne Stanikunaite-Pociene sharing similar design values and vision.
Pin images to save the article for later!
[block rendering halted]
Palanga is located on the Lithuanian coast near Baltic Sea, only 3-4 hours drive from capital Vilnius, which makes this luxury apartment complex either a perfect investment or a place for a calm holiday retreat.
[block rendering halted]
Initially the owner wanted this building to be designed in traditional Art Deco style. However, after discussing with interior designer, it became obvious that it needed a different, one-of-a-kind, approach. The building by itself is truly unique – has modernist shapes, curvy balconies. Interior designer Agne Stanikunaite-Pociene tells that she wanted something captivating, out of ordinary, striking. According to her, the main aspects that dictated the design of the interior spaces was actually the building itself and its forms, as well as the former interior, and the energy of the building she felt at that time. She was aven a bit afraid of her own ideas but luckily the concept was approved.
Interior designer paid tribute to the building's style's characteristic features by using a decorative plaster as the base for the walls and even floor. "It would have been too complicated to make walls perfectly straight, so instead of painting them, we used decorative plaster which came out as a really good idea. It is also a trendy material in modern interiors", tells Agne Stanikūnaitė-Pocienė.
Upon entering into epicentre – an airy hallway, which is seen from all the corridors – high ceilings, impressive marble wall, thin and sculptural light fixtures, attest to the building's modernist provenance, completed by impressive magnified decorative plaster decor with vertical lines, also present in the corridors leading to the apartments. All the building's main structures – hallway, shapes, staircases and handrails – were preserved.
"Because of the fragile nature of the building, refined, expressive lines and shapes were perfect for this modernist complex. There was not much left of the previous interior so our main inspiration was mainly the building by itself. " – tells Agne Stanikunaite-Pociene.
[block rendering halted]
Demo apartment
Minimalist lines, warm colour decorative plaster tones mix perfectly with midnight blue, brass and dark wood handcrafted finishes, which can be seen in the hallway, are partially transfered to the demo apartment. Neutrals, several colours of wood – both light and dark, curvy lines on the ceiling, mimick coastal nature and the origin of the modernist building. However, interior designer chose not to add bolder colours to the apartment. Neutral colour palette create sophisticated and relaxed mood, so that the future buyers can imagine their future life here.
Do you remember my trend researches from 2018 about curvy shapes that were going to be extremely trendy in the nearby future?
Biophilic design is also present – raw wood console, fossile coffee table, organic shaped vases, mirrors, kitchen furniture, even headboard in the bedroom – everything breathes nature.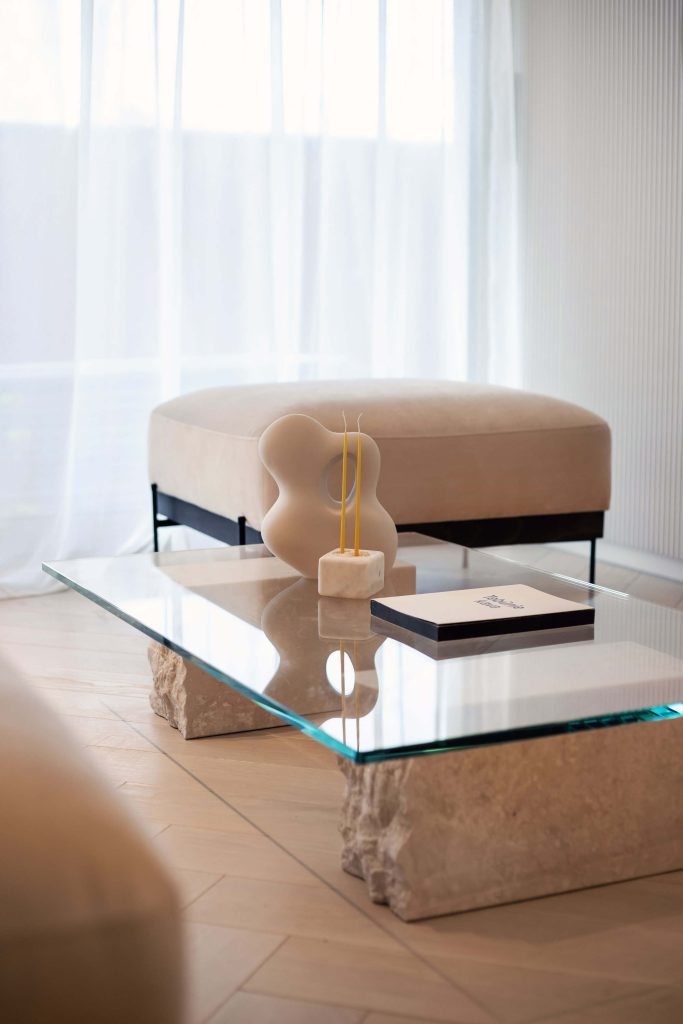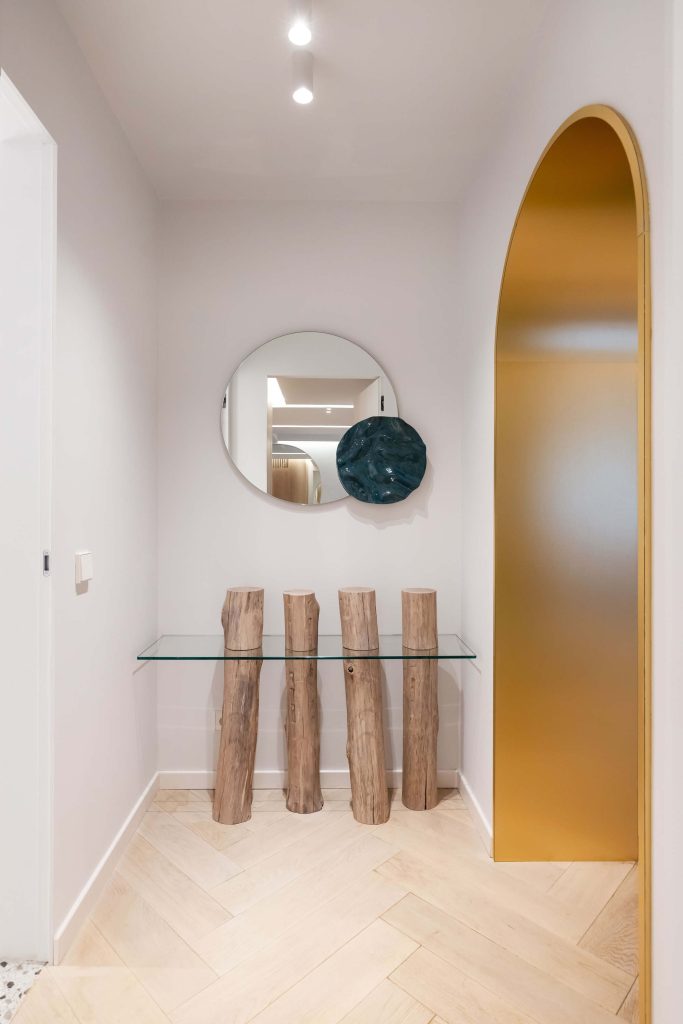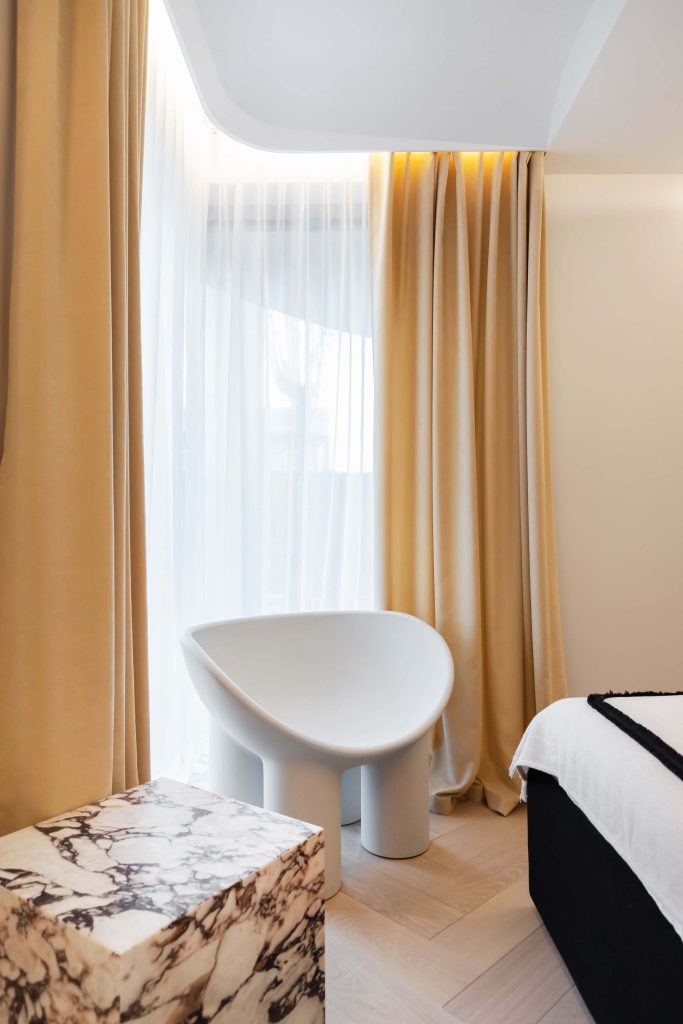 A huge mirror in the bedroom adds some depth and enlarges the space – as if there was a continuation. Rounded shapes and hidden LED lighting in the ceiling create a boutique hotel atmosphere. Shapes, which copy balcony curves, reinforce the feeling that the apartment is located in the modernist building. Headboard is also custom made – dramatic shape of the sea waves, complemented by a perfectly round night stand.
Client: Reefo
Project: Luxury apartment complex "Palanga Dreams"
Architect: Irena Liksiene
Interior Design: Agne Stanikunaite-Pociene
Photographer: Robertas Gabrys
Follow AUTHENTIC INTERIOR on Instagram for more inspiration, backstage and news.

Are you a design decor brand, interior designer, a hospitality space, artist looking for unique content created for your brand? We are professionals in this field and can help you grow – please use contact form and we'll send you media kit.