In your opinion, can shapes make an impact on your behavior or how you feel at home or in a public place? How do you choose objects that surround you? Have you ever asked yourself why your chosen furniture has sleek lines, curved shapes, is your sofa open for conversations or more likely less suitable for a cozy chat? When choosing shapes for the interior, interior designer analyses several aspects. This would be the space, the needs of the owner and how furniture will impact human wellbeing. Also, the question asked would be how the overall design scheme, shapes, and materials can impact the place. In most of the cases, there are dozens of possibilities and "right design" for one place.
I'd like to share my insights on one interior trend for 2019 which going to be widely used in the years to come – curves!
Also, if you are interested in Milan Design Week 2019 art installations, I highly recommend taking a look on how arty is Milan and what kind of installations are being created by best firms as well as newcomer designers in my blog post – 10 Best Installations Seen At Milan Design Week 2019
Circular, round shapes gives the opportunity for a conversation, communication. 
Rounded shapes […] make the furniture look comfortable and inviting.' Another (interviewee) said: 'The rounded furniture seems to give off that calming feel.' * (source at the bottom of the post).
I found an interesting excerpt about circles in Vanseo Design blog which I'd love to share with you. "Circles have no beginning or end. They represent the eternal whole and in every culture are an archetypical form representing the sun, the earth, the moon, the universe, and other celestial objects between. Circles have free movement. They can roll. Shading and lines can enhance this sense of movement in circles. Circles are graceful and their curves are seen as feminine. They are warm, comforting and give a sense of sensuality and love. Their movement suggests energy and power. Their completeness suggests infinite, unity, and harmony. Since the earliest days, circles protect, they endure, they restrict. They confine what's within and keep things out. They offer safety and connection. Circles suggest community, integrity, and perfection."
Interior design tip: use several soft, curvy lines in brutalist or modern architecture homes to soften sharp edges and sleek lines. For example, you can choose a sofa with curved design, use a rounded corners console or a bar, use round dining table, etc. Possibilities to use curves and round shapes are endless, and if chosen well, can dramatically improve your interior.
Let's discover some curves spotted during Milan Design Week 2019. These are trend predictions for 2019 and 2020. Enjoy!
Round table or console legs add more contrast and drama. It contrasts beautifully with rectangular top.
Arches in architecture and in furniture design give a sense of continuity and calmness. As you can see from the example below, interior accessories can be minimal and yet have round shapes in it. Totally in love with this beautiful conceptual clock, and you?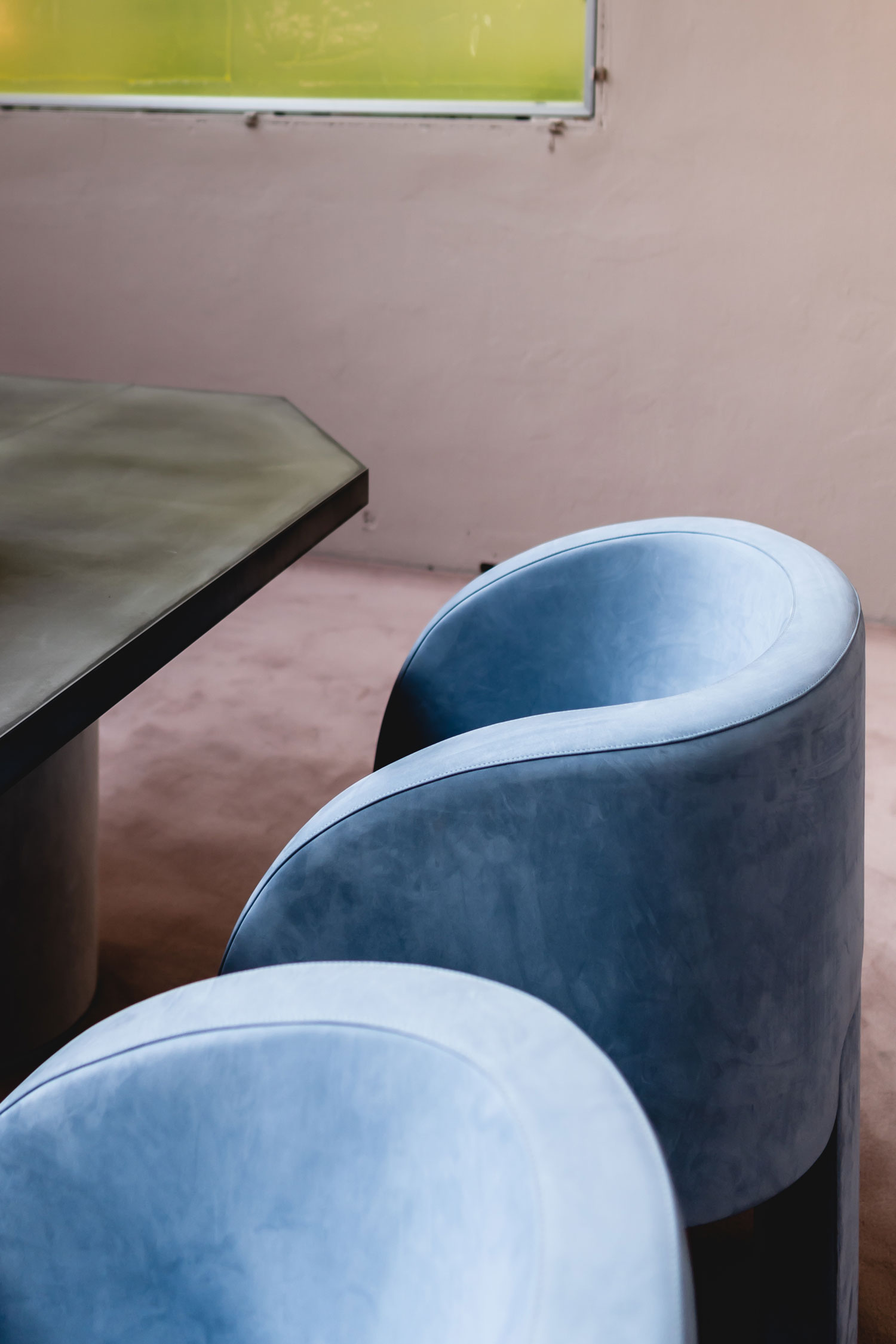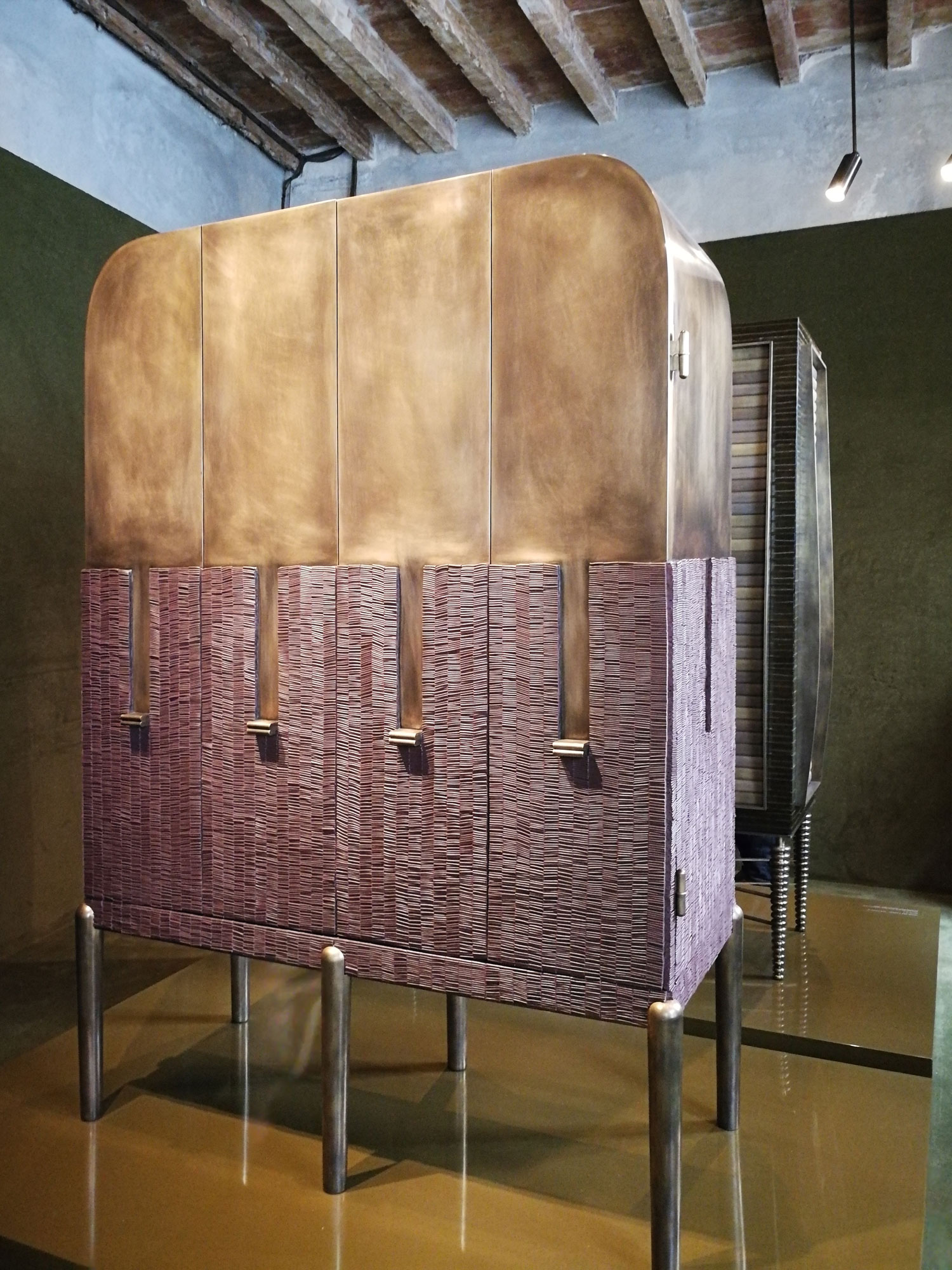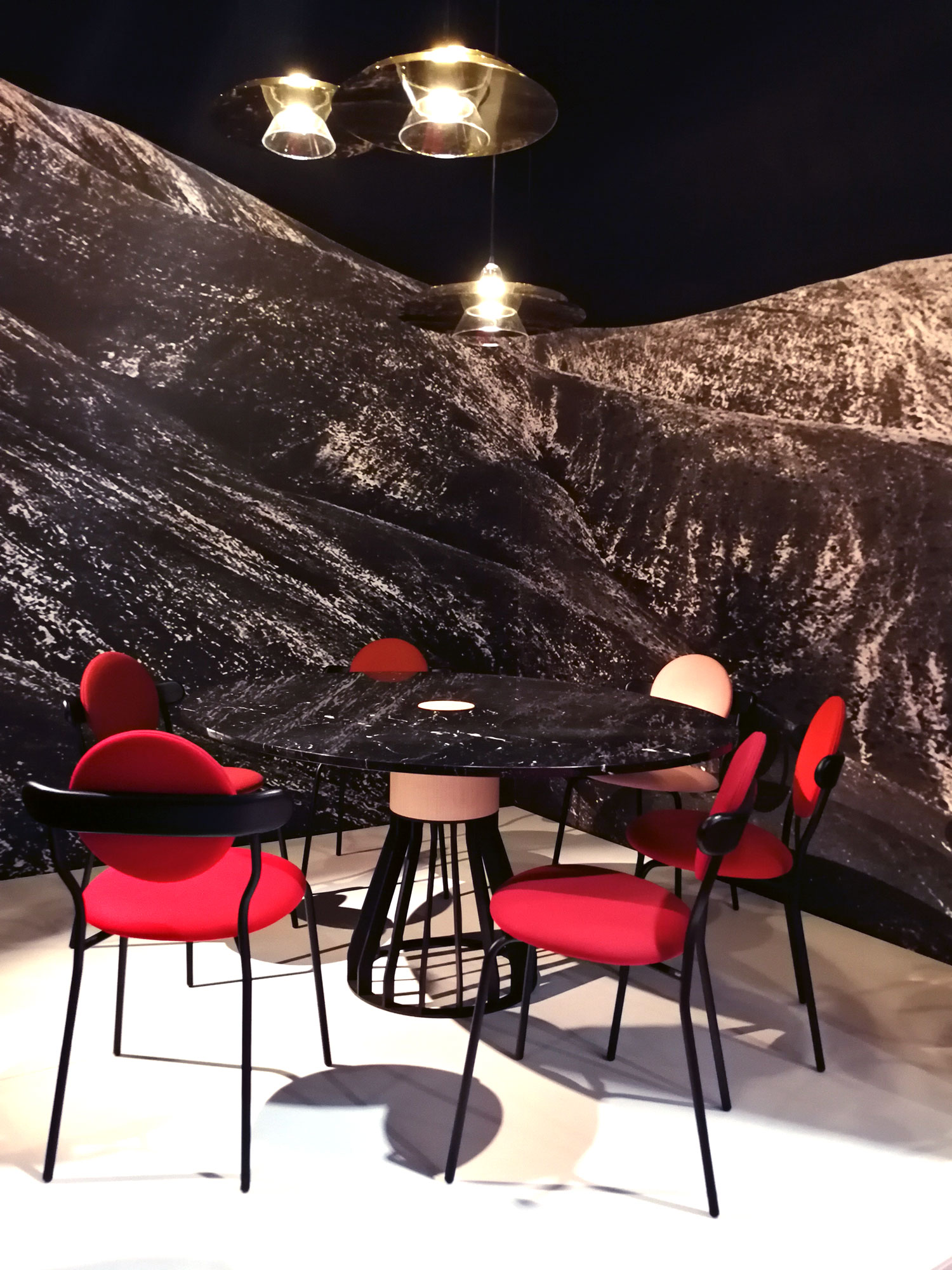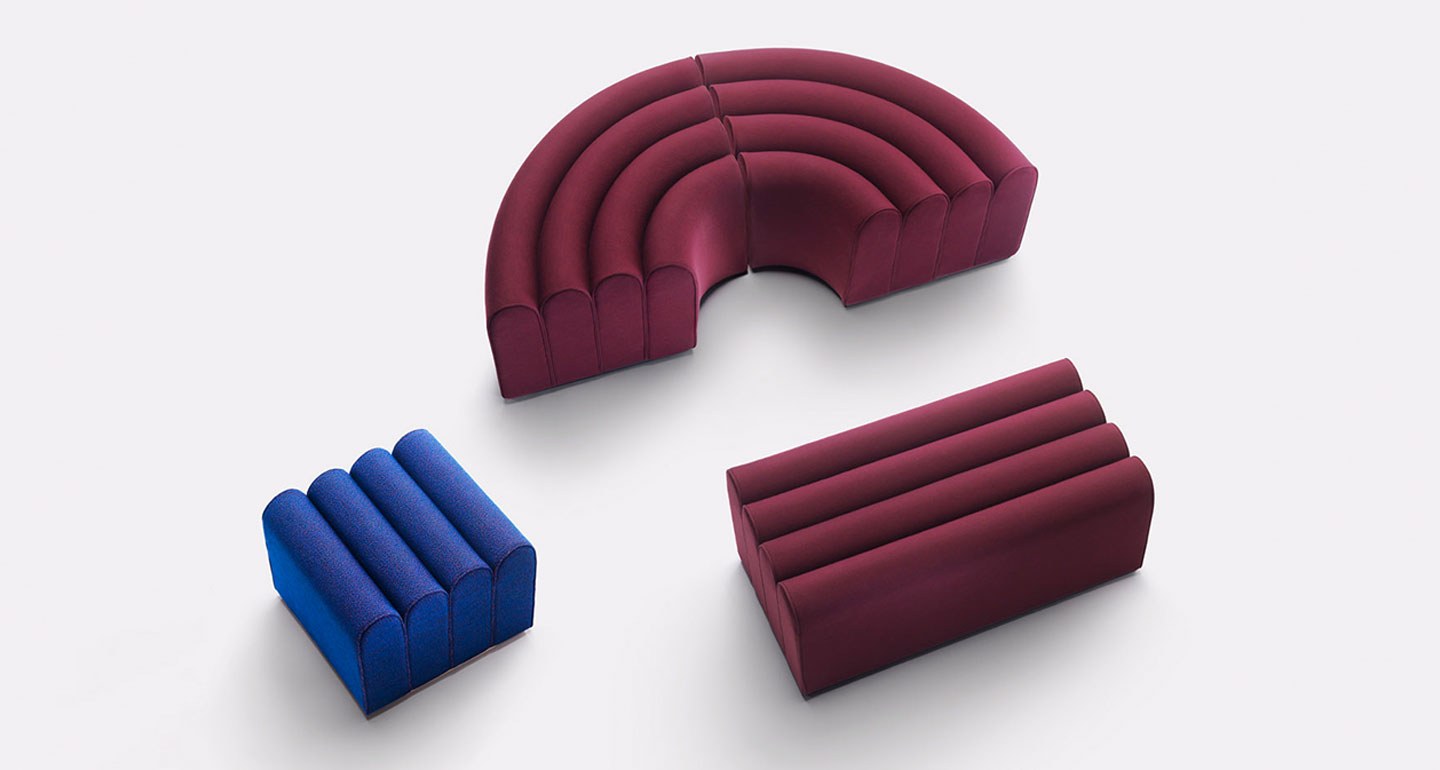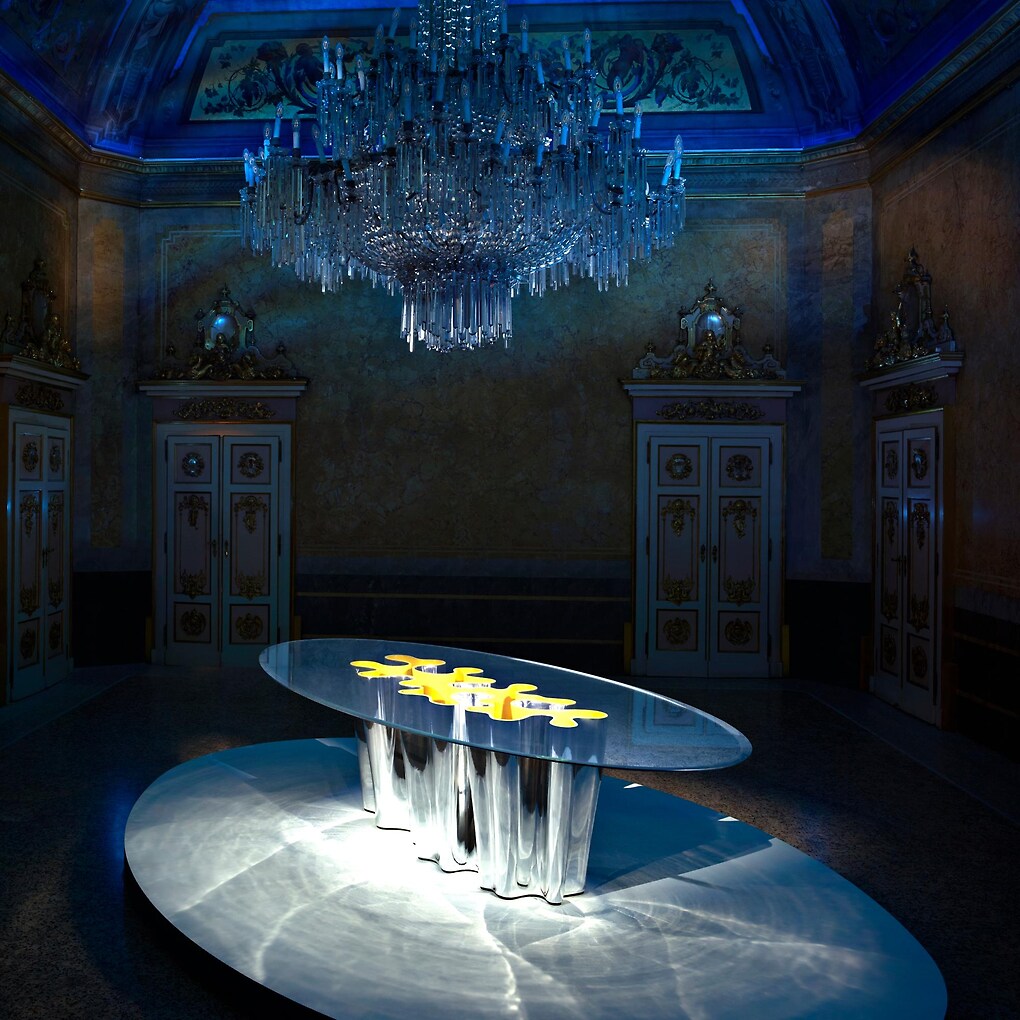 Investing in a round colourful velvet pouf can be a perfect solution if you don't want to spend much.
As we can see from the photos that arches, rounded corners, bubble light fixtures, wavy design accessories are very present at Milan Design Week 2019. This can be summarized in one word – the 70s. Shapes and materials (which we are going to explore more in depth in another post), used during the 70s, are timeless, natural and durable for the years to come.
Which installation did you like the most? Let's share your impressions! You can also discover more in my Instagram stories and posts 🙂
Do you have an interior project in mind? Let's chat, I can help you to create your dream home or business, even distantly (proven technique). You can discover our services here.
Photography: ©Aida Sniraite, Authentic Interior if not stated otherwise. Please contact me before using them.
* Source: (source Dazkir, S. and Read, M. (2011). Furniture Forms and Their Influence on Our Emotional Responses Toward Interior Environments.)