Milan Design Week 2019 aka Fuorisalone 2019 with a week of emotions and new connections is over. It was full of remarkable installations, artistic venues. Every design brand has created something original and interesting to impress visitors from all over the world. Milan Design Week is usually divided into 2 different areas – Fuorisalone which happens in Milan center, and Salone Del Mobile. It is the biggest design exhibition gathering thousands of interior design brands and exhibitors, both Italian and international ones. But Milan Design Week is not only about colors, furniture, and beautiful objects. It is also about humanity, sustainability, neuroaesthetics, cutting-edge technologies which may replace today's existing habits into something more interesting, sustainable and breathtaking.
You can find articles from Milan Design Week 2018 here, here and here.
Let's discover the first part of what I saw during Milan Design Week 2019 and want to absolutely share with you. Let's go!
Best Installations Seen At Milan Design Week 2019 #1: Tides
Everyone happens to define the color of the year, even Authentic Interior does, because it is interesting to observe how the world changes with us. Noroo, the Korean company anticipating color trends in design, art, and culture presents Tides, an interactive exhibition in cooperation with artists Kwangho Lee and Wang & Söderström.
Once entering the place, you lose the sense of space, you cannot define the colors used there. It constantly changes. It's not a defined color, rather a fluid one, which changes according to the rhythms of nature, movements of Sun, Moon, and Earth which produce the tides.
A very mysterious exhibition!
Don't have time to read? Pin images for later!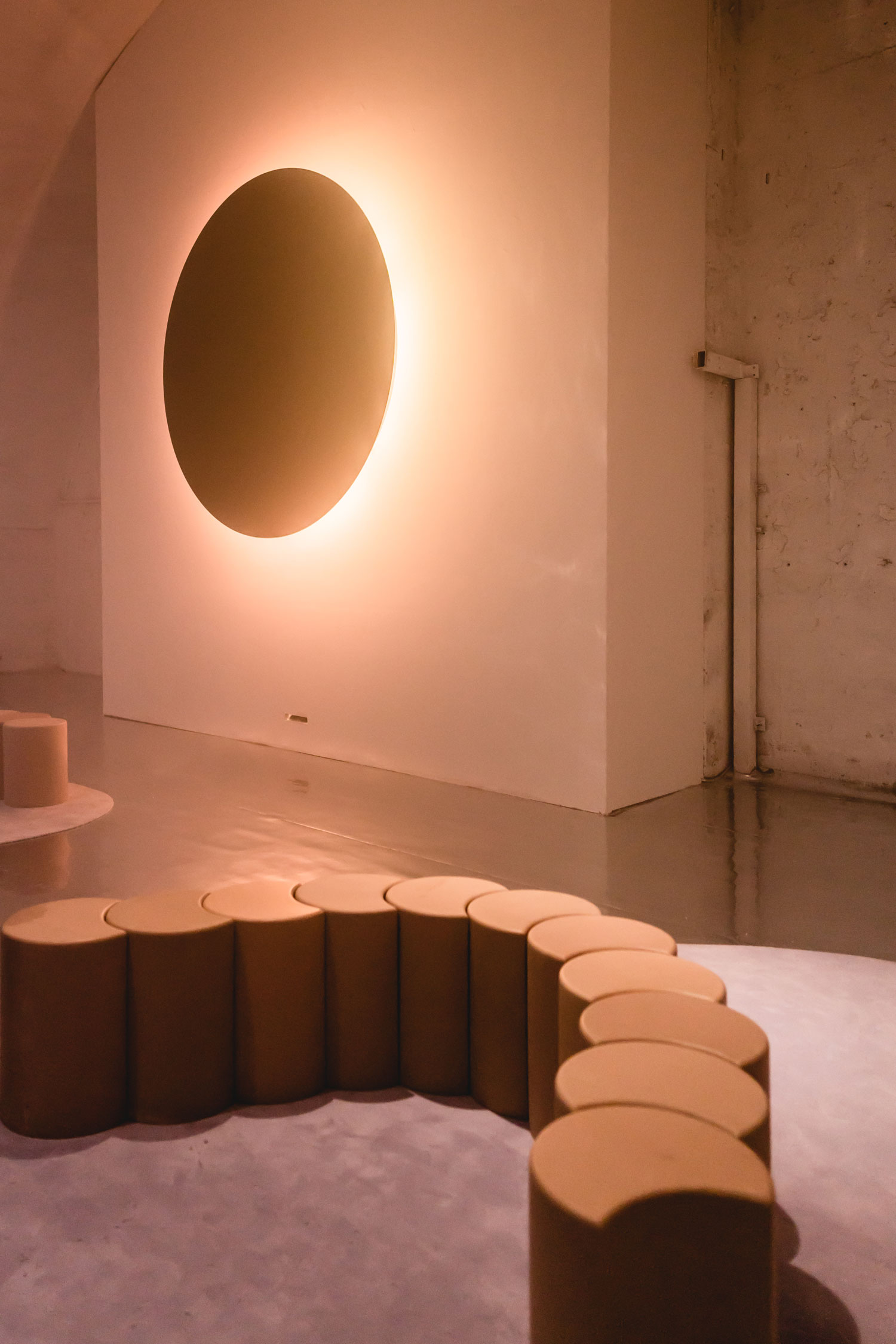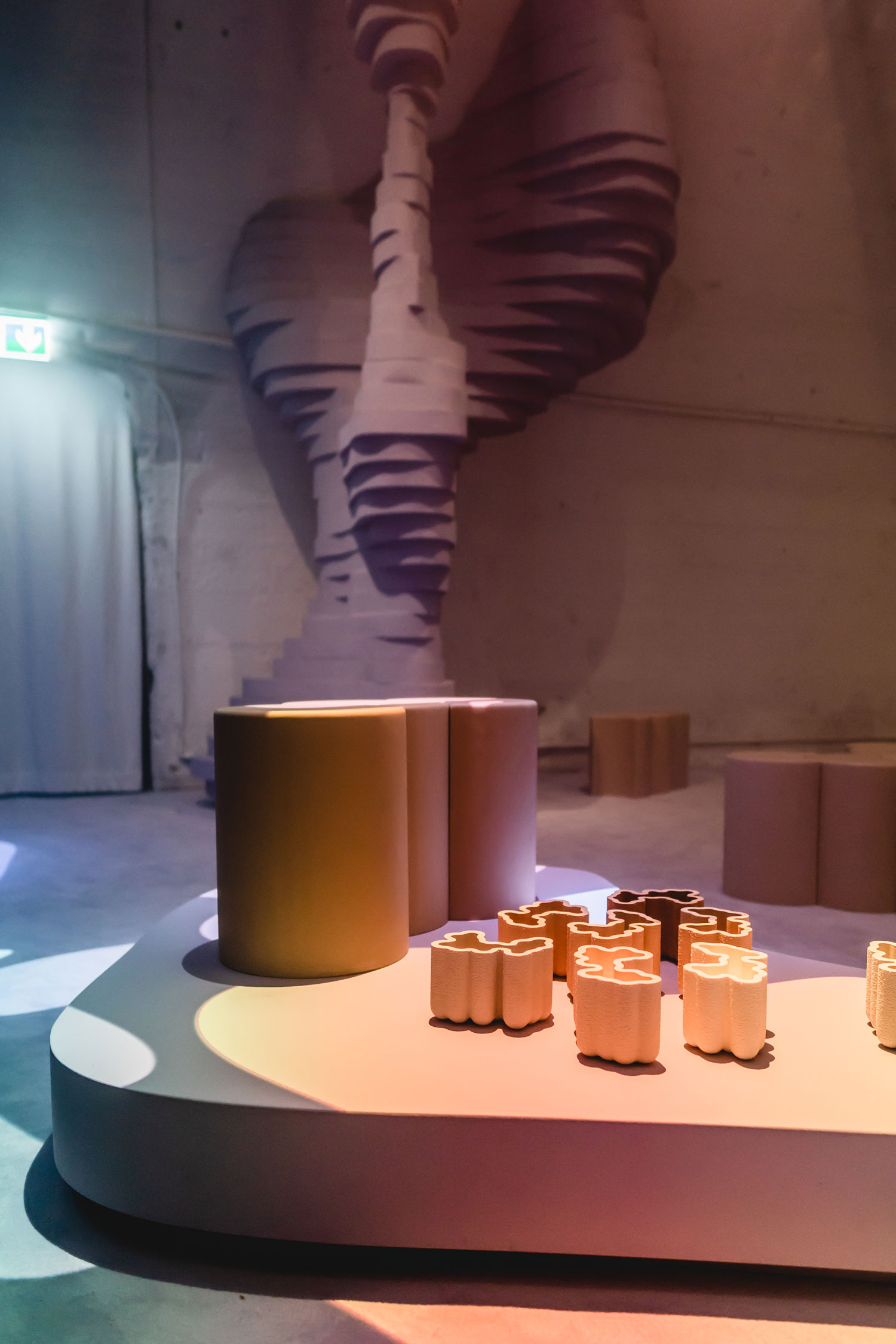 Best Installations Seen At Milan Design Week 2019 #2: Echo Pavilion
Echo, a mysterious object designed by the Chilean studio Pezo von Ellrichshausen. Completely covered on the outside by a mirrored surface, the installation reflects the baroque Palazzo Litta. In contrast, when entering the inside of the sculpture, it reveals the sky, a natural element isolated from the city. Installation establishes a relationship between art and architecture announcing the surrounding environment through a visual Echo.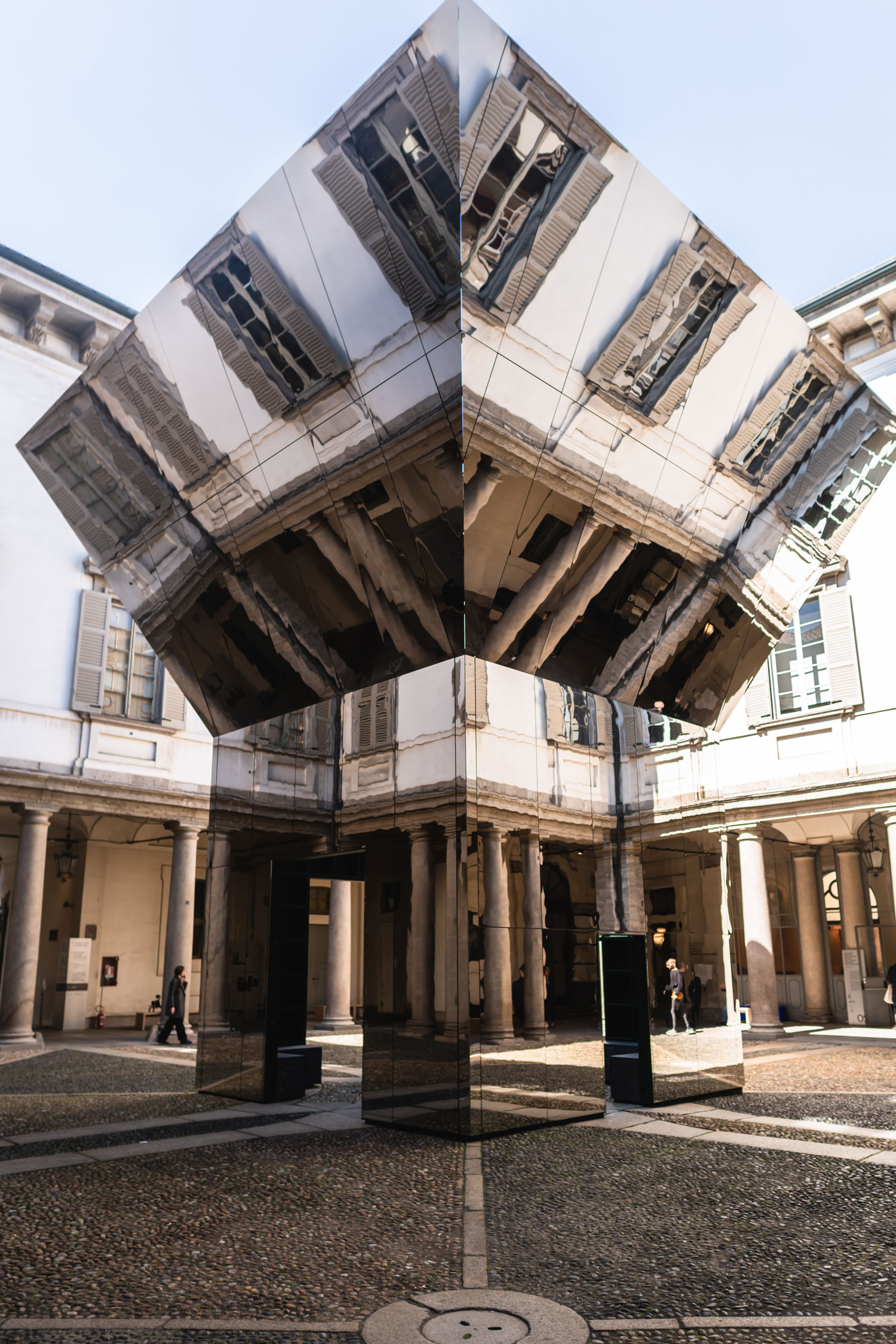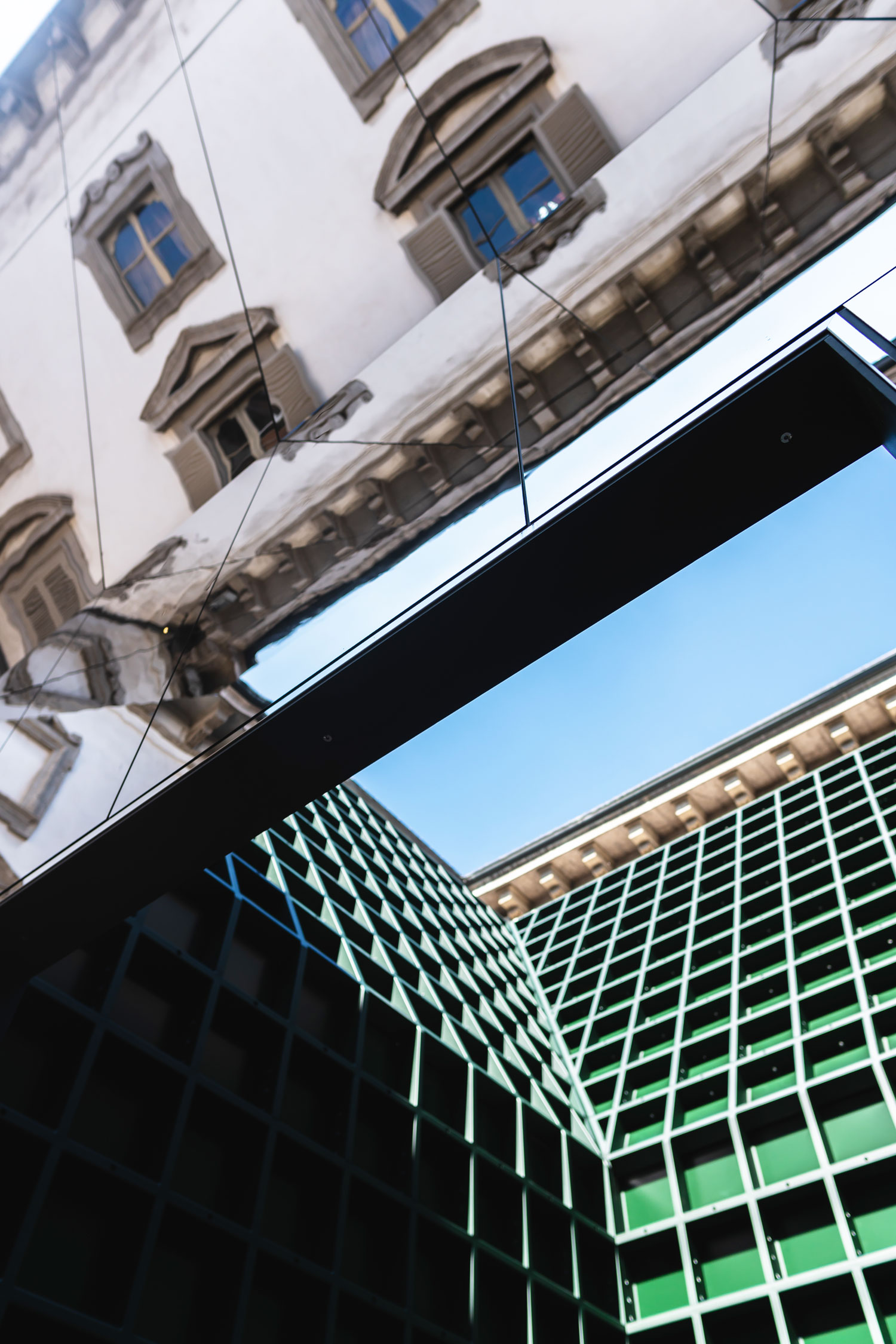 Best Installations Seen At Milan Design Week 2019 #3: Patterns As Time
Milan Design Week 2019 focuses more and more on a technology analyzing human emotions, offering visitors breathtaking installations, as well as a different view on a product.
DNP (Dai Nippon Printing), one of the world's largest printing companies has proven that using the right technology, the environment can be changed unrecognizably. 'Patterns as time' is a balance of vivid colors and striking monochromatic shapes that change while you observe it.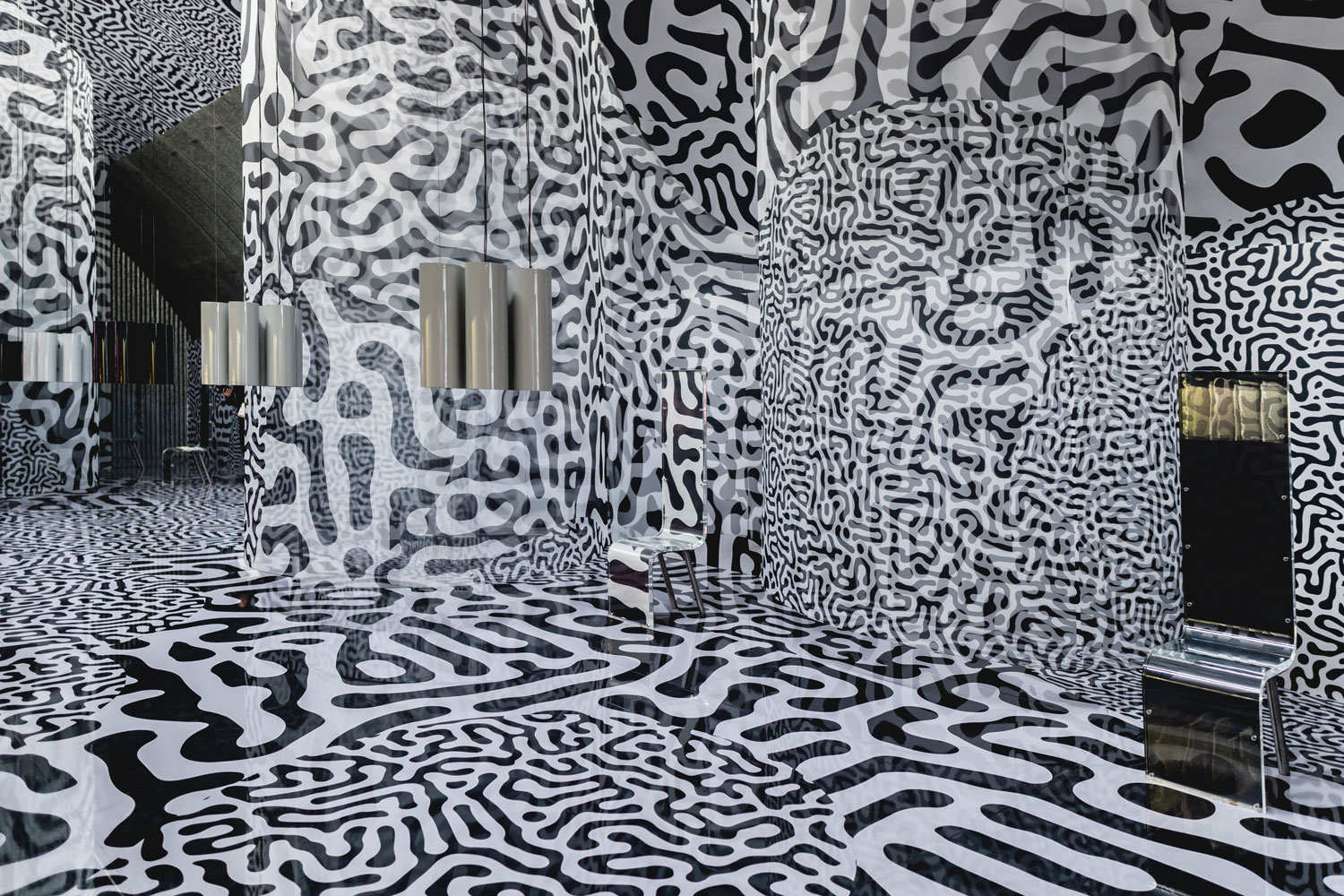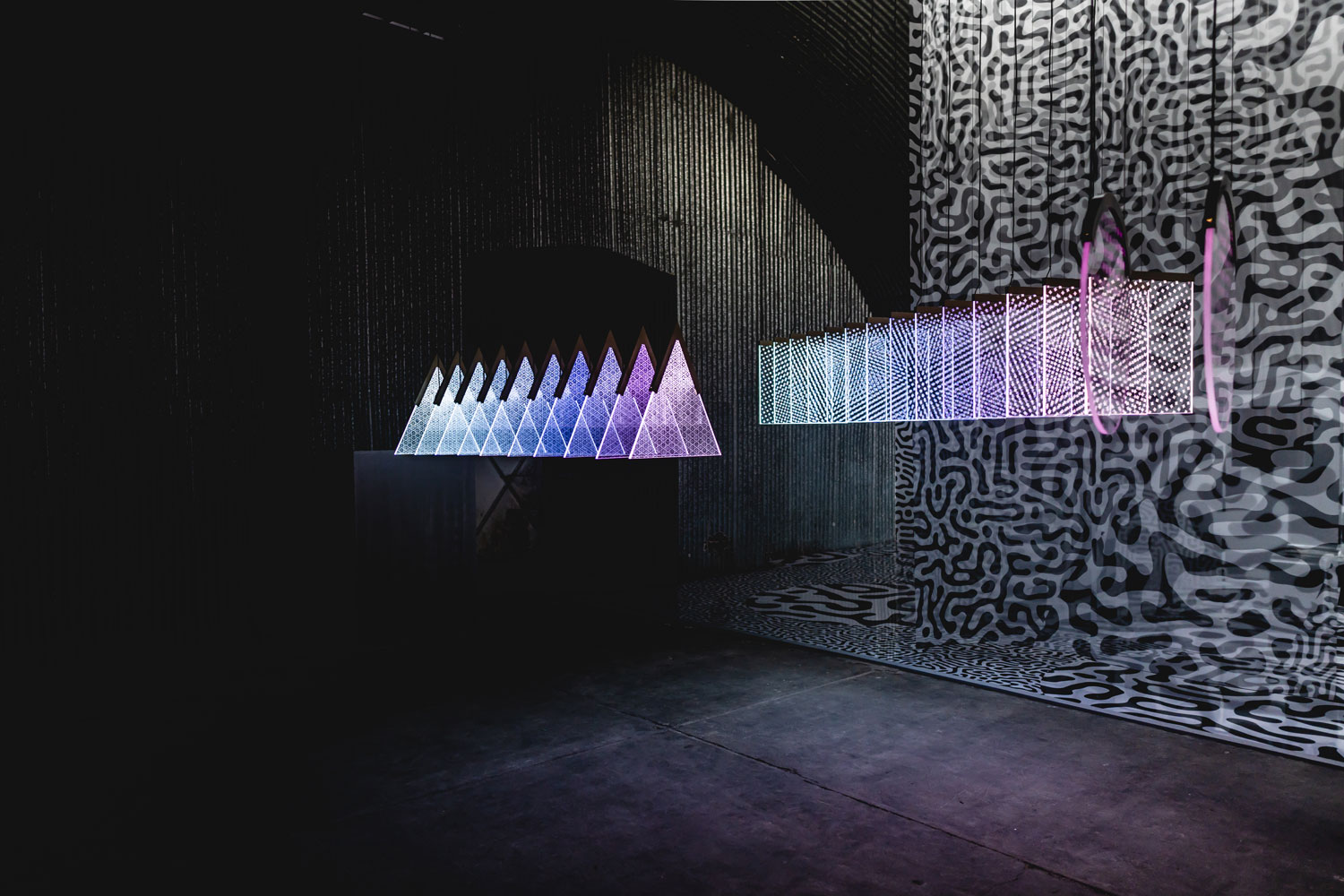 Best Installations Seen At Milan Design Week 2019 #3: Come To Light
"Come to Light" is an enticing ballet of light and brand journey, realised with the new Trentacinque (35) linear range in collaboration with Unstatic.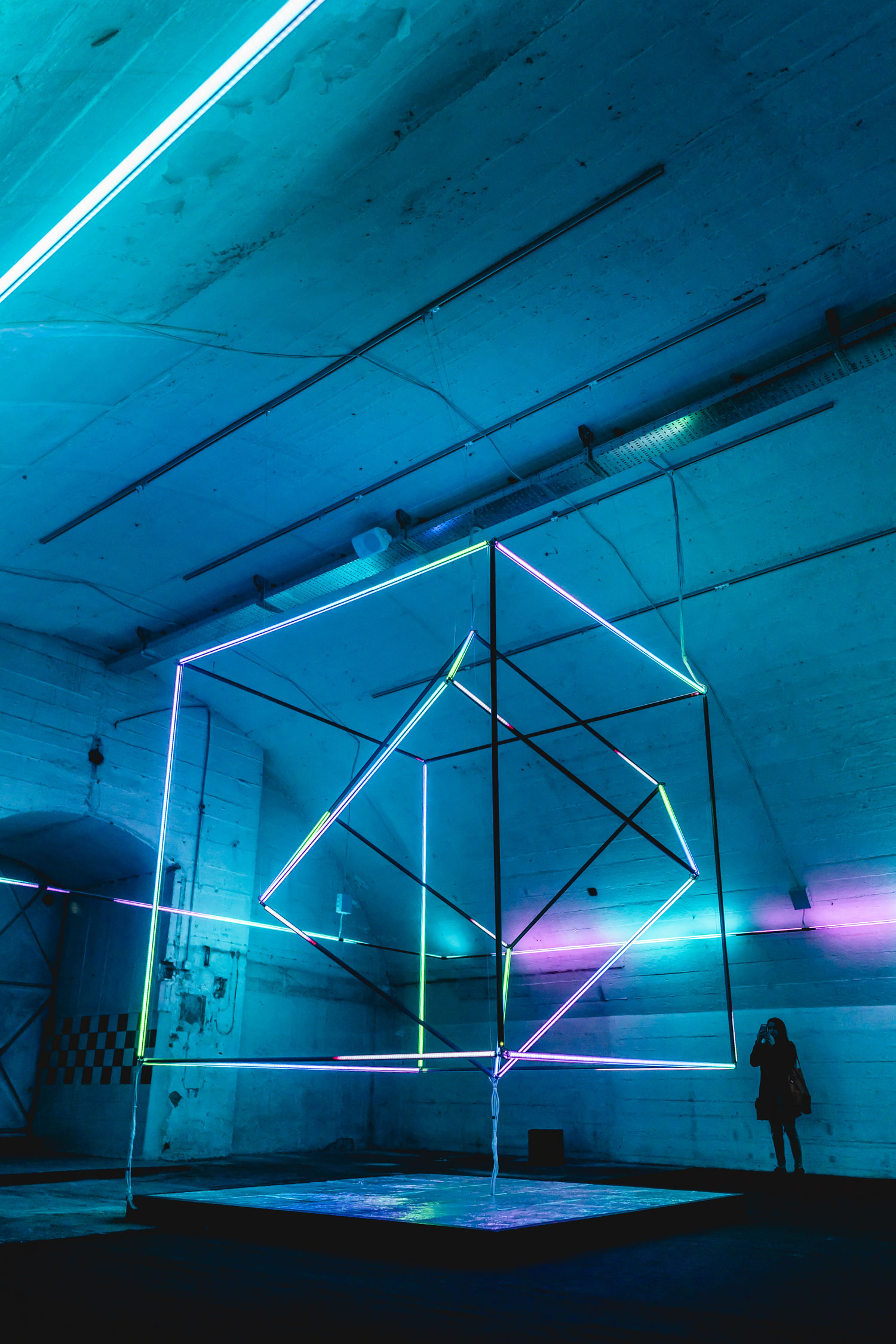 Best Installations Seen At Milan Design Week 2019 #4: Conifera by COS
COS has partnered with architect Arthur Mamou-Mani (the creator of Burning Man Festival's Galaxia "temple") and his team to create Conifera, an installation made from 3D-printed bioplastic bricks. This is the biggest printed 3D sculpture which was really interesting to discover in the main yard, which continued also in the back garden, surrounded by nature.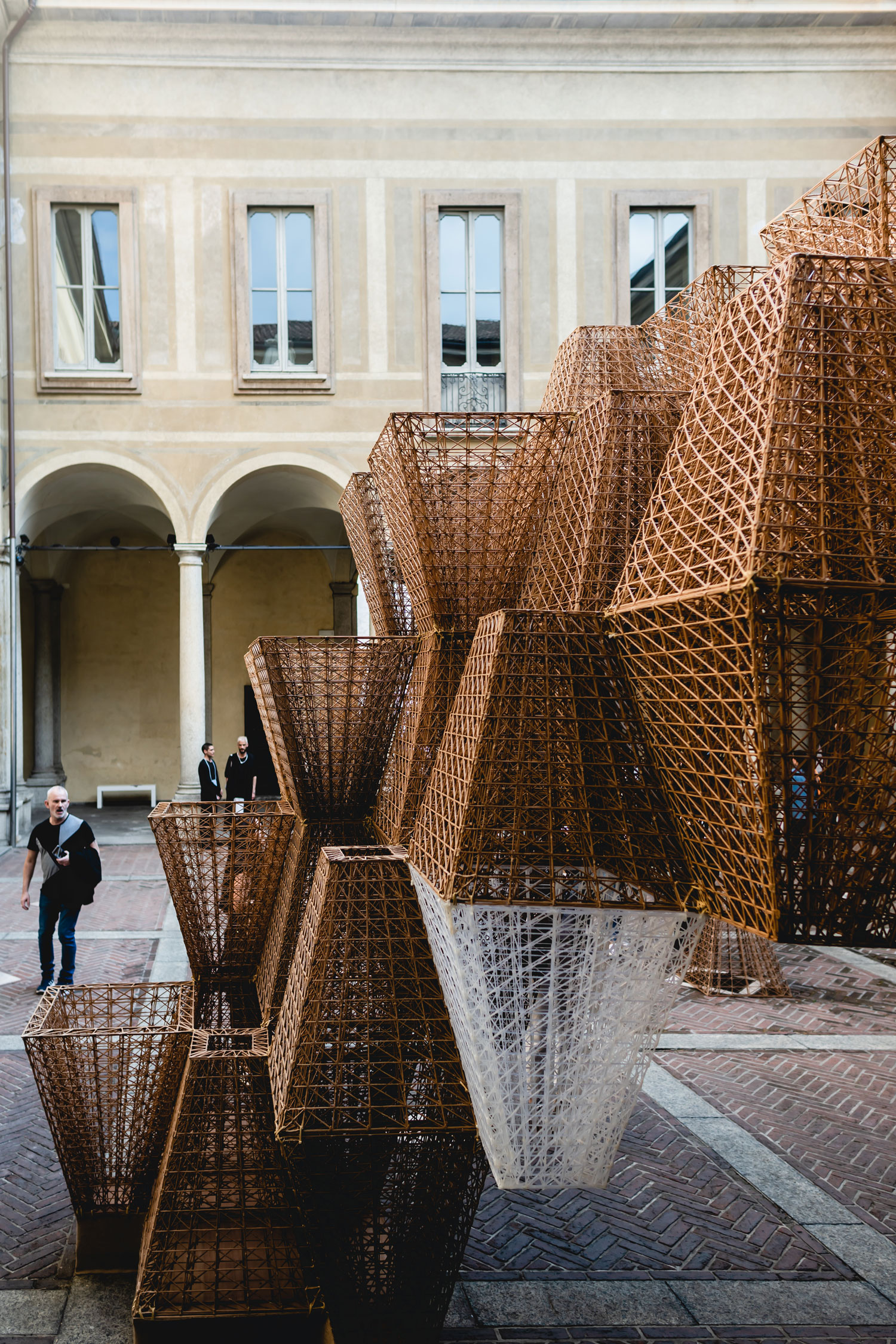 Best Installations Seen At Milan Design Week 2019 #5: La Pelota
Hermès Maison is renowned for its expertise in fabrication, and La Pelota, it's latest collection of homeware, places focus on materiality. Do you remember last year's Hermès exhibition of Milan Design Week 2018 was also quite big and inspiring? During 2019's edition they presented La Pelota collection in a maze made of rocks and their new wallpaper collection has been featured on a coffee bar and all the disposable cups which is so fun and creative.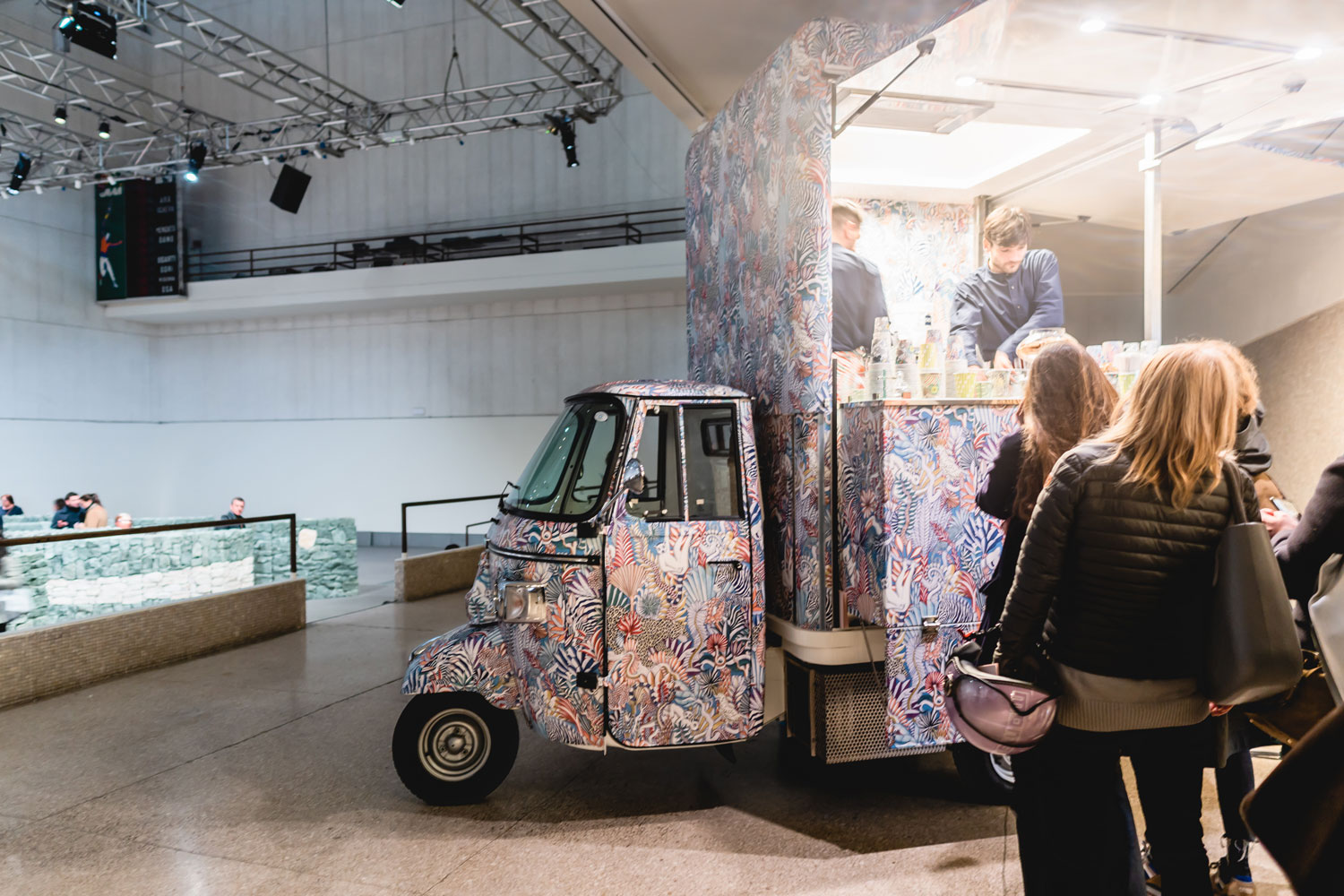 Best Installations Seen At Milan Design Week 2019 #6: Emergence Of Form
AGC has created a space that portrays the ever-fluctuating beauty of nature, using glass and ceramics. It captures a moment in time of complex natural phenomena, which continues to change with each passing moment. As we can see, cutting-edge technologies have also been used to create this beautiful installation.
The artist Keita Suzuki has frozen the moment by recreating a scene that recalls a sort of "landscape of the heart".
Best Installations Seen At Milan Design Week 2019 #7: Formations By Tarkett
During Milan Design Week 2019, Tarkett has chosen to join forces with Note Design Studio to explore the creative possibilities of its new collection iQ Surface. Formations is an exhibition of scale, shape, and archetypes, celebrating how design language can be twisted into new creative phrases.
I loved how Tarkett presented new collection on different shapes, creating a fun yet informative installation. What do you think?
Don't have time to read the article? Pin photos for later!
Best Installations Seen At Milan Design Week 2019 #8: Bodies In Motion
Humanscale, a well-known brand which makes offices a better place, concentrates on celebrating the Freedom to Move during Milan Design Week 2019.
Bodies in Motion is an exploration of the essence of human movement and a visual metaphor of Humanscale's commitment to ergonomics. The experiential installation highlights the company's pioneering use of natural ergonomics, which draws on the laws of physics and motion to design products that automatically adapt to the user's position.
Best Installations Seen At Milan Design Week 2019 #9: Tell Me More
RAPT design studio's installation Tell Me More aims to explore the intersection of spatial experience and emotional connection, offering visitors the opportunity to experience a microcosm of a Rapt-designed environment. As guests first enter the space, they are greeted by small personal theaters made of a lightweight drapery.
Then, after having left a question for the next visitor, they enter to the next space – the lounge, which greets with the shower of lights. Interior brands presented here include Sancal, Moooi carpets by Mae Engelgeer and more.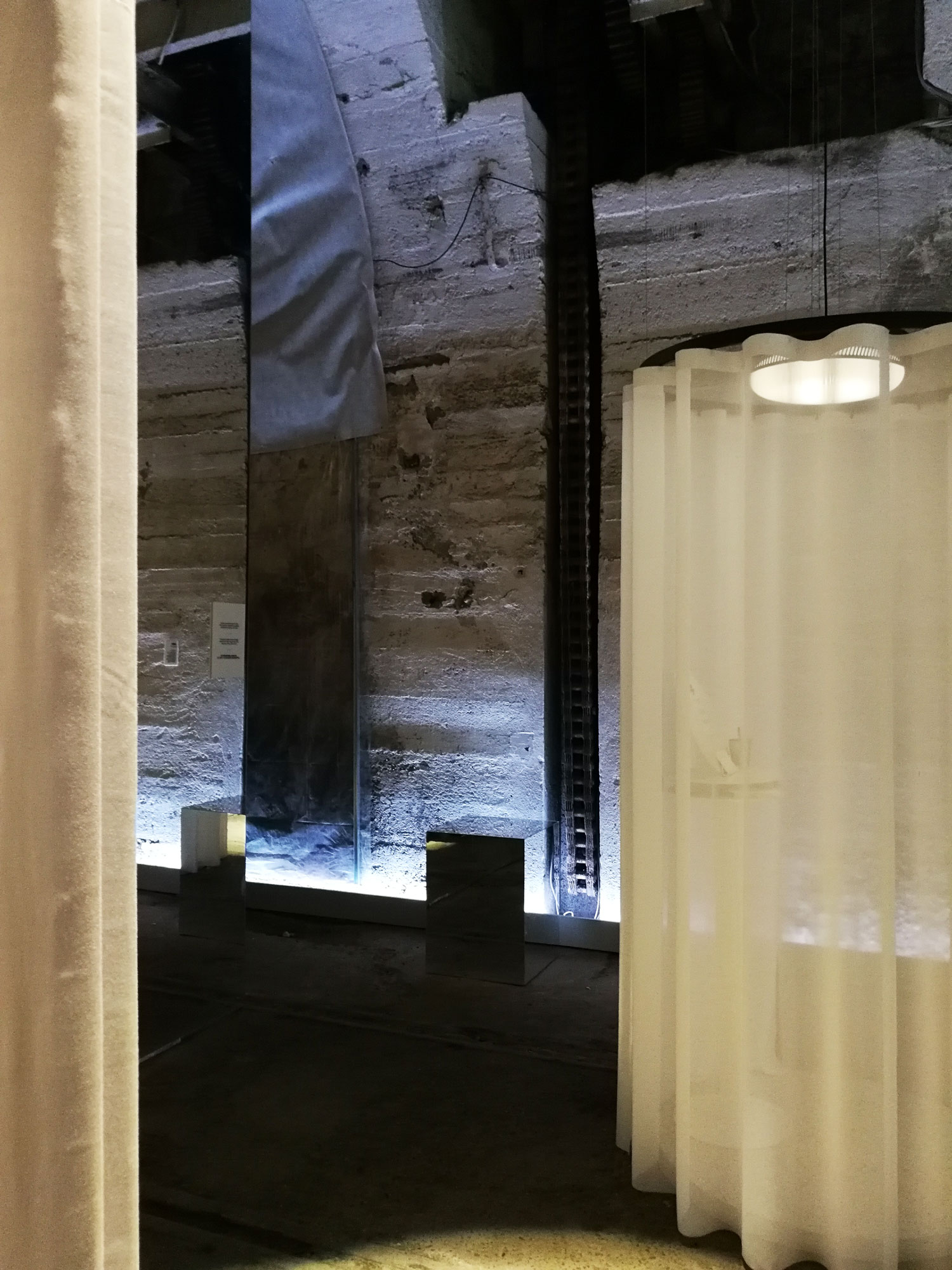 Best Installations Seen At Milan Design Week 2019 #10: Pleasure & Treasure
Austrian design had an exceptional place – once the waiting room of the Royal House of Savoy at Milan's central station. This place is rarely accessible to the public and we were lucky to visit it as well as discover what Austrians have to offer in terms of design. In order to view the Austrian furniture and interior design highlights up close, we had to wade through a spacious foam swimming-pool. An extraordinary experience!
Photography: ©Aida Sniraite, Authentic Interior if not stated otherwise. Please contact me before using them.
Which installation did you like the most? Let's share our impressions! You can also discover more in my Instagram stories and posts!