Milan Design Week 2022 (Fuorisalone) and Salone de Mobile are one of the main events in the design world for me. As Milan Design week has been postponed several times in 2020, then came back as a mini Salone in September 2021, I am beyond excited to finally come back to Milan after all those years in 2022 and show you all the best installations and trends.
My first impressions were that Milan Design Week 2022 was not as huge as in 2019, and it is normal. Plus, the overall feeling in the city was less stressful as before 2019, and of course with less things to see. Nevertheless, some of the installations were quite impressive and I could see some major interior design trends for the future years to come. Also, this year I could connect with the designers and creators way deeper than during the last editions, which was amazing.
It was a pure joy to meet with the design colleagues, as well as to touch, feel and experience everything by myself. Oh, and feeling that Milanese vibe after 3 years was an absolute blast! Sipping espressos, eating gelatos in June was something. Plus, it's the first time Milan Design Week happens in June – weather was really hot so moving around the city was quite an interesting and different experience.
In this part you will be able to discover artists, exhibitions and galleries Hermès, Nilufar with Nina Yashar, enjoying amazing performances of Philippe Starck and Dior, Porsche, Daniel Arsham for Kohler, visiting as every year Elle Decor beautiful exhibition with featured brands as Alessi, Bloc Studios, Galleria Luisa Delle Piane, Galleria Rossana Orlandi, Georg Jensen, Moustache, Mutina, Muuto, Paola C., Paradisoterrestre, Plan C, Salvatori, Vitra and others.
Let's hop in and discover Part 1 of the best Milan Design Week installations and exhibitions!
And don't forget to pin images as the article is super long!
Milan Design Week 2022 Best Installations: Porcshe x Art of Dreams
Installation "Art of Dreams" combined timeless design with futuristic drone performance at Palazzo Clerici in the heart of Brera district. Created by floral artist Ruby Barber of Studio Mary Lennox, Porsche shows an uplifting sculptural artwork that combines the fragility of flowers with the promise of 21st century technology.
Can you spot drones carrying roses? Presentation was absolutely magical and out of space!
Milan Design Week 2022 Best Installations: Hermès
Like every year, Hermès staged their display at an immense la Pelota venue in a fashionable Brera district of Milano. The artistic direction is done by a long-term collaborators Charlotte Macaux-Perelman and Alexis Fabry, Hermès unveiled their home collection. Like every year, the luxury brand showcases lightness and timelessness of the materials. Domes, which remind of water towers, are all made of cashmere, one of the maison's favorite materials, reflecting the light. Magical, simple yet sophisticated setting.
Milan Design Week 2022 Best Installations: Dimore
Installation "Oublié" took place in a magical palazzo in the heart of Brera, more exactly in a 19th century apartment. As exhibition's name states (Oublié means forgotten in French), Dimore Studio founders Britt Moran and Emiliano Salci wanted the interiors to help visitors forget the reality of the past 2 years and submerge to something dreamy and poetic.
Like every year I fall in love with Dimore. These talented designers love to surprise. When entering the apartment, you become part of the installation – with classical music and apartment full of smoke, where you can see their permanent collection of nostalgic contemporary furniture and objects.
Milan Design Week 2022 Best Installations: Philippe Starck x Dior
For the first time Dior collaborated with designer Philippe Starck to reimagine Dior's iconic Medallion chair, symbol of Louis XVI. Really beautiful performance to highlight the beauty of the chair.
Milan Design Week 2022 Best Installations: Moroso x Kvadrat
Contemporary furniture producer Moroso and Danish material company Kvadrat joined forces to create an exhibition which brings us closer to nature. What I loved about this installation, is that Kvadrat fabrics blend perfectly into moss, become stones and other nature objects.
Ariake apartment
Ariake, a Japanese design brand, presents an exhibition set in an apartment at Porta Venezia in Milan during Milan Design Week 2022. Recently renovated by Italian architect Francesco Rota, the apartment is designed in a welcoming minimalistic style, with the harmonious use of neutrals.
Ariake presented furniture, designed by Inga Sempé, Norm Architects, Neri & Hu, Keiji Ashizawa, Zoë Mowat, Note Design Studio, Francesco Rota and others, and made in Italy for European market.
Milan Design Week 2022 Best Installations: Nilufar Gallery
Nina Yashar founded Nilufar Gallery in 1979, specialised in antique carpets. It's a passion she inherited from her Iranian parents. Soon, she started collaborating with creators and designers to showcase modern, contemporary as well as Midcentury Modern furniture. In 2018, on the occasion of Milano Design Week, Nilufar Gallery launched the first episode of 'Chez Nina, designed by award-winning interior designer India Mahdavi.
Lower photo : Sofa byKhaled El Mays
Milan Design Week 2022 Best Installations: Nilufar Depot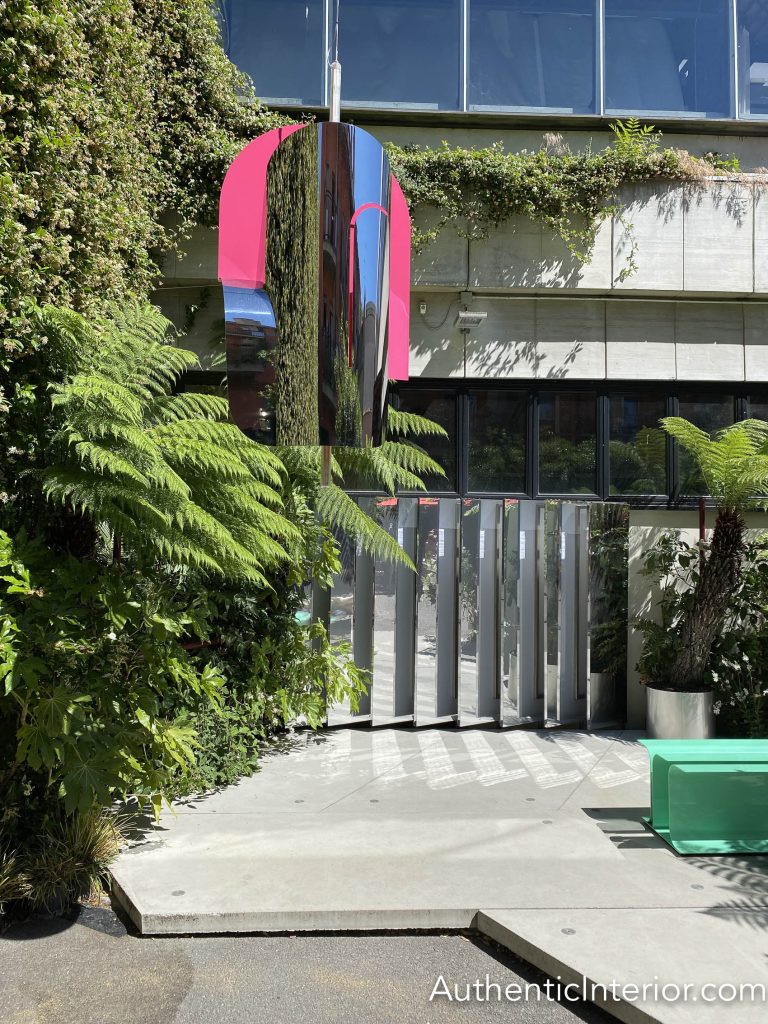 Installation by Patrick Tuttofuoco "Out of Body". This entry somehow reminded me of tropical modernism style (read more). Cement, greenery, metals blend perfectly. Nevertheless, crazy as the whole Depot.
A continuation of Nilufar Gallery to the Nilufar depot, where the mix of styles, colours and patterns are mesmerising. Styles, centuries and different design styles blend perfectly together in her gallery.
Top left: design by Odd Matter. Top right: room created by Bethan Laura Wood.
"Too Much, Too Soon!" by Andrés Reisinger. Dreamy. Mesmerising.
Top left: works by Carlo Lorenzetti, and 'Prescient Lagoon 2' low table byFlavie Audi (top right)
Did I mention how fantastic these tables are? Top left: Analogia Project, made of fiberglass, metal, glass and ceramic. Top right: low table created by Audrey Large.
Milan Design Week 2022 Best Installations: Twenty by Tom Dixon
Tom Dixon returned to Milan to celebrate its 20th anniversary by creating an extraordinary exhibition during Milan Design Week 2022. It took place at Palazzo Serbelloni, home to Sotheby's galleries and offices.
Bird Eel Grass (left) is an experiment together with Danish designers to see if they could find substitute to petrochemical-based materials in theirBird chair. Søuld, who are pros at working with eelgrass, reinvented the proven, time-honoured material for the benefit of the modern design and building industry.

Mirror Ball chandelier (right), inspired from Tom Dixon's oldest chandelier models, is the first prototype in a 100% recycled polycarbonate.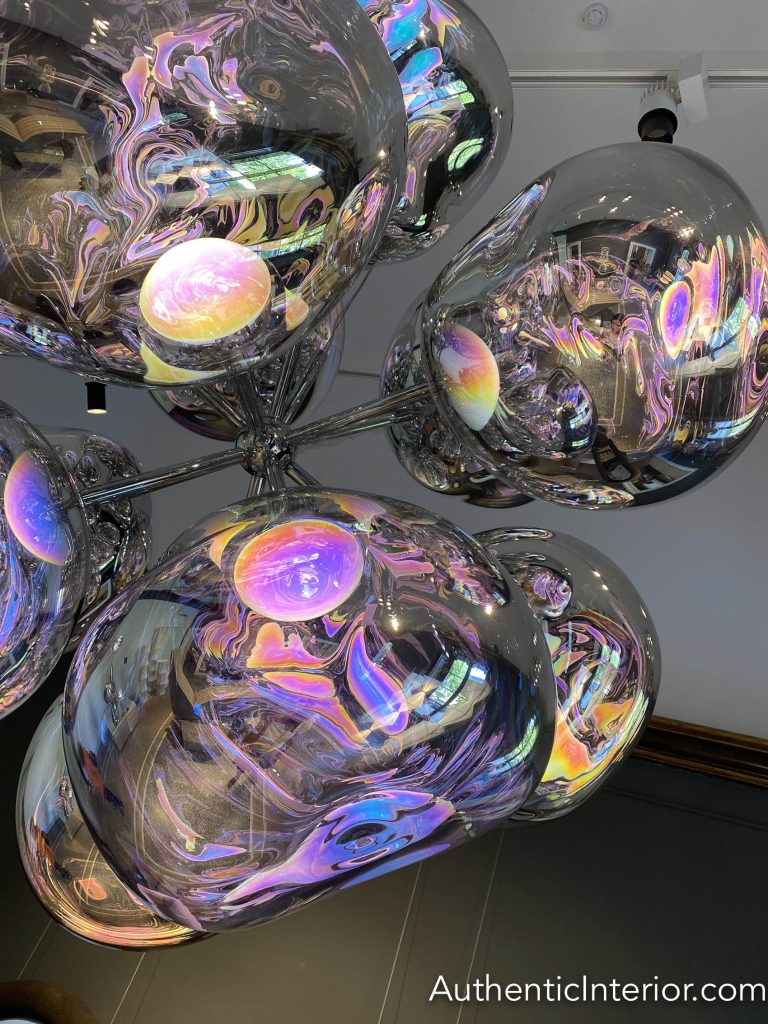 Melt (left) "is an exploration into the amazing world of Dichroic filters – highly technical coatings first invented by NASA that allow white light to be split into multiple colours."

Biorock (right) is the first furniture grown underwater (!). "The idea that we could eventually look at growing furniture underwater rather than fabricating it in landlocked factories appeals to us."-says Tom Dixon.
Milan Design Week 2022 Best Installations: The Pensione by The Socialite Family
I was so excited to see what's hiding behind the doors of The Grand Coconut Hostel. The Socialite Family, a French furniture and decor brand founded by Constance Gennari, mixes perfectly chick materials, bold colours and laid-back vibe. The team redesigned and refurnished the hostel in a few days, just to show that there's nothing impossible.
Milan Design Week 2022 Best Installations: Elle Decor "Design Forever"
Elle Decor wanted to pay tribute to the 60th Milan's Salone del Mobile by organising a palatial event called "Design Forever", taking place at historic Palazzo Bovara, one of the most exquisite examples of Lombard neoclassicism. "Design Forever" focused on contemporary living and its evolution through the creative eyes of Milanese studio Calvi Brambilla. Design studio elaborated four transversal trends in design of all times. It resulted in 4 main rooms which are interconnected.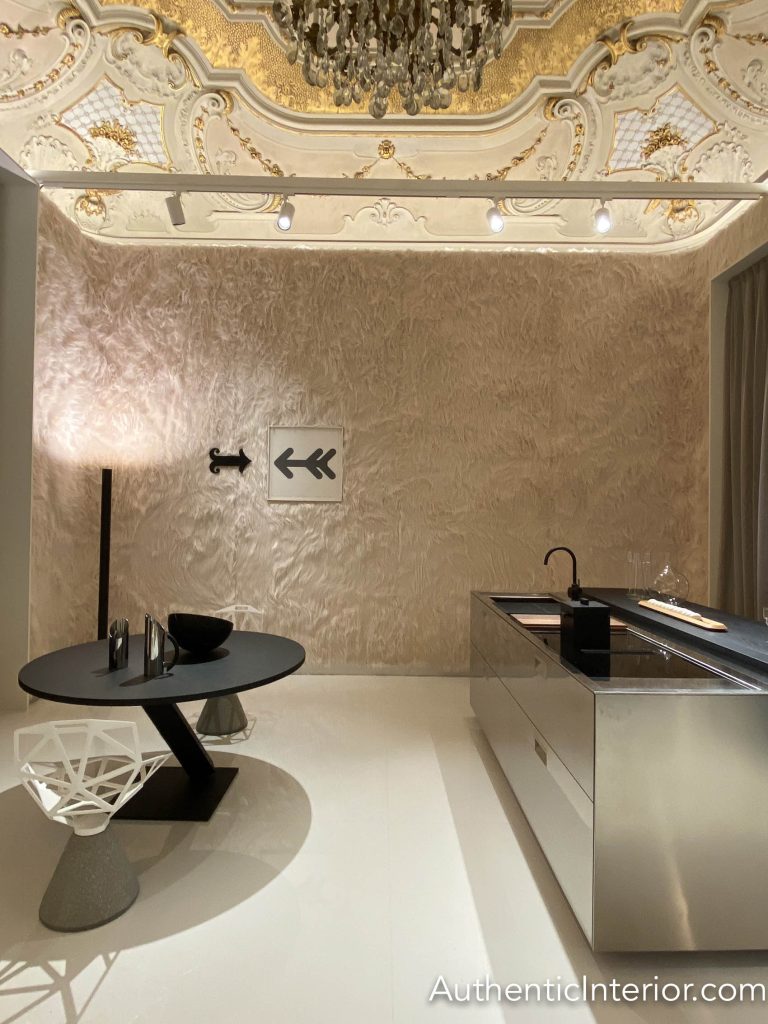 (Top photos) Tactile and soft walls versus cold materials used in this "Pure" space make perfect contrast.
"Bold" space (top photos) by Calvi Brambilla for Elle Decor's installation "Design Forever".
"Hybrid" space (top photos) at Palazzo Bovara by Calvi Brambilla.
"Mobile" room (upper photo) used striped tiles and mirrors to visually enlarge the space. Absolutely fantastic.
Milan Design Week 2022 Best Installations: MOOOI, A Life Extraordinary Envisioned by LG OLED
Futuristic and Timeless. Traditional and Modern. Is it even possible? This year Moooi has created something really different compared to previous editions – timeless and curated furniture and acessories for the future living, integrating latest technologies to everyday life. Taking place in an exquisite Milanese location Salone dei Tessuti, Moooi does things differently this year – focuses on both a digital and a traditional physical experience, combining the finest of design, lifestyle, and technology.
This year Moooi has collaborated with artists and designers as Ada Sokól, Cristina Celestino, the Swedish design duo Front and the digital artist Andrés Reisinger.
(Top photo) Aldora sofa, located in "Divine Dreams" room, is created by a talented award-winning designer Cristina Celestino. Sofa stands out from the crowd with its soft feminine and botanical shaped backrest. And its so comfy!
(Top photo) 'Piro' is a dancing scent diffuser that makes Moooi's interior moods come alive through scent and interaction, created by IDEO studio. It was so funny to watch it dance!
"Defy Gravity" room (Left) meets with Earthy colours and materials as stone seen in the photo above. Whereas "Paper Play" room is bold, colourful and also full of technologies.
Absolutely in love with this Hortensia armchair created by Andrés Reisinger, made of 30000 (3D cut petals!), replicating the beauty of nature.
Milan Design Week 2022 Best Installations: Divided Layers by Daniel Arsham for Kohler
Kohler, leader in kitchen and bath products, partnered with designer Daniel Arsham for a large-scale immersive art experience, entitled "Divided Layers", which won the Fuorisalone award afterwards. "The flow of water is experienced in both negative and positive space, regardless of a form's 'function'," says Daniel Arsham. "In Divided Layers, visitors experience being within the sink, rather than a user of a functional piece."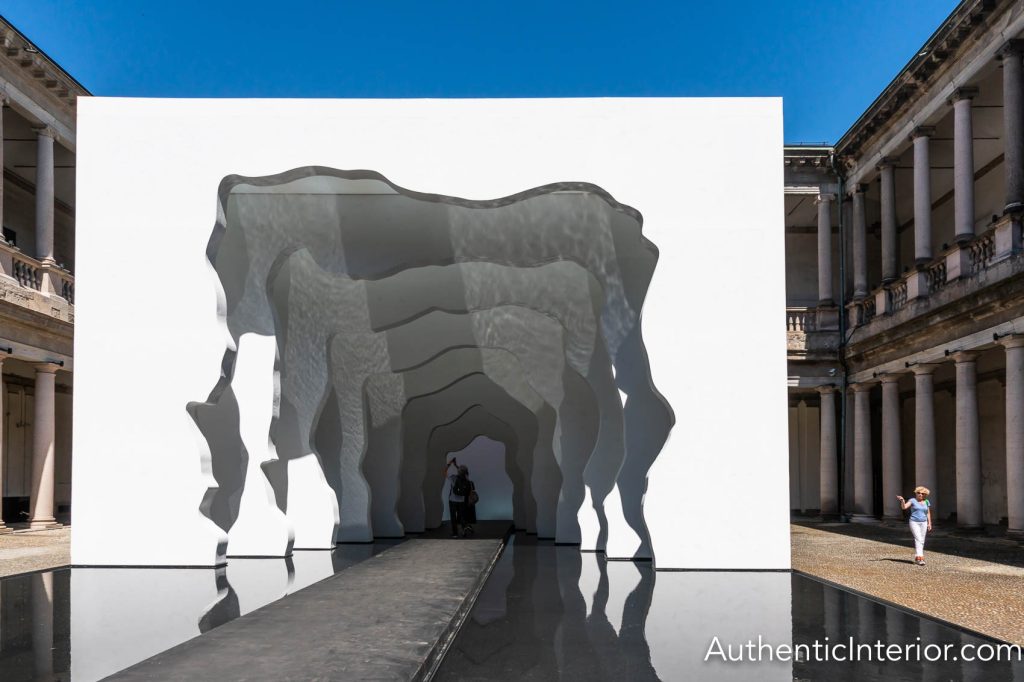 Photography credits: Aida Sniraite, Authentic Interior. All rights reserved. Publishing without written consent is prohibited. Sharing the article is welcome!
Follow AUTHENTIC INTERIOR on Instagram for more inspiration.

Are you a design decor brand, interior designer, a hospitality space, artist looking for unique content created for your brand? We are professionals in this field and can help you grow – please use contact form and we'll send you media kit.