Milan Design Week 2022 (Fuorisalone) together with Salone del Mobile is one of the main events in the design world (well, at least for me as design freak). Milan Design Week has been postponed several times in 2020, then came back as a mini Salone in September 2021. I am beyond excited to finally come back to Milan after all those years in June 2022 and show you all the best installations and trends.
You can find Part 1 here. My first impressions were that Milan Design Week 2022 was not as huge as in 2019, and it is normal – participants and visitors could not guess if the event won't be postponed again and again. Plus, the overall feeling in the city was less stressful as before 2019, and with less things to see. Nevertheless, some of the installations were quite impressive and I could see some major interior design trends for the future years to come. Also, this year I could connect with the designers and creators way deeper than during the last editions, which was amazing.
It was also a pure joy to meet with fellow design colleagues. I was beyond happy to be able to explore, feel and experience everything by myself (finally!). Oh, and feeling that Milanese vibe after 3 years was an absolute blast! Plus, I think it's the first time Milan Design Week happens in June – weather was really hot so moving around the city was quite an interesting and different experience.
So here's an overview of some of my favourite Milan Design 2022 installations part II in a diary style. You will find designers and brands like Giopato&Coombes, Somaschini, Solid Nature, Sabine Marcelis, Serena Confalonieri, Studiopepe, MOHD, Draga & Aurel, SE studio, Poltrona Frau, Salvatori, in the locations like Alcova, Rossana Orlandi gallery, Masterly – Dutch in Milano and many more.
Let's discover it together! But first, I invite you to sign up and download free color cards from Milan:
[block rendering halted]
Recommended video:
Milan Design Week 2022 Best Installations: Alcova
Alcova returns to Milan Design Week 2022 with emerging designers in the former buildings of a military hospital complex. Since 2018 Alcova brings historical spaces to life, transforming them into a space dedicated to emerging designers and talents. Whether designers, galleries, museums, schools or companies, Alcova seeks to shine a spotlight on the most forward-looking design being produced today.
Top photos: 13 Desserts, independent French design label with a multidisciplinary approach dedicated to the creation, production and promotion of design pieces. Since 2020, they develop and promote daring creations through collaborations with designers from various backgrounds.
On the top left ceramist and designer Elisa Uberti. On the right Servomuto presents the collection of Venus lamps designed by Serena Confalonieri.
Top photo: Modular light by Greek designers Objects of Common Interest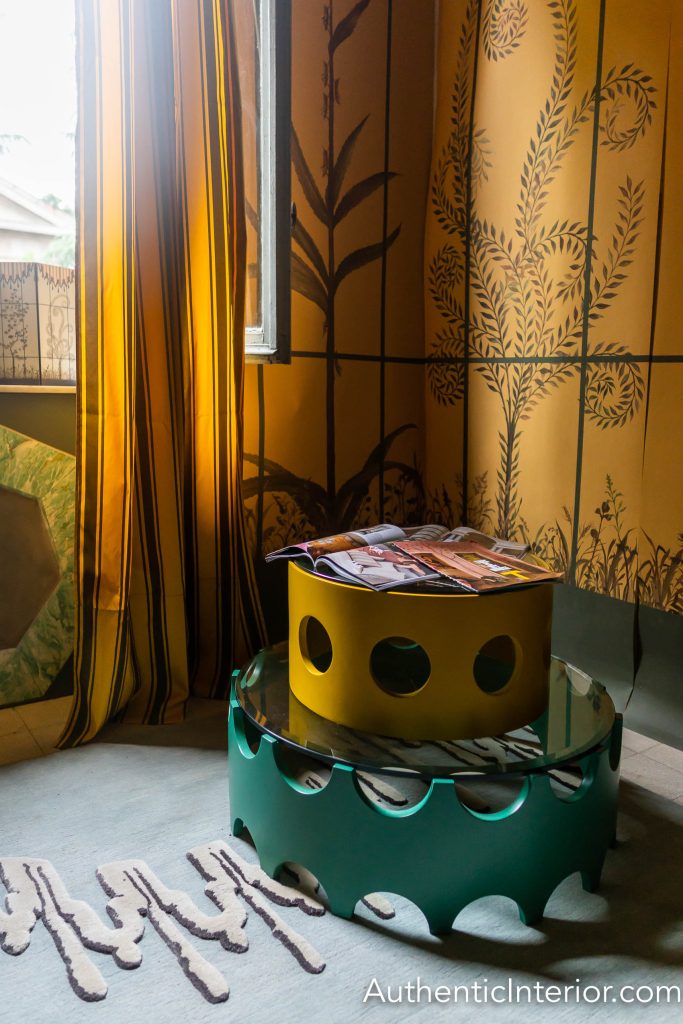 Top photos: Pictalab and Nicolo Castellini Baldissera created colourful room
Top photo: Somaschini is a new-born brand debuted in 2022 , with a strong, innovative attitude, and rich artisan heritage, showcasing their new collection — including sofas, armchairs and chairs, tables, cupboards and bookshelves.
Top photos: massive onyx entrance by OMA for Solid Nature
Top left: Onyx bathroom by Sabine Marcelis for Solid Nature. Top right: marble rotating cabinet by OMA for Solid Nature.
Milan Design Week 2022 Best Installations: MOHD x Studiopepe
Mohd in Bloom celebrates Mohd's pluralistic vision for the home, that combines a selection of the best of international design in an installation that recreates the atmosphere of a summer garden and which, thanks to a scenographic game of mirrors, multiplies its effect to infinity. An extraordinary light installation curated by the Czech brand Bomma embellishes the space with unlimited constellations made up of 150 lights that create a particularly suggestive scenographic effect.
Located in Via Macchi 82, Officina Milano is an open room of near 500 square meters, filled with natural light.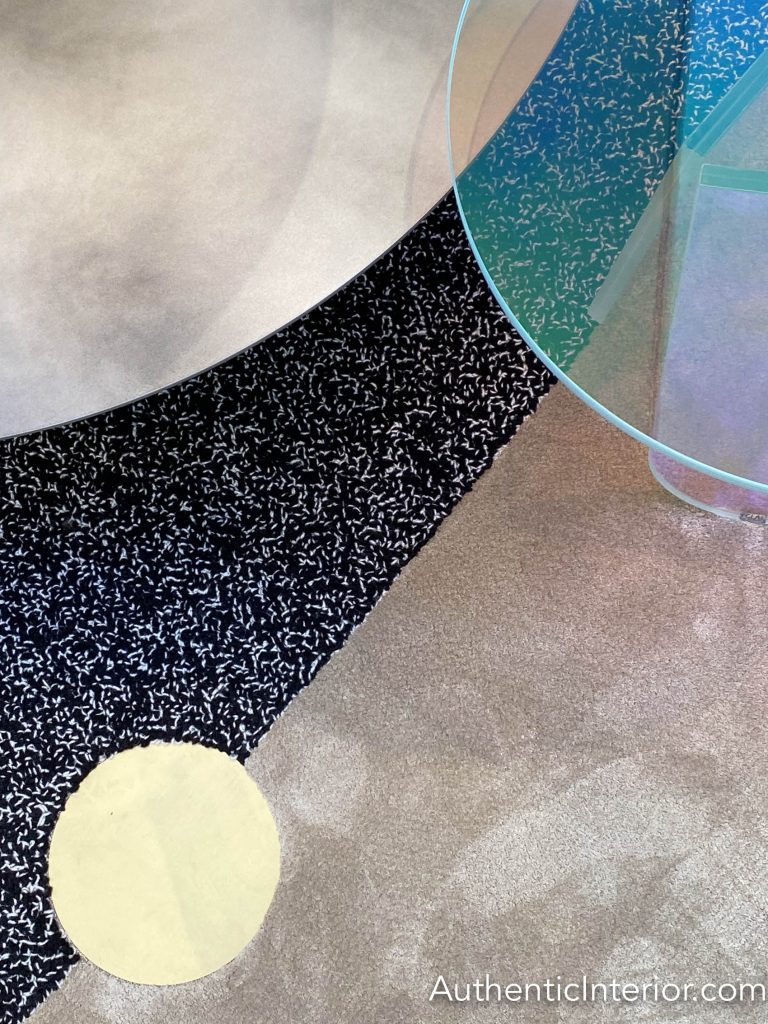 Milan Design Week 2022 Best Installations: Design variations
Design Variations had 2 locations – Circolo Filologico Milanese and Palazzo Visconti. Exhibition becomes a path connecting Design and Project Culture to the city's social and architectural heritage. This year there were brands and creators as 3M, Battilossi, Sebastian Herkner, Sodai, Thonet, Altreforme, Bufalini and many more.
Top left: Aprile by Sublimio. Aprile is a suspended seat inspired by the gaiety of spring and by memories of childhood.
Top right: collection Sodai, designed by Carlotta Fortuna. Designer tells us about her relationship with nature. Her work is characterized by a particular approach to colour and the expressive harmony of her subjects.
Top photos: Altreforme presents Sisi and Otto, the new pieces designed by Doriana and Massimiliano Fuksas. Objects are sustainable and made of 100% aluminium using a circular economy.
Upper left: Trilite by Paolo Ulian for Buffalini. The entire structure is made of a curved plate. Upper right: Stripes by Paolo Ulian for Buffalini. Extremely light and transparent lamps.
Top photo: Batillossi rugs
Top photo: Ultrafragola mirror, which was very present during Milan Design Week 2022
Top photos: Collection on rocks and glass "Close to the Edge" takes inspiration from the age-old Japanese art known as Suiseki – the art of meditation. Maybe unstable, still balance.
Milan Design Week 2022 Best Installations: Rossana Orlandi Gallery
RoGUILTLESSPLASTIC is created by Rossana Orlandi and Nicoletta Orlandi Brugnoni. They aim to raise the awareness towards circular design and sustainability, based on the criteria of recycling, reuse and upcycle of waste materials. The space is huge, which consists of a cozy garden-cafe, and multiple spaces for designers to showcase their works.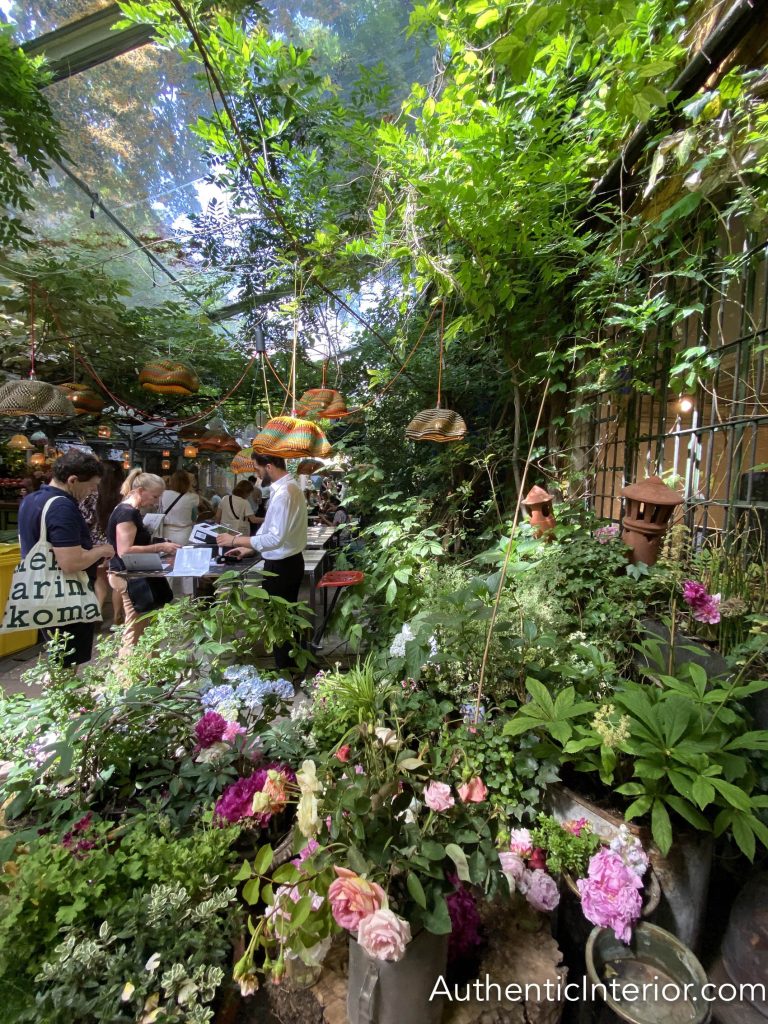 Top photo: Home 4.0 "Organic feeling" is a study in contrasts that explores Virgil Abloh's fascination with "taking the familiar and making it new". He took inspiration from architecture and organic shapes that recall the perpetual transformation of nature.
INKY DHOW by British designer Bethan Gray. She also launches a new series of lighting in collaboration with the innovative design-led lighting studio Baroncelli.

New collection by British lighting designer Marc Wood.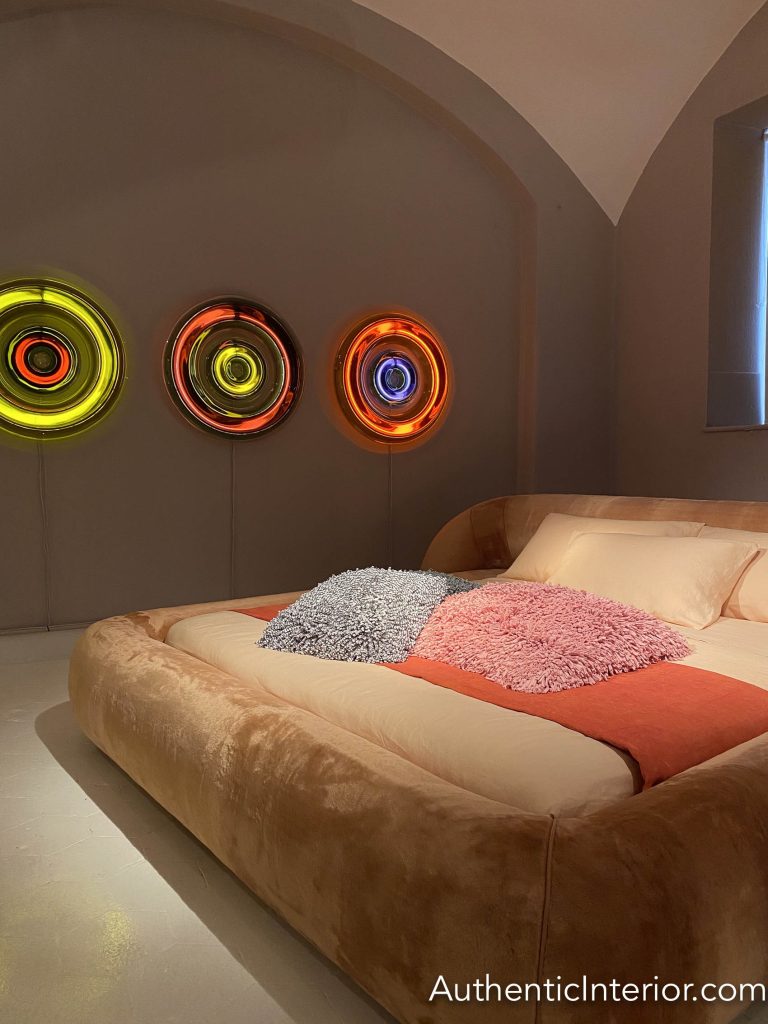 Top photos: Draga & Aurel, multi-disciplinary design studio from Italy. The title of the collection has a double meaning. "Transparency matters": for us, it is the most important attitude. It refers to the transparent materials used in the pieces — cast resin, glass and plexy — as well as our evolutions as designers. From Transparency, we think of transformation, transition, transgression, transnational: all words that describe us and our more than ten years of working together."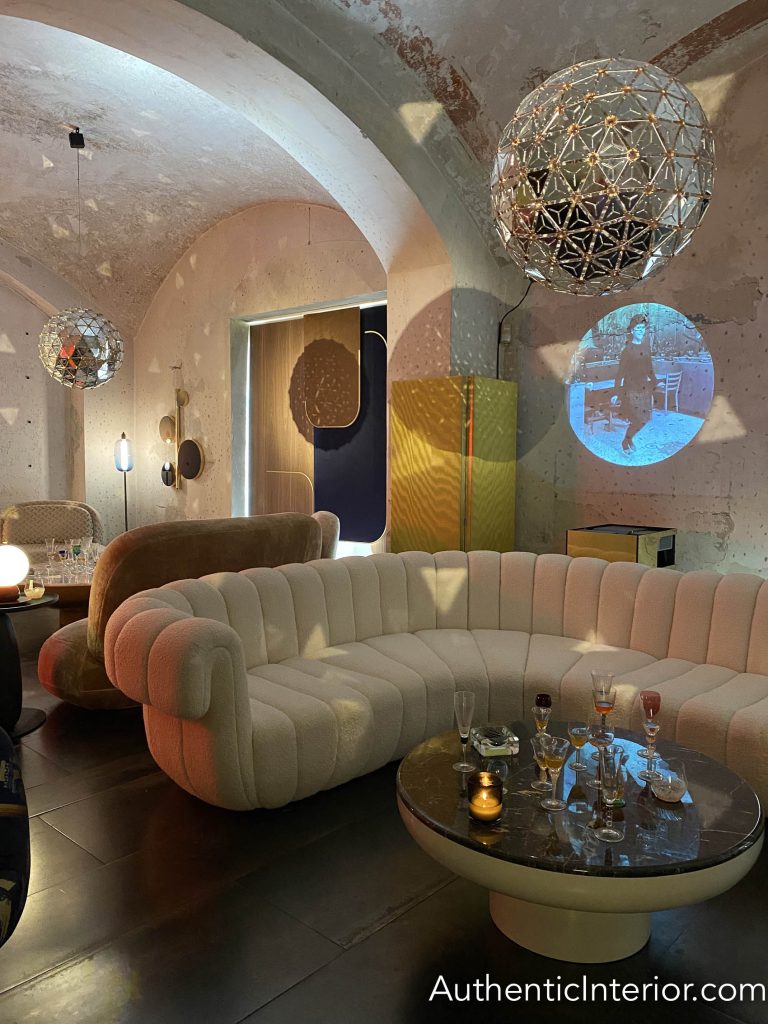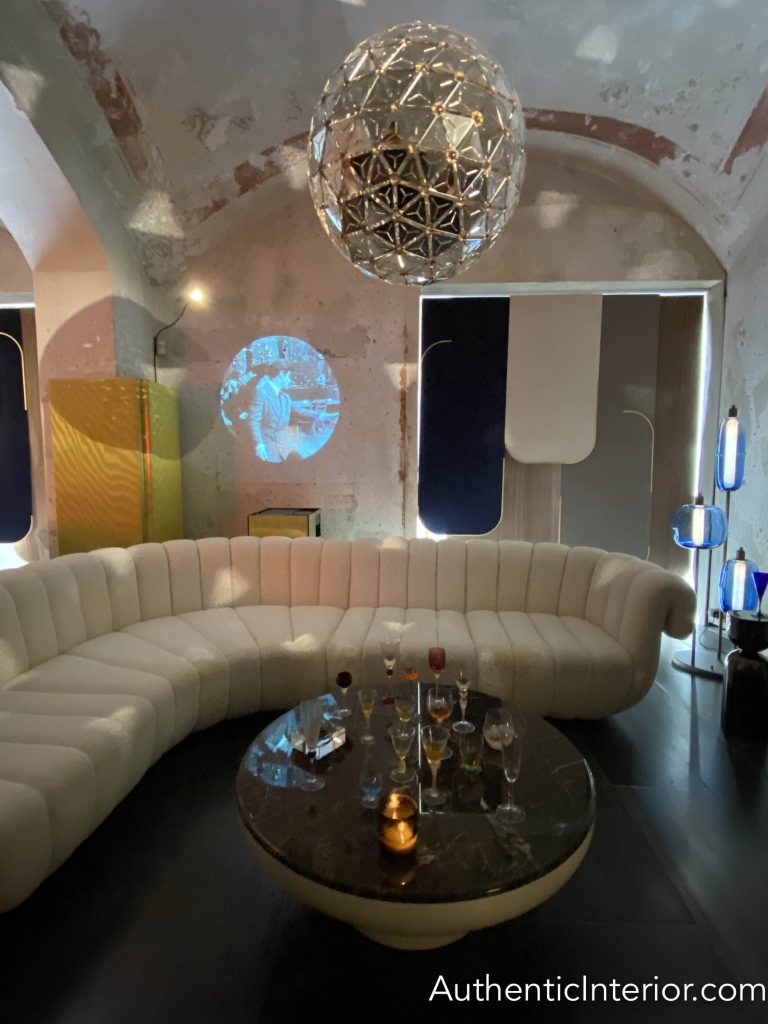 Sé Studio presented its most ambitious and immersive installation to date, SÉ CHIC an evocation of the halcyon days of disco expressed through design. Inspired by 1970s and New York, as well as legendary venues as The Loft and Paradise Garage. SÉ CHIC combined sound, movement and illumination to evoke the energy and collective spirit of the times, all with a nod to supple, seductive 1970s design.
Milan Design Week 2022 Best Installations: Poltrona Frau – The True Evolution Experience
Poltrona celebrated its 110 years of their history in their iconic showroom in Milan. For the first time, opens its courtyard inside the city of Milan with the sculptural and immersive installation The True Evolution Experience. "Designed by the interior designer Greta Rosset and by videographer Mario Greco, the installation interprets the heritage, the contemporaneity and the sustainable future of the company in Tolentino combining digital elaborations and shots created ad hoc."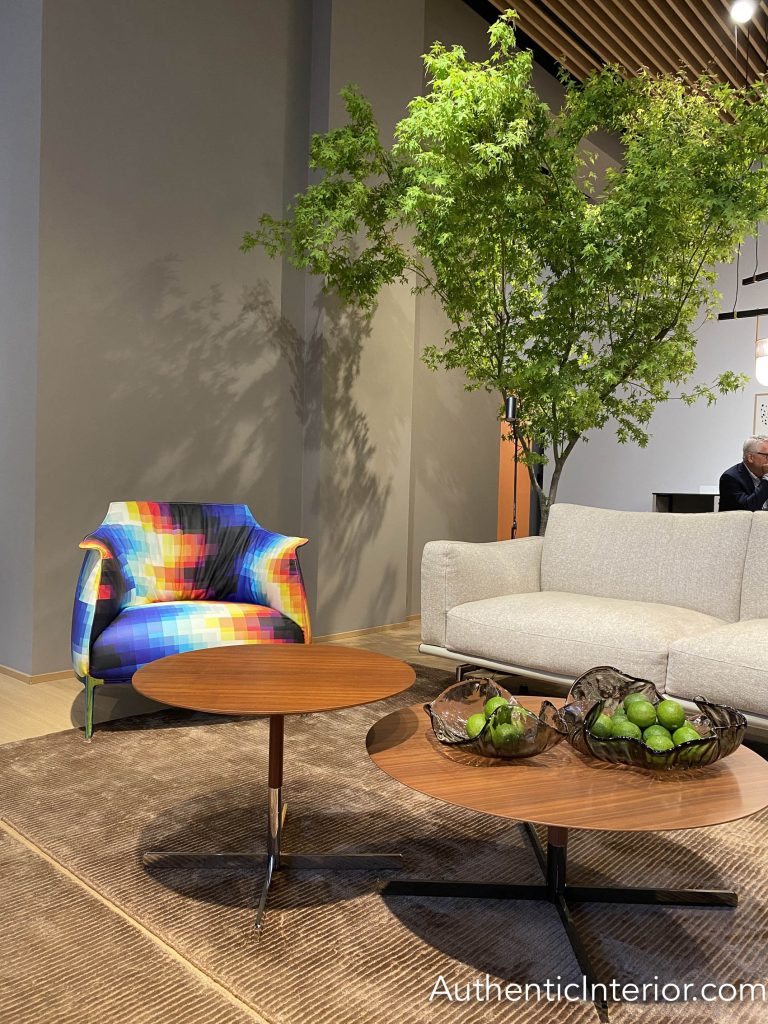 Milan Design Week 2022 Best Installations: Giopato & Coombes "Into the bloom"
Italian & British designers' duo Giopato & Coombes presents their new collection at 5 VIE district. Their inspiration comes from Venetian glassmaking traditions and modern technologies.
Milan Design Week 2022 Best Installations: Marta Sala Editions
Shaped since childhood by a strong family aesthetic, Marta Sala founded her brand Marta Sala Éditions (MSÉ) in 2015, to report her own design stories. The design editor grew up into one of the most iconic families of the Italian Design; her relatives founded well known Azucena (bought in 2018 by the B&B group). After being part of Azucena for 25 years, she decided that she wanted to reinterpret her knowledge in design into something more contemporary, for the new generation.
The new collection by Marta Sala éditions designed by architects Lazzarini & Pickering presents new furnishings that complete the typologies already in catalogue. The new collection features brighter colours and new materials such as the Red Marble of France or crystal glass for the coffee tables.
Milan Design Week 2022 Best Installations: H+O GALLERY
H&O Apartment gallery created by Elisa Ossino Studio and File Under Pop in the heart of Brera Design District. They have transformed the 18th century apartment gallery into a sensatory, emotional experience. You can see various design techniques and experiments as tiled walls in the living rooms and great use of colour.
Milan Design Week 2022 Best Installations: Mutina
"Elementi per paesaggi" is the new lively exhibition developed by Nathalie Du Pasquier for Casa Mutina Milano. The French artist had a vision to showcase different side of ceramic material – through all the possible forms and shapes, while using bold colours.
Milan Design Week 2022 Best Installations: Masterly – Dutch Design
Masterly is like Meka for Dutch designers in Milan, it returned to the Palazzo Francesco Turati for its sixth edition. There were creators and designers including Frits Jurgens, Van Besouw, Monasch by Best Wool, Blok & Carina, and BN International. Also products by MONDiLAB, My Suncruiser, and Sodalime companies were displayed there. At the end of the event, all the flowers are distributed to locals as a thank you gift.
Top photos: Sodalime with their glass objects "Dichroic Collection"
Top photos: Blok & Carina present "Pieces for Conversation". An installation inspired by the absurd world of today.
Top photo: Monasch by Best Wool, Masai collection.
Top photo: Mondi Lab is a place where professional creators come for the innovation in the textile craft.
Top photo: 212 Studio Fahrenheit, dutch design studio, founded by Albert Buring and Paul Mulder. Studio specializes in spatial product, branding, interior and installation design.
Milan Design Week 2022 Best Installations: Salvatori – Between space and time
Salvatori transforms natural stone into iconic objects of design to create timeless and elegant décors. They wanted to show how design can become a protagonist in guiding ecological transition to ensure it is not only effective but also aesthetically engaging. Collection have been developed with two internationally-renowned names – Kengo Kuma and Yabu Pushelberg.
Top photo: Omphalos Coffee table by John Pawson. Salvatori collection is inspired by Wabi Sabi – Japanese way of living
Which installation/designer did you like the most?
Follow AUTHENTIC INTERIOR on Instagram for more inspiration, where I publish reels, videos and behind the scenes!
Are you a design decor brand, interior designer, a hospitality space, artist looking for unique content created for your brand? We are professionals in this field and can help you grow – please use contact form and we'll send you media kit.