Happy Monday! Today I'd love to review a beautiful, colorful boutique hotel in Rome which is not a traditional hotel. Let's discover it together!
If you are an avid design seeker and strive to discover beautiful places, this hotel is designed for you. 
It is about time for hospitality standards and trends to change. Enough of boring room designs. Of course, a client pays money to be in a secure, comfortable place and he prefers to choose well-known chains. He knows what the chain offers and that there will not be any surprises like outdated showers or mattresses. But let's see how it can be awesome to choose an original and exceptional place to stay, whose owners are real people, and not a big corporation. 
Let's go to Rome, a few steps from the Colosseum and the Roman Forum, where young entrepreneurs Kaja Osinski and Filippo Ribacchi decides to start a fun journey in hospitality and invests in a boutique hotel in Rome which they turn into Condominio Monti. They asked interior design studio Studiotamat to design 2 buildings. The new boutique hotel preserves the convivial atmosphere of the historic neighborhood, famous for its picturesque alleys which oozes life during the day through its tiny craft shops and galleries, and by night through its trendy wineries and bars.
Condominio Monti occupies an area of 900 square meters and has been developed within two neighboring buildings: hence the name, which highlights the intimate collective project, where great attention is paid to shared spaces.
Boutique hotels offer a different perspective to the design. You will not find the same room. If you are an avid design seeker and strive to discover beautiful places, this hotel is designed for you.
Condominio Monti includes 33 rooms, designed for selective travelers and design lovers. We see that the structure of the traditional Roman house has been preserved. Functional rooms distributed along a corridor bears the signature of Studiotamat. The shades, finishes, fabrics, patterns, and objects have been selected by Sabina Guidotti, founder of Bludiprussia.
Interior designers decided to make bespoke custom-designed furnishings – from headboards to bedside tables. The impressive color palette makes visitors dream and go on an exotic, retro journey to discover "otherness".
The hotel offers a stunning view to discover Rome from above by sitting in the panoramic terrace, decorated with a continuous mosaic of soft colors, blending softly with Roman architecture. Hotel guests can enjoy their breakfast in the morning and aperitivo at sunset with a breathtaking view of the Colosseum and the apse of the Church of Sant'Agata dei Goti.
I'm absolutely in love with the color palette. Just take a look at how soft green, pink, yellow and blue tones found their place. Even tile grout matches the room color scheme!
If you take a closer look, big mirrors are quite important these days in the hotels. They are used not only to decide on your outfit of the day but also do selfies and other "instagrammable" photos. These are key factors when creating hospitality interiors for the Millenials.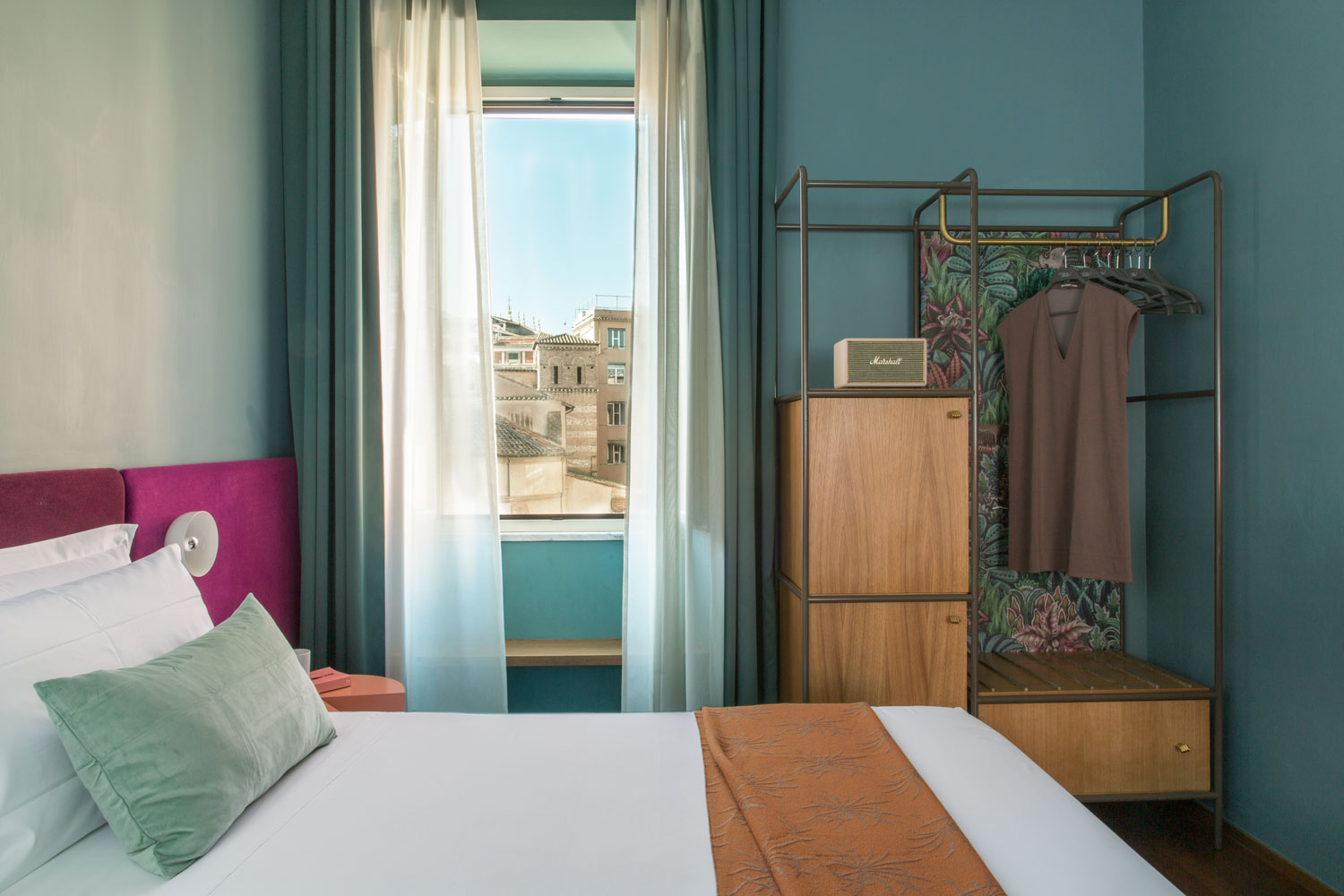 In the photo of the bedroom below, complementary color scheme is used to enhance the different furnishings to bring life into the room. As you can see, soft green walls and fuschia headboard as well as soft orange side table matches so perfectly together.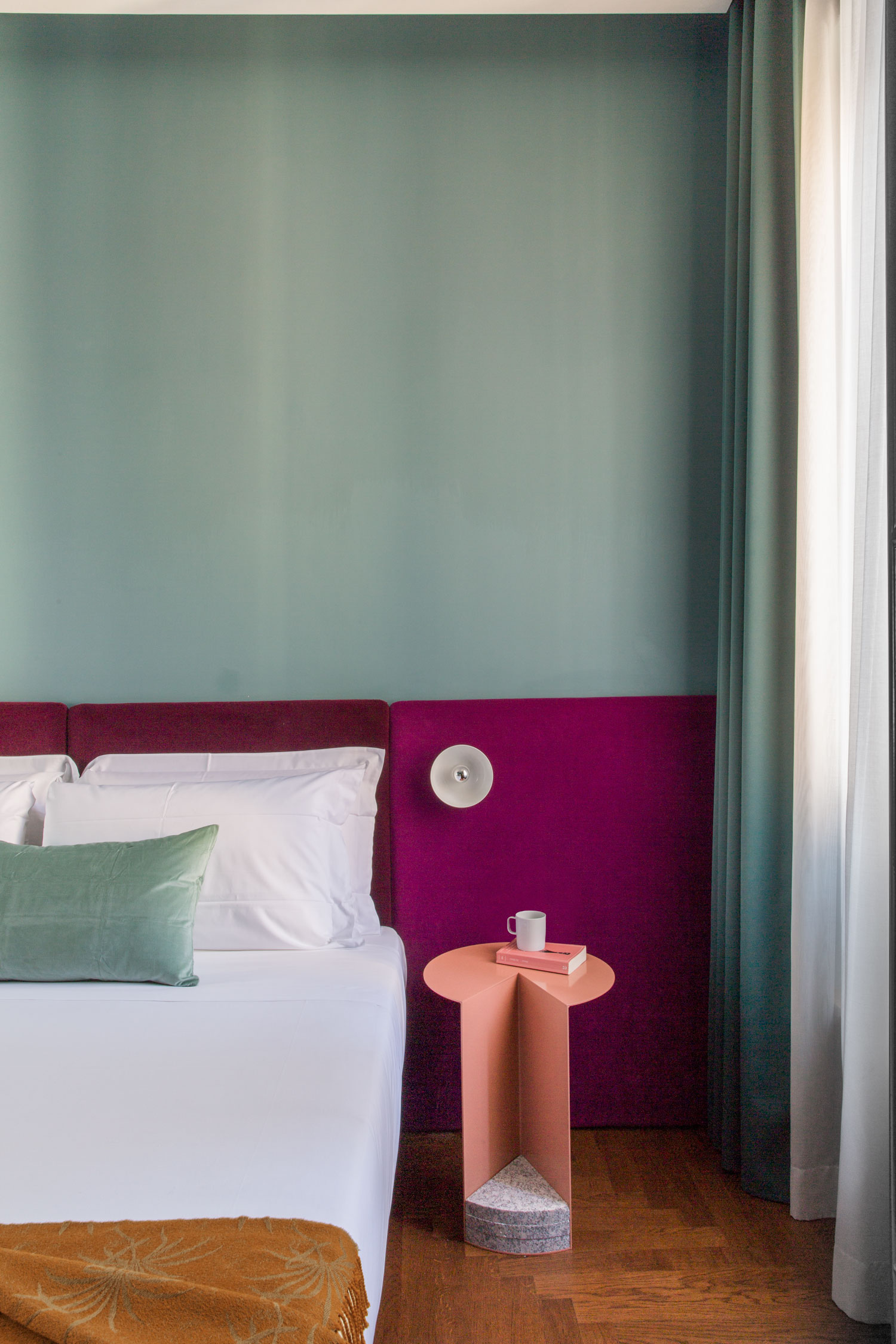 Love how soft neo mint tiles make contrast with fuschia tile grout. It is an original way to add some color into a bathroom.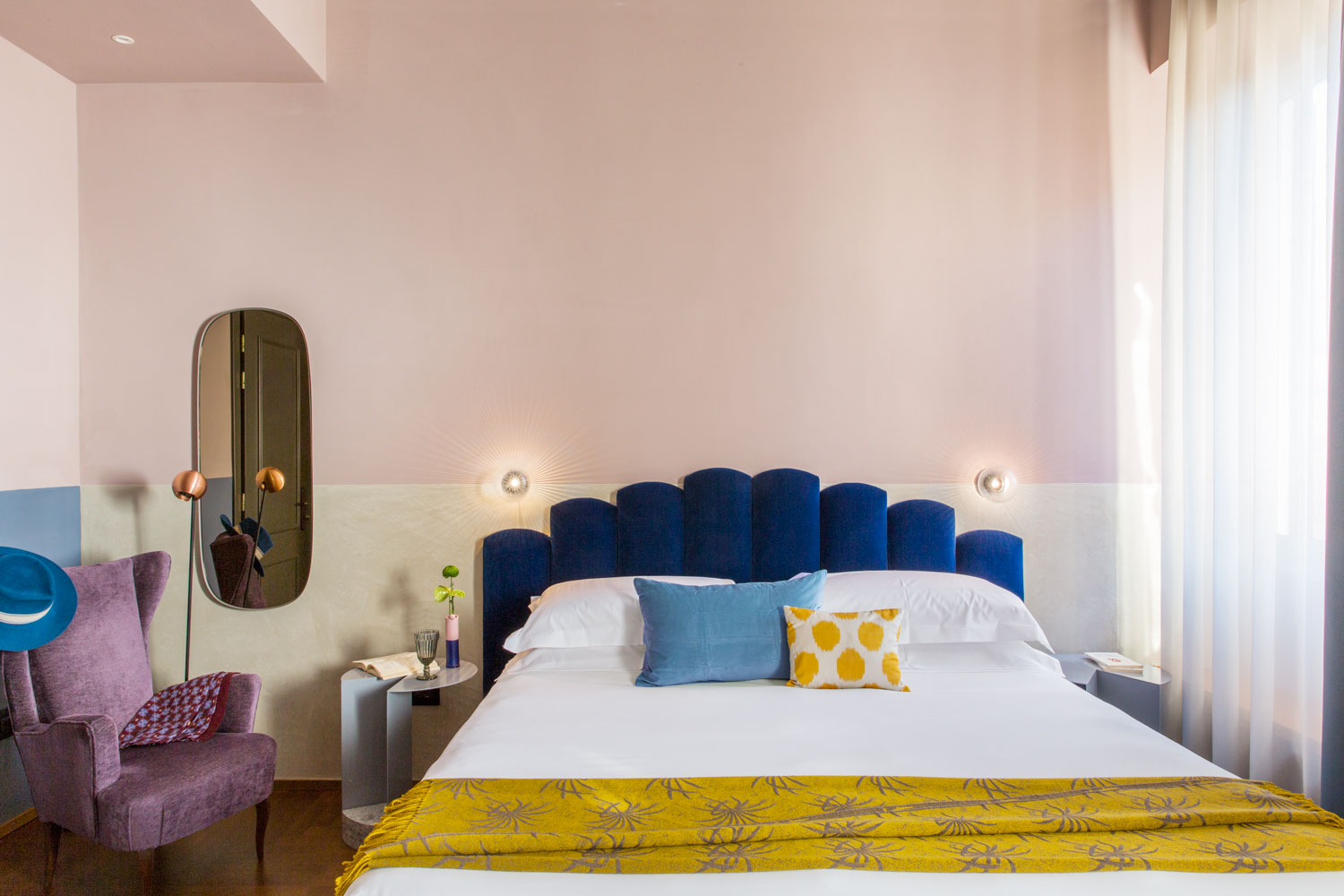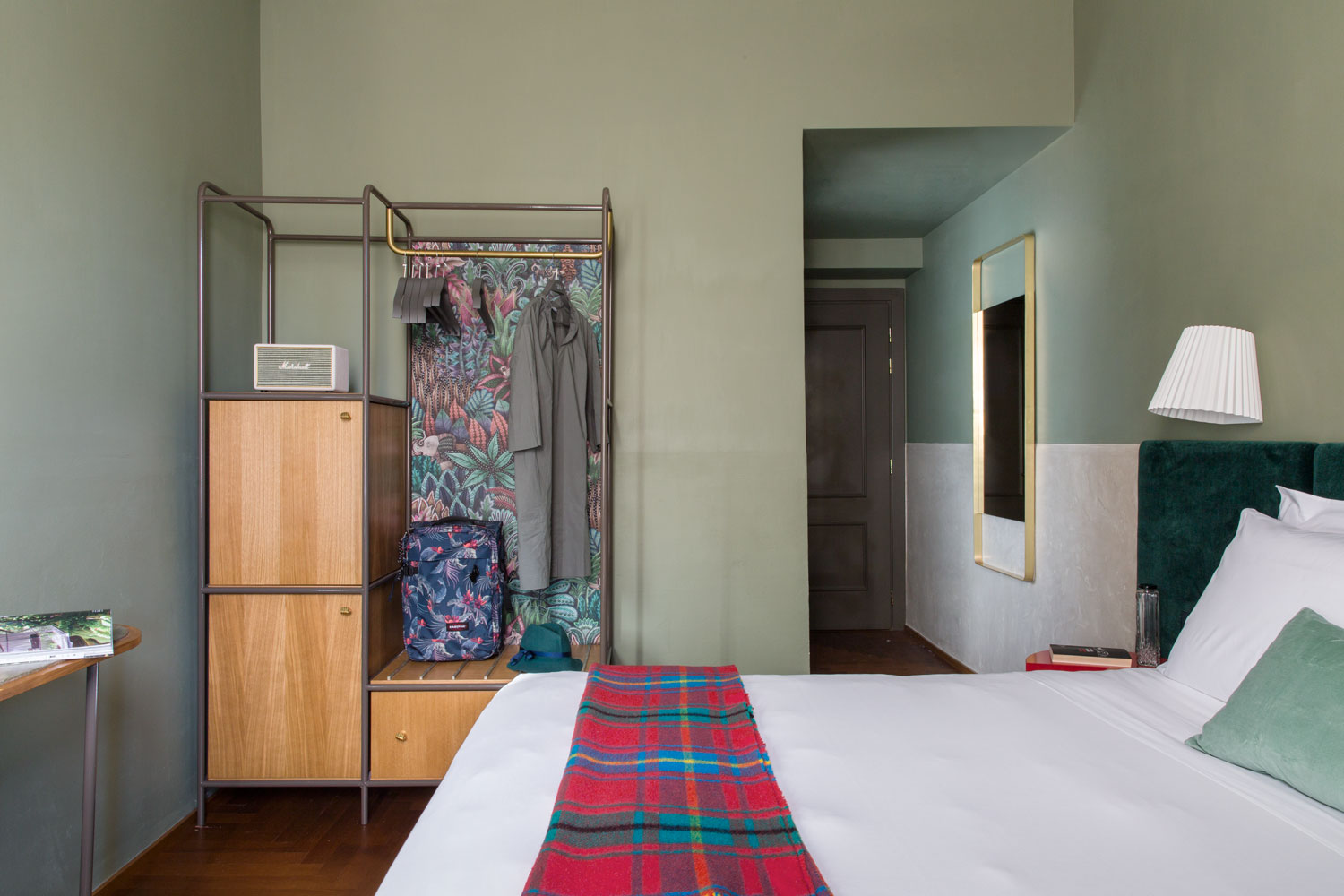 Common spaces are also important. This is the space where visitors can relax, read a book, have a meeting or a business call. I love how subtle color tones as salmon pink and pale blue are used together with  dark blue window frames and brass light fixtures. So fresh and inviting!
Investing in hand-made quality ceramics from a local artist is always a good idea. Hotels can have an exceptional style and the artist can showcase his work.
A beautiful panoramic rooftop terrace invites with greenery, soft tones that complements the architecture.
Welcome to the suite where terracotta and Klein Blue colors are used together with other, softer, tones. Subtle wall color is a perfect canvas for bolder tones and textures. It is way more calming to enter an interesting and full of great design space rather than being welcomed by boring beige interior, right?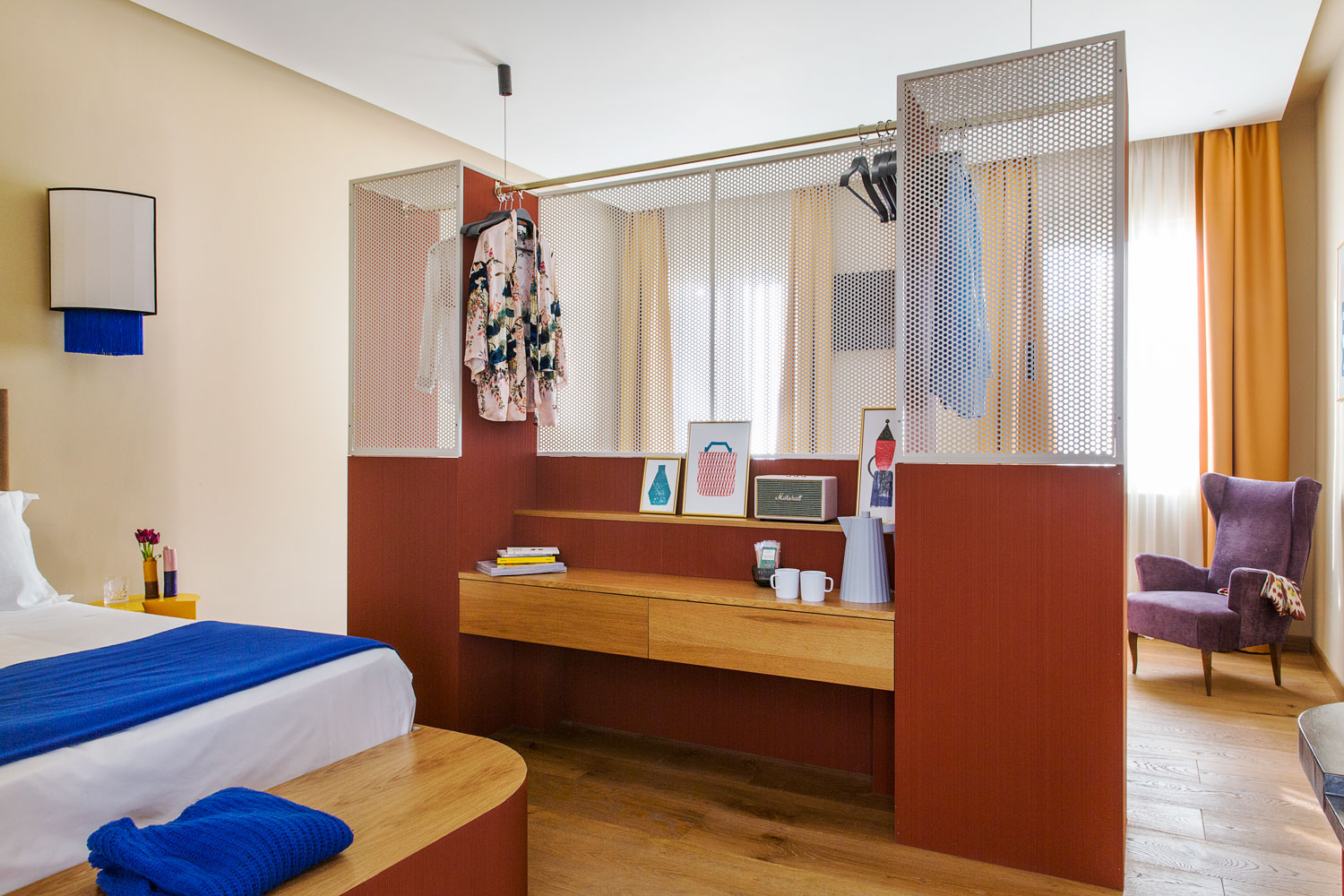 Love how yellow curtains are complemented by blue artwork and a purple armchair. A simple way to spruce up any interior!
Each studio is being characterized by ceilings with colored wooden beams, in harmony with fabrics and furnishings. Love how designers used the "fifth wall" (the ceiling) to enhance the space and add the needed vibrance.
Better than a coffee – try to start your day in a bright yellow bathroom!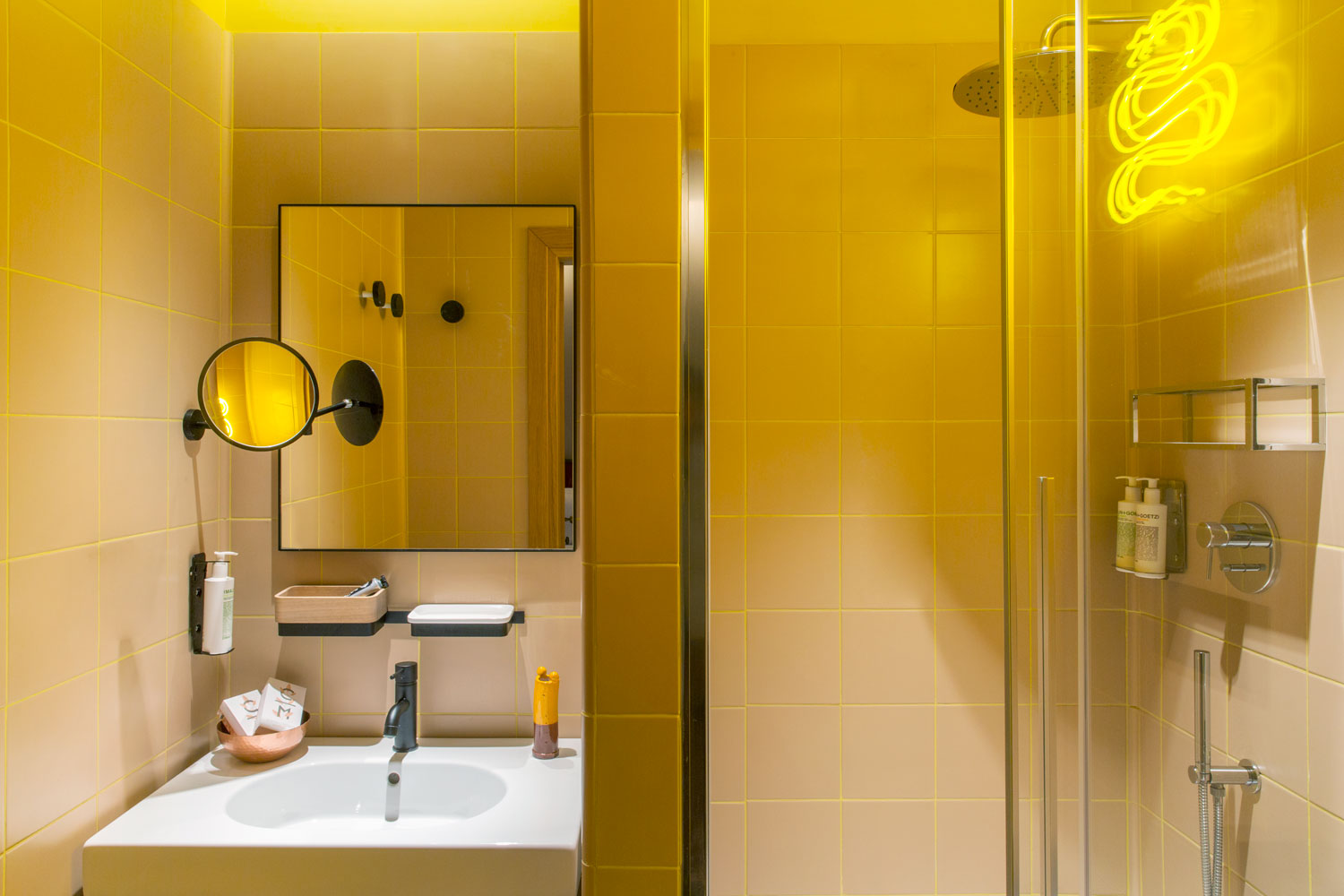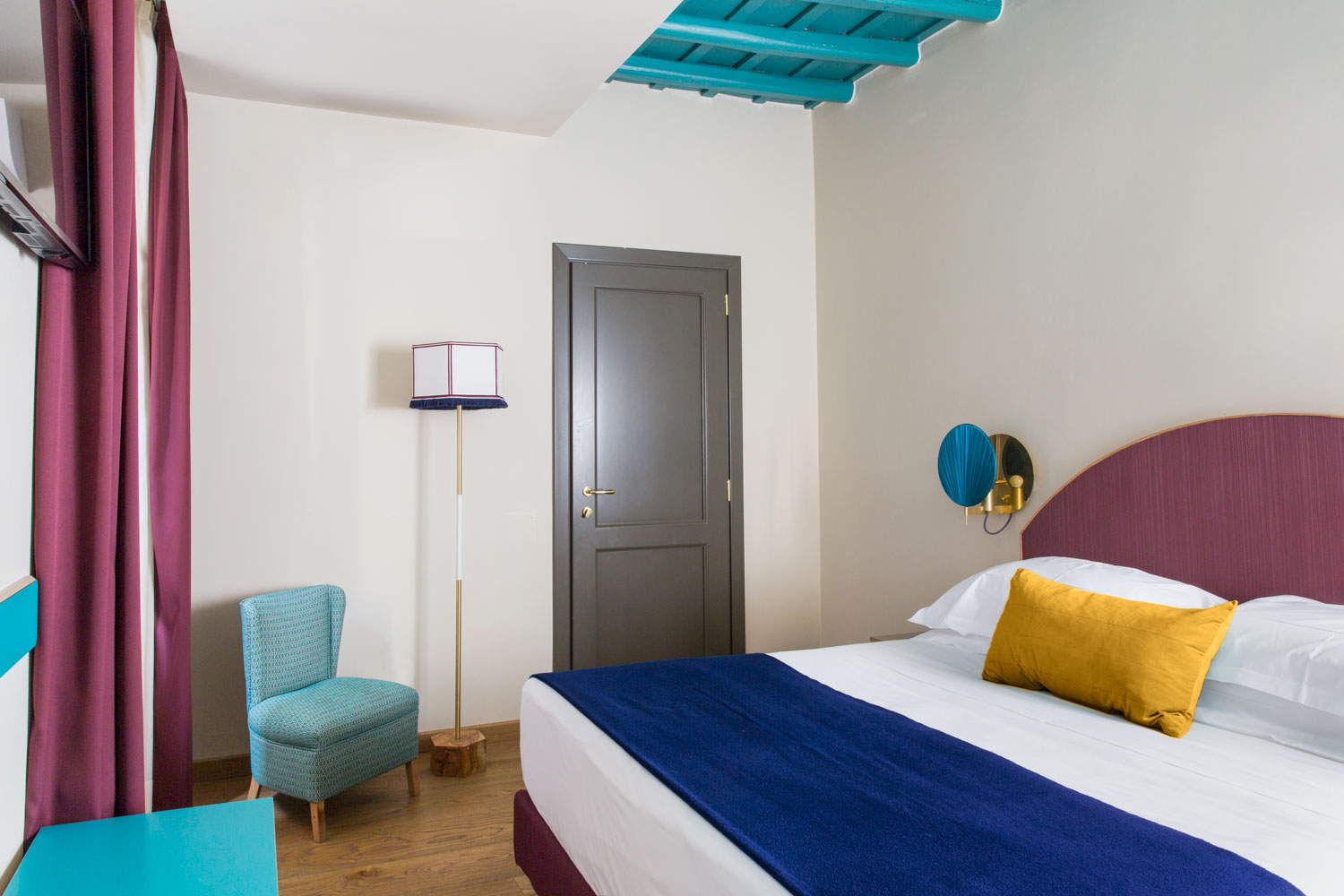 The second building is composed of studio apartments that include living room, kitchen and a bedroom.
The interior design, combined with the owners' expertise in hôtellerie, offer a unique experience, brimming with original details and delightful objects to discover, with welcoming shared spaces and rooms with their own personalities, unique yet united, as if they were those of one big house. Condominio Monti is the perfect destination for cosmopolitan visitors who are drawn to out-of-the-box experiences.
AUTHENTIC INTERIOR loves color. That's why I've prepared color cards from Milan Design Week 2019 just for you. You can download them and use them for any kind of inspiration – they do not contain any words or explanations. Let's discover it!
CREDITS
Hotel:Condominio Monti
Address:via dei Serpenti 109, Rome (Italy)
Owner:Living Roma
Year:January 2019
GFA:900 mq
Architecture and interior design:STUDIOTAMAT (Matteo Soddu)
Interior decoration:Bludiprussia (Sabina Guidotti)
Illustrations:Paola Arena
Photography:Serena Eller Vainicher
Would you like to stay at this hotel?
Get 10% off when booking with this link