Mexico City based A-G Studio designed a vibrant and rich in details and colourful tiles boutique hotel Casa Hoyos, located in a colourful city of San Miguel de Allende. The property belongs to the Hoyos family, who have owned it for four generations, being a first currency exchange bureau in town in the beginning of the 20th Century.
[block rendering halted]
As the hotel layout is concentric, all the boutique hotel spaces are located around the patio. When entering the courtyard, we can see Andalusian style balconies, black tiled arches with salmon and yellow colour tiles, "representing the belly of the snakes that make up the Hoyos family heraldic shield."
The building is preserved, so A-G Studio designed Casa Hoyos keeping history in mind. We can find multiple allusions to what used to happen in this family owned house hundred years ago. We can see a "mural of a Sorrowful Virgin of Loreto through the arches, made and hand-painted in glazed Talavera". The pink console, earlier served as a bank counter, together with tiled virgin and black lamps, create an altar.
Designers repurposed a lot of the furniture pieces and preserved architectural details. This could be a reminder that every furniture piece with a history makes a place more unique and interesting, maybe even an object of curiosity.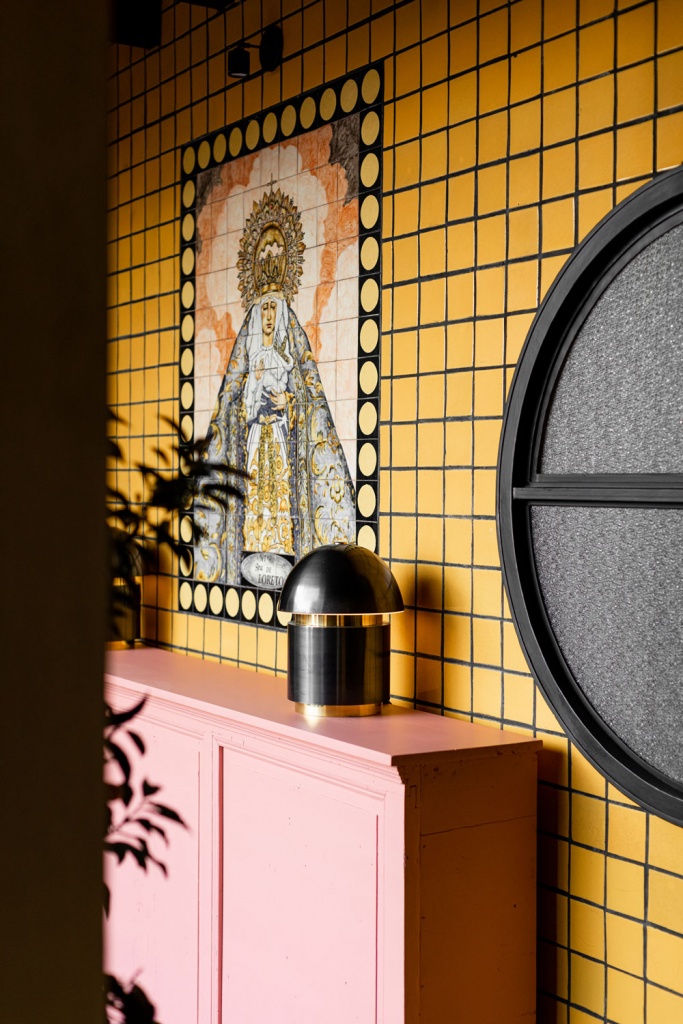 [block rendering halted]
Red lampshades as well as other decor pieces are designed by the Mexican artist Melissa Ávila, not to forget other local artists who contributed to Casa Hoya, as Isaac Cruz, Paloma Layseca, Andrea Flores and Lucía Soto.
Another boutique hotel decor features are plaster pots decorated with mirror fragments, which is one of the interpretations of "those that originally decorated the house."
A-G Studio created every single furniture exclusivelly for Casa Hoyos in all the 16 hotel rooms. Hotel suites' walls are decorated in soft peach colour, which are complemented by black, burnt orange, light wood, rattan pieces and local artwork.
Photo credits: Diego Padilla for A-G studio
Follow AUTHENTIC INTERIOR on Instagram for more inspiration, backstage and news.

Are you a design decor brand, interior designer, a hospitality space, artist looking for unique content created for your brand? We are professionals in this field and can help you grow – please use contact form and we'll send you media kit.