Interior design is not only about picking beautiful objects. A great interior designer follows a holistic approach when designing a client's homes or public spaces. But what does holistic approach mean? And it has nothing to do with Buddha!
For example, when I create a design concept, I always meticulously analyze client's needs, as well as other factors that will determine the final design scheme – landscape, the view from the window, building history and much more.
Nowadays clients tend to choose something extraordinary rather than pale and boring. The same applies when choosing hotels. Clients with taste will rather choose a well designed unique hotel which will bring them special emotions.
Let's meet in ISTORIA, a beautiful boutique hotel, designed by Interior Design Laboratorium. The team followed holistic approach to create an extraordinary experience for visitors, inspired by people's original stories.
A deserted private residence neighboring a deep blue patch of the Aegean Sea becomes a boutique hotel for travelers with an eclectic taste, inspired by Mediterranean landscapes and architecture. Traditional arched door and window openings interrupting the thick structural walls are the main key elements of Santorini island architecture. The building forms a well-conceptualized sculpture, which guides the visitor through a succession of spaces enhancing the residential experience.
As the hotel's name suggests (ISTORIA means 'story' in greek ) this place resembles more a retreat, a welcoming home, in which the sun and the sea create a unique sensation of pure liberation. One that allows you to create your own story, your own special memory.
What's interesting when starting to design any interior, it's the origins of the building. Back in the days, Istoria accomodated horses stables where the former owner used to keep her beloved horses. If nobody knew this story, maybe design would have been completely different. This story became the starting point to collecting images, inspiration from all over the world in order to form a new residential experience.
Having a pure boutique approach as an architectural outline, every suite is distinctive while emitting a sense of refined simplicity.
Interior Design Laboratorium believes that each building and decorative material always generates a feeling. The feelings and therefore the building materials chosen for ISTORIA, create a solid aesthetically pleasing outcome. In ISTORIA every visitor is wrapped in a serene feeling of luxury with the powerful Greek light serving as the only spectator.
Before entering the suites, the visitor is greeted by the arched entryway and a deep terracotta colored private patio. Visitor's journey through the boutique hotel continues by discovering secluded verandas with either Jacuzzi or private pools.
Authentic elements that were found in the old residence, such as parts of the old wooden roof and stone pillars, were incorporated in the interior design
For the interior of the 12 suites, Interior Design Laboratorium combined the simplified minimalism of the Cycladic style together with emblematic details.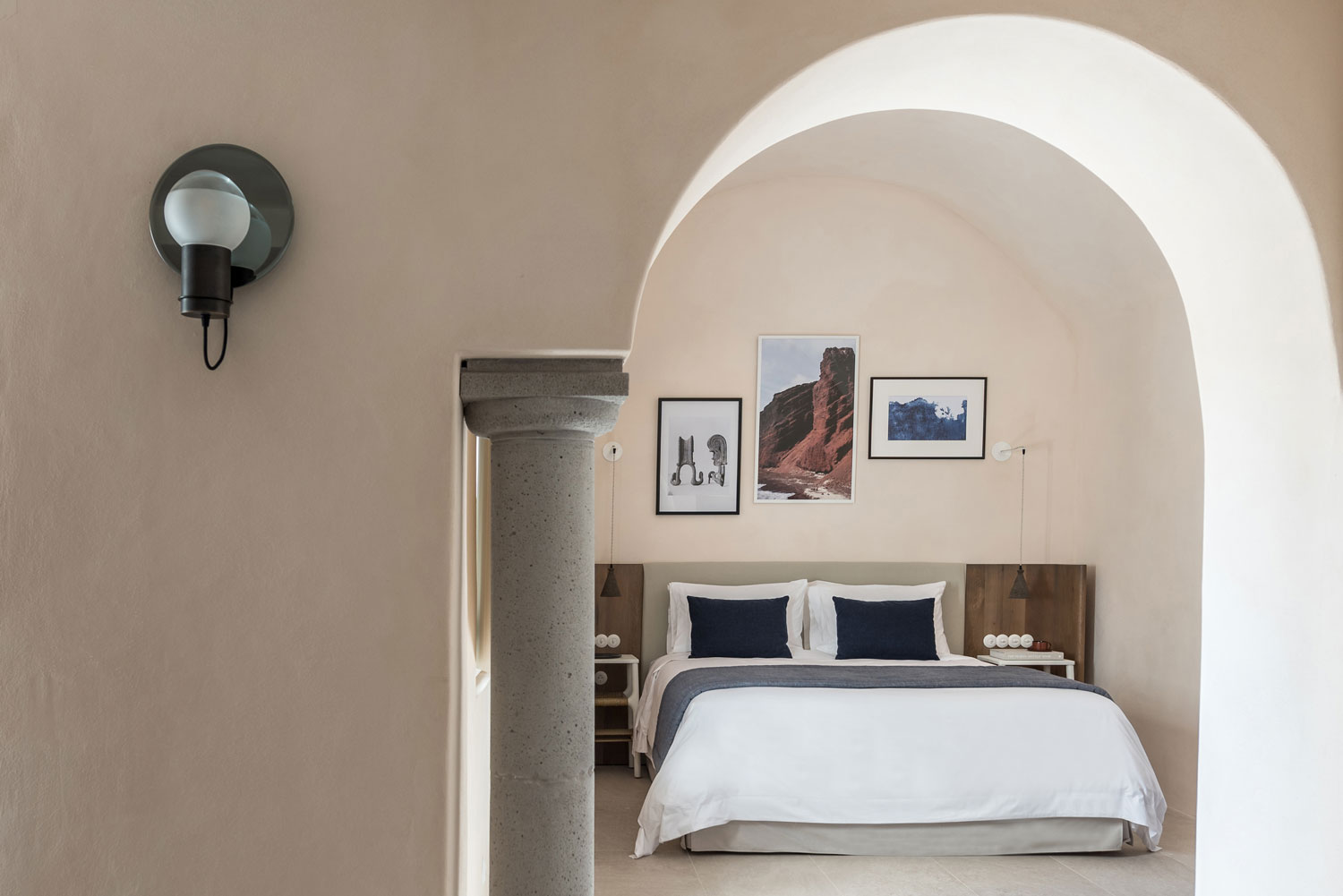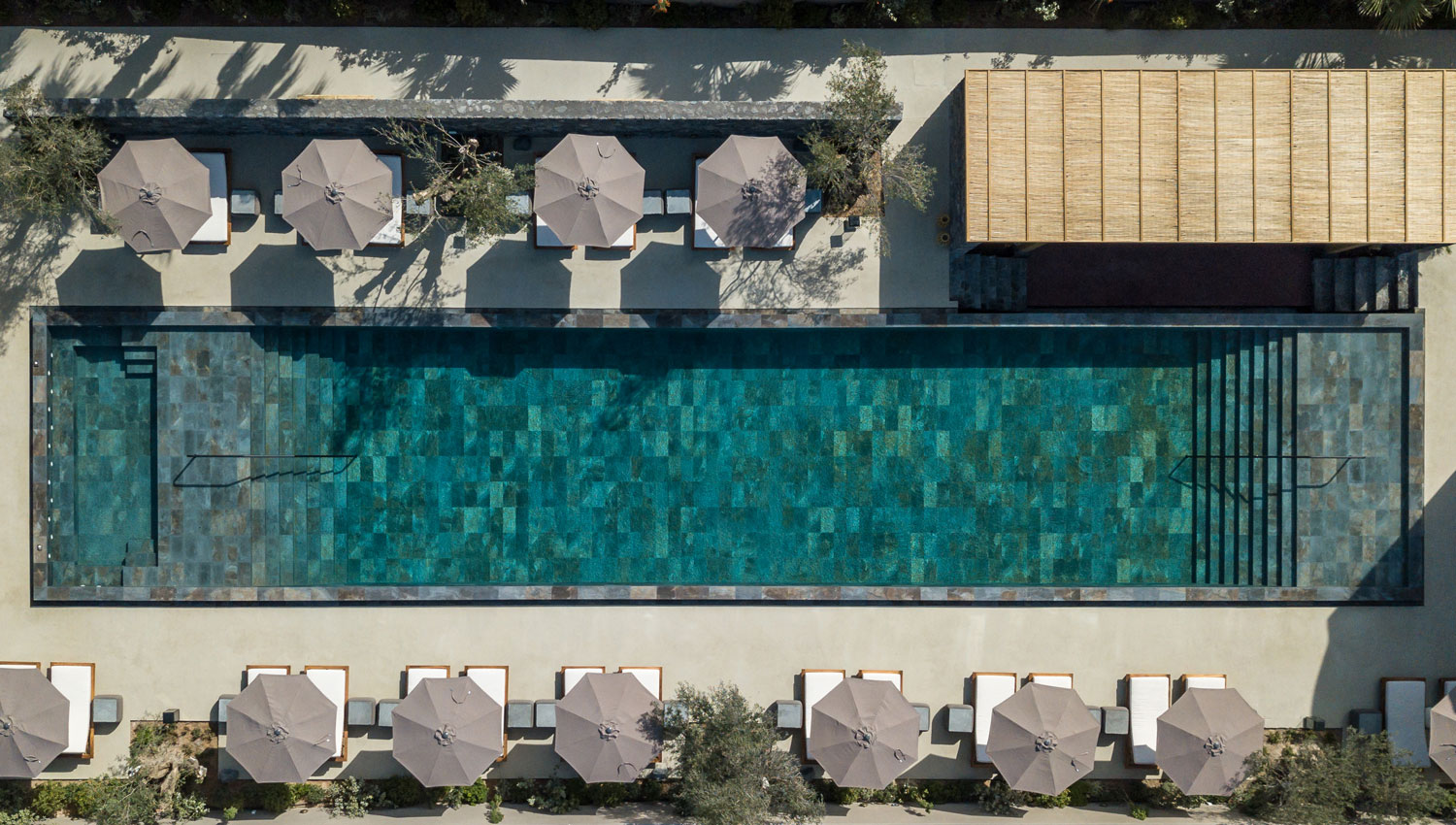 An outdoor dining area with bespoke furniture and sun protection – perfect place for lunch!
You can also get a sea view with all those beautiful banana plants. So exotic and crisp.
Interior design is all about the balance of shapes, colors, textures. Love how designers selected white walls and black stone – usual local colors, inspired by Santorini beaches and white houses.
Amazing outdoor space surrounded by a black stone wall.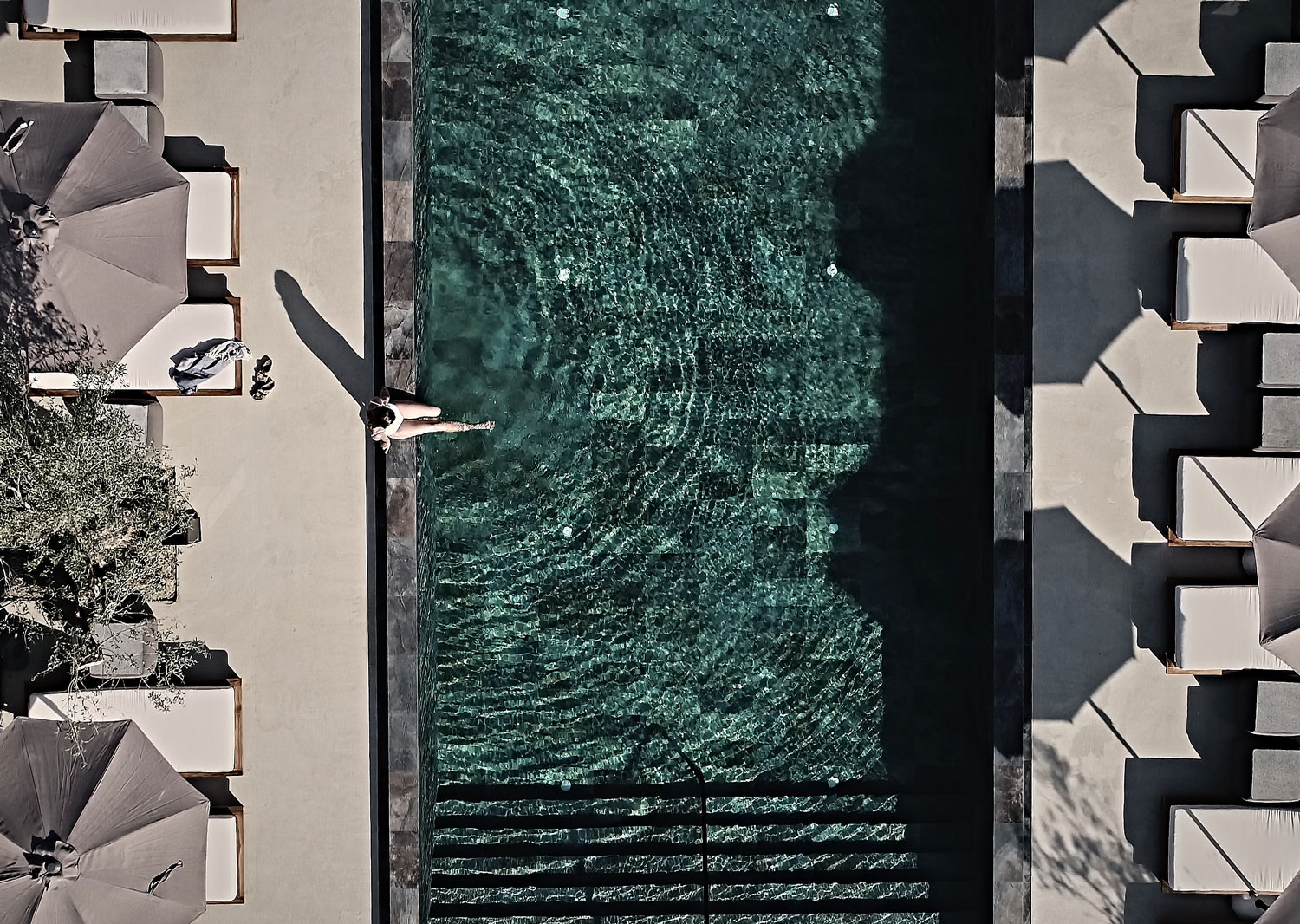 One of the suites. Neutral walls fit so well in Greece and other Southern countries because of the contrast outside – it balances so perfectly with the bold blue sky and the sea.
Visitor's journey through the boutique hotel continues by discovering secluded verandas with either Jacuzzi or private pools.
One of the inspirations – black Ssantorini beaches.
Built-in furniture made of concrete – quite the usual type of furniture in the southern countries. It looks so minimal and clean.
Who wouldn't love to have his own private pool in the suite?
Did you like this project? Let's discuss it on Authentic Interior Instagram!
Project information:
PROJECT ISTORIA A MEMBER OF DESIGN HOTELS™
LOCATION PERIVOLOS, SANTORINI
CLIENTKANAVA S.A.
PROJECT STATUSCOMPLETED JUNE 2018
TYPE OF PROJECT HOSPITALITY
CREATIVE CONCEPT INTERIOR DESIGN LABORATORIUM
ARCHITECTURE AND INTERIOR DESIGN INTERIOR DESIGN LABORATORIUM
LEAD DESIGNER STAMOS HONDRODIMOS
ASSOCIATE DESIGNER DIONYSISKOUTSIOUMARIS
DESIGN TEAM ANTONIS NIKITARAS, CHRYSI MAKRI, NEFELI GKYZI
LIGHTING DESIGNER KAFKAS, INTERIOR DESIGNLABORATORIUM
PHOTOGRAPHY GIORGOS SFAKIANAKIS,BREBA2