Nick Drewe, Trend Expert at online discounts platform Wethrift, has weighed in on what is driving the Bloomcore interior trend and how to incorporate these themes into your interior space.  For years, we have seen minimalism and neutral colours dominating the interior space, but now we are seeing a shift – with interior lovers creating homes that are a statement of their personality, and 'Bloomcore' encapsulates the essence of this perfectly. 
Bloomcore is all about reconnecting with nature and incorporating these outdoor themes into your own home style. The trend is being driven largely by popular online platforms such as TikTok, with the #bloomcore hashtag receiving over 2.5 million views and counting.
The trend is also dominating Pinterest, with searches for "floral aesthetic" increasing by 108% over the last 6 months. Floral themes always resurface as we approach the spring and summer months, but this year, the trend appears to be more popular than ever before, as it takes social media by storm.
The trend can be summarised by reconnecting us with nature, floral prints bringing the outdoors in, whilst still enhancing the feeling of comfort and relaxation. Bloomcore is perfect for bringing a touch of personality into the home.
When looking to introduce elements of the Bloomcore trend into your space, it can be tricky to know where to begin. Many bold, floral prints can certainly make your living space a little too loud and garish for some people, especially if you're more for minimalism than you are for maximalism. The beauty of Bloomcore is that it can bring a flare of vibrancy to your home without going completely over the top. 
This is why it's important to start off small and build up at your own pace. For example, try adding floral prints or artwork that encapsulates themes of nature to the walls. Try shopping for soft furnishings such as cushions or throws that feature floral prints – this provides a more subtle way to add the core nature themes to your living space.
If you are a plant lover, and wish to take the theme more literally, adding plants around the room will create your own naturescape living place. If keeping plants alive is not your forte, shop around for fake plant alternatives, or dry flowers. Dried flowers are a great addition from a longevity perspective. 
If going for a full-blown, floral feature wall may be too much for you, try a more subtle approach by adding some bold, floral curtains instead. This is a great way to incorporate Bloomcore themes without it making the room feel too overwhelming".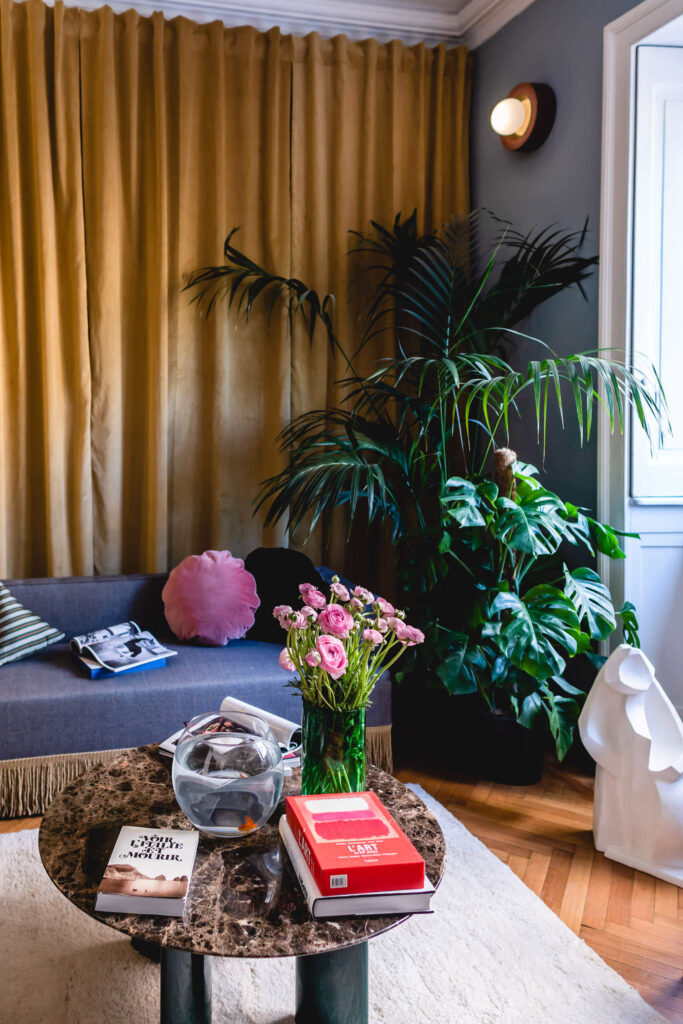 Embrace the Bloomcore interior trend and create a harmonious connection between nature and your interior space with these practical tips:
Start small and build up: Begin by incorporating subtle elements of Bloomcore into your home. Consider adding floral prints or nature-inspired artwork to your walls. This gentle introduction sets the foundation for a cohesive aesthetic.
Soft furnishings with floral patterns: Look for cushions, throws, or curtains that feature floral prints. These items add a touch of nature to your living space without overpowering the overall design.


Introduce plants and greenery: Bring the outdoors in by adding plants throughout your room. If you lack a green thumb, opt for lifelike artificial plants or dried flowers for a low-maintenance alternative. These botanical accents infuse your space with natural beauty and a calming atmosphere.


Create a floral feature wall: If you're ready to make a bolder statement, consider a feature wall adorned with floral wallpaper or a mural. This focal point adds vibrancy and captures the essence of Bloomcore, becoming a captivating centerpiece.


Mix and match textures: Incorporate various textures that evoke the feeling of nature. Consider natural materials like rattan, jute, or wood for furniture and decor pieces. These textures complement the floral elements and enhance the overall Bloomcore ambiance.


Seek inspiration from nature: Take cues from the colors and patterns found in the natural world. Consider earthy tones, soft pastels, or vibrant blooms as the color palette for your Bloomcore space. Look to natural landscapes, botanical gardens, or even your own backyard for inspiration.


Embrace natural light: Maximize natural light in your space by using sheer or light-colored curtains. This not only brightens the room but also creates a seamless transition between indoors and outdoors, emphasizing the connection to nature.


Add vintage or antique elements: Incorporate vintage or antique pieces to add character and depth to your Bloomcore aesthetic. Look for weathered furniture, vintage botanical prints, or antique vases to infuse your space with a sense of history and timeless beauty.


Follow AUTHENTIC INTERIOR on Instagram for more inspiration, backstage and news.

Are you a design decor brand, interior designer, a hospitality space, artist looking for unique content created for your brand? We are professionals in this field and can help you grow – please use contact form and we'll send you media kit.