Let's discover Cole&Son's newest wallpaper collection, which will turn your space into Moroccan Inspired Home. Cole&Son has been creating magnificent and original wallcoverings and textiles in Great Britain since 1875. They collaborated with Martyn Lawrence Bullard (Martyn Bullard has been consistently named as one of the world's top 100 interior designers by Architectural Digest, featured permanently in Elle Décor's A-List, and named one of the top 25 designers by The Hollywood Reporter). The collection has been inspired by Eastern culture, Majorelle Gardens, Palm Springs (which is still on my Bucket list), Moroccan tiles. Let's have a look!
Moroccan Inspired Home: Bazaar
Heavily embossed tiles, reminding of Eastern cafes and Medinas. This wallpaper can become a feature wall in the hallway, kitchen, or even bedroom, for those who dare.
Decorating tip: adding some wood furniture.
Moroccan Inspired Home: Bahia & Jalli Trellis
Ornamented, patterned wallpaper that reminds of sacred Eastern temples. A perfect way to add some depth to any room. Astonishing, as always, hand-rendered designs make it so real.
Decorating tip: put this wallpaper in a narrow hallway. These beautiful fake doors will add some magic to space!
Moroccan Inspired Home: Fez & Medina
I visited Morocco and Fez some years ago and I fell in love with these beautiful lanterns. This beautiful wallpaper features these luxurious metallic lanterns which remind of the beauty of Fez. I'd put this wallpaper in any entryway or small bathroom.
Moroccan Inspired Home: Zerzura
"Oasis of little birds" – that's the meaning of Zerzura. Little cockatoos will add much-needed charm to historic French or English apartments.
Decorating tip for minimalists: you can use a little dose of this wallpaper. You can even make a frame 100cm x 150cm or smaller instead of an art print and put it on the console table or hang on the wall.

Decorating tip for maximalists: you can wallpaper whole wall or even a room with this beauty, adding Midcentury modern furniture, some plants, vases, books.
Moroccan Inspired Home: Patina Haze
Oxidised metal wallpaper is really great if you don't want to have major renovations in your home. Soft metallics on this wallpaper are classic but suits and for more industrial and modern interiors.
Moroccan Inspired Home: Hollywood Palm
One of my favourites! Even if it's an Eastern collection, for me it reflects Californian style, Midcentury modern vibes, and Palm Springs. It matches well with Millenial pink, brass, copper, velvets.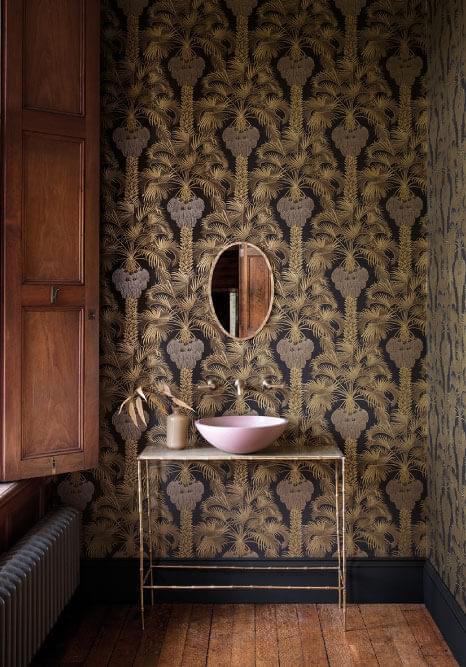 Moroccan Inspired Home: Royal Fernery
Inspired by Yves Saint Laurent Majorelle Gardens in Marrakesh, this wallpaper shows amazing detailed plant leaves. This wallpaper design can be used in very chic, luxurious interiors as well as in boho, jungalow style rooms.
Moroccan Inspired Home: Sultan's Palace & Zellige
This design reminds of warm Moroccan cafes, where you can relax while sipping your coffee or mint tea. Perfectly hand-painted ceramic tiles matched with English garden trees.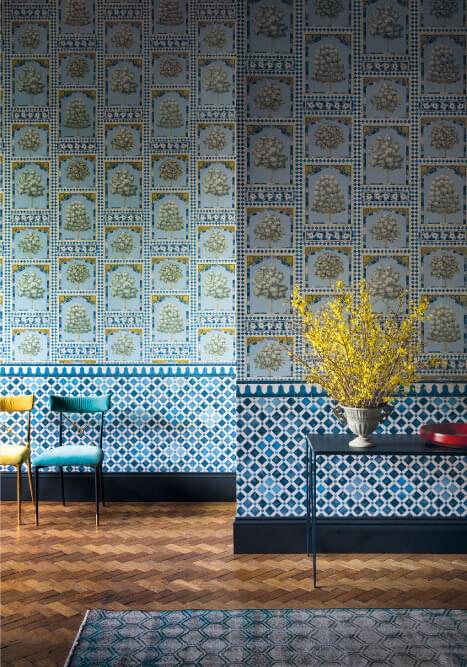 Moroccan Inspired Home: Babylon
A contemporary interpretation of Hanging Gardens is a quite classic, bold and suitable either for maximal use, either for an accent wall.
I love how they mix their heritage patterns with modernism. "Combining unparalleled style with the finest quality, our in-house design studio is dedicated to creating unique and innovative designs which help create beautiful, distinctive and inviting interior environments through colour and pattern".