MNMA Studio's latest creation Dois Tropicos, located in Brazil, doesn't have boundaries and it is not easy to define its primary function. It can be described as a commercial space, as a yoga studio, a wellness space or anything else.
"… the front door continues to appeal to our sense arrival. Call it the ceremony of coming home." – Akiko Busch
[block rendering halted]
Pin images to read later!
Designers describe the concept as "a hybrid space, there is no determination or boundaries. A place that integrates gastronomy, the practice of yoga and botany, where people can feel in every way the importance of spending time to take care of themselves, slowly and with pleasure". Visitors can forget the outer world and slowly practice yoga, eat a delicious lunch, take a break while having a massage or buy a rare plant at this mixed commercial wellness space.
Designers believe in "processes that do not speak of form but rather of sensations, from the ephemeral to the permanent."
Designers used one of the most authentic materials – terracotta as the main material on almost all the surfaces. Bricks were cooked in various dusty orange shades and put onto the floor and the curvy counter. Same raw terracotta but with different texture was projected onto walls and ceilings, which made space more expanded.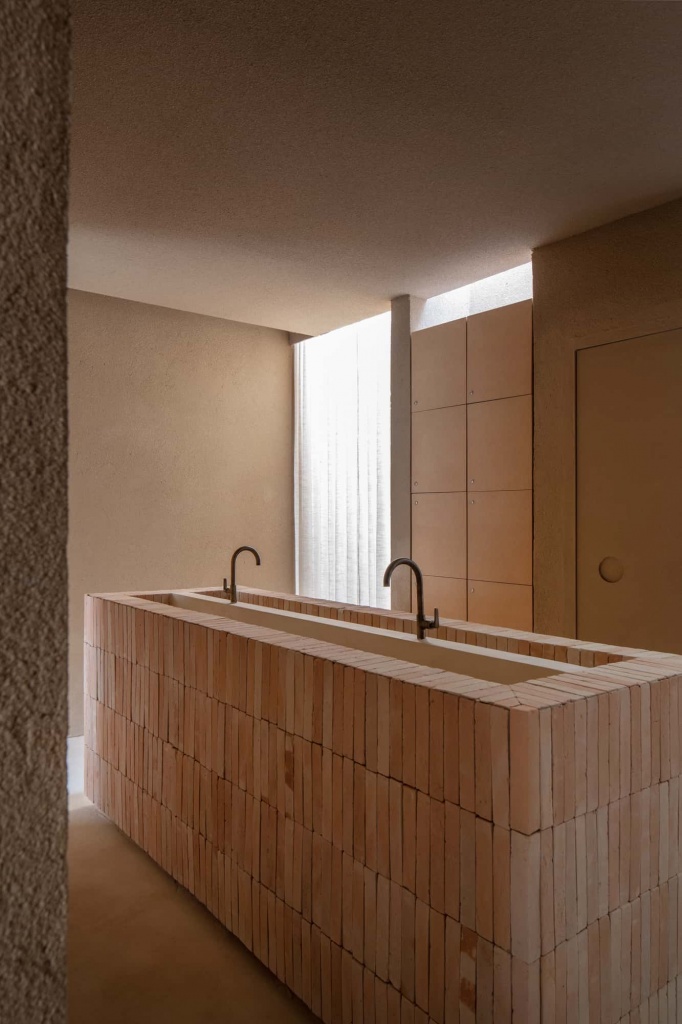 It may appear that the space is simple because of the few raw and authentic materials used. On the contrary, subtle variation in colours creates an interesting and dynamic space where eyes jump from one surface to another. This atmosphere makes visitors forget their usual routine and enjoy the moment in a slow way. The smell of terracotta surfaces becomes even more intense when it rains, so the visitors can enjoy being closer to nature while being inside.
The back patio floor is not made of bricks, which normally can be found throughout all the interior space. Instead, granite gravel has been chosen for drainage purposes. It is not only practical but really beautiful.
[block rendering halted]
More inspiration:
Raw Luxury Meets Authenticity In This Hotel Interior In Provence
Interior Design Trends For 2020 and 2021 From Milan Design Week 2019
Curves And Round Shapes – New Interior Trend For 2019 And 2020
A Guesthouse In Spain Turned To A Peaceful Design Abode
Oia Epitome Hotel In Santorini Offers Infinite Views To Cycladic Landscape
Project gallery:
Text: Aida Sniraite, Authentic Interior design blog

Photo Credits: Andre Klotz
Interior design & Architecture: NMA Studio
Place: Dois Tropicos, Brazil