[block rendering halted]
If you are thinking to start an interior design blog, but feel unsure or overwhelmed, this article is for you. Would you be an interior design student or a design professional, you may want to share your ideas with your clients or start documenting your design journey.
I started Authentic Interior in 2017 as a place to inspire my design clients. This design blog has received many nominations and design awards as Amara Blog Awards, UK Blog Awards and many others. I've been constantly asked how I got into the blogging, how to make money blogging and what steps to take. Blogging should either get you more interior design clients or earn money (affiliates, ads and other monetisation tools). You can write about your design projects, projects backstage, educating your clients about your process and much more. So are you excited to learn more?
Take your time to answer these questions:
What is the goal of your interior design blog?
Are you an interior designer who wants to use a blog as a marketing tool to get more clients, earn credibility and showcase knowledge?
Or are you a passionate writer, a design specialist or design enthusiast who wants to earn a decent living from writing and sharing ideas?
As there are different scenarios out there, you may want to think about it and write your priorities and goals first.
Even if this blog is more about interior design and decor, you definitely can adapt all these points to any niche!
[block rendering halted]
Think about your WHY when creating an interior design blog
Take a minute and think why you want to start interior design blog, otherwise you may give up too early. If you would like to use it as a tool to communicate with your interior design clients, it is ok to share articles occasionally, eg. once a month. But if you decide to blog professionally and go full-time, you may want to think about your priorities and dedicate enough time to write more often.
Find a topic and niche for your blog
Think who you would like to write to. And don't say to everyone! As it may seem terrifying, it is always better to niche down first, and then spread out and cover different topics. For example if you are thinking about creating a DIY blog, you could blog about low cost upgrades, bargains, picking out a perfect colour for your living room etc, and then spreading out to recipes, lifestyle, etc.
And now some tech things! YOU CAN DO IT!
Pick a domain name and buy it
Choosing your future blog's name is one of the most important steps, as it will be your virtual space and will reflect what it is about. Take your time to brainstorm and analyse the competition. You can choose to name it after yourself or your name + your niche (Eg. John Doe Interiors). Be sure to test out your blog name on different social media platforms.
If your chosen name is already taken, go to whois.com to see if you can find out who owns the site. You can ask them to sell it to you, although it may be quite expensive.
You can choose a different ending instead of Interiors or Interior, eg. Designs, Studio, House, etc.
Your domain name should be:
Easy to read and remember
Catchy
Simple

What's more, you should:
Not use unusual spellings of common words (Cafe vs Kafe)
Check if the chosen name is available on all platforms and .com domain
Check out the competition and what are the popular business names
You can buy your domain name at Bluehost together with your hosting plan (server which will host your website)
As you see, the best BASIC PLAN price would be for 36 months (less than a coffee). It is more than enough to start your blog running and then depending on your needs, you can upgrade.
Then, secure and buy your domain name:
Then, unmatch all the extras (if you can afford, you can take Domain Privacy+Protection)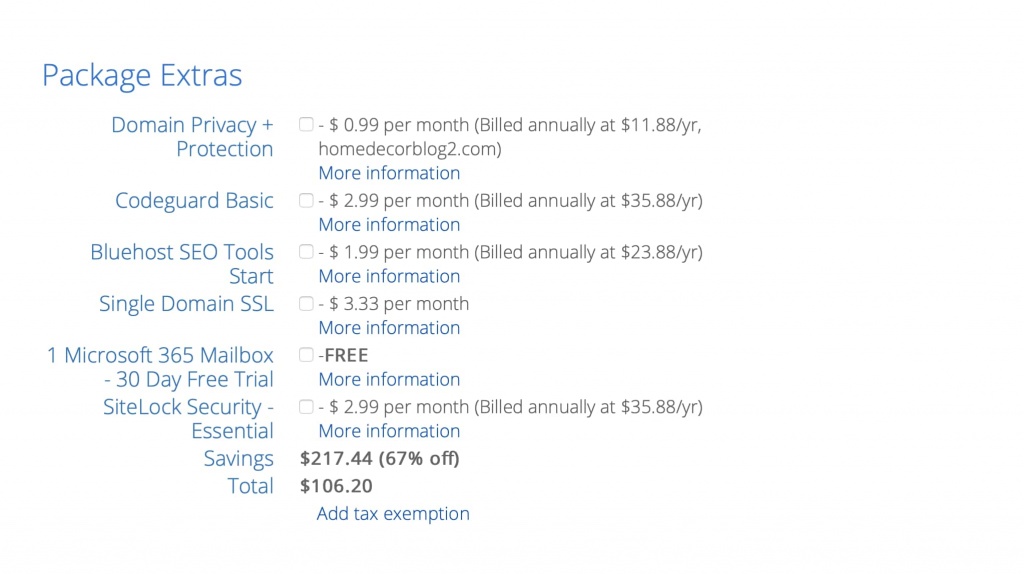 Lastly, pay and start your journey!
Why choose Bluehost for your first design blog:
Recommended by WordPress as number 1 hosting company
Offers a free domain first year
Reliable, fast and secureAll plans include Domain Manager, Resource Protection, Scalability, SSL Certificates, $150 Google Ads credit (US only), Google My Business
Bluehost has a special $2.95 offer to start your blog immediately!
Choose a self-hosted platform and install it (eg. WordPress)
There are several blogging platforms out there but I am using WordPress.org and highly recommend for its possibilities. I chose a self-hosted platform because of the freedom and possibilities to monetise it. Also, you are safe and sure that it won't disappear the next day.
If you would like to earn money from a blog, you'll need a self-hosted site like wordpress.org (not to confuse with wordpress.com which is a proprietary blog hosting solution)
Why choose wordpress?
Word press has more than 55,000 plugins to customise your blog, which most of them are free
SEO friendly – you have more chances to get featured on the first pages of Google
Easy to install and start to use
Lot's of support groups to ask questions
[block rendering halted]
Get a professionally looking theme
You may be tempted to use a free theme, but believe me, it may be slow or even have malware. Of course, it may be good when starting out, but make sure to update it in the future. However, it may be hard, and you may need to ask professionals to do it in order not to lose any valuable information on your website.
You can source themes at Theme Forest which is the largest marketplace for themes. I have bought all the themes for all of my other businesses and websites there.
Add necessary plugins
WordPress is a platform that functions based on plugins. They make blog adapted to your needs. Remember not to install too many plugins, they slow may slow down your site! Some of the most useful plugins:
Rank Math – an amazing SEO tool that is way more complete than the famous Yoast SEO and free
Google Analytics – you'll need this plugin to analyse and track your traffic and most visited blog posts.
Akismet – this plugin is like a guardian of your blog and prevents from spam.
W3 total cache – it speeds up your site
Contact Form by Supsystic
Write and discover your own unique voice
It may be scary to push "Publish" button at the beginning and you may find yourself adjusting and perfecting your first blog post a lot. This is called procrastination. Believe me, no one will be looking for errors. Just hit that Publish button, and start writing brainstorming your next posts. With time your writing skills will improve. I would suggest not looking at stats for the first months because it may upset you. Just write, write.
Promote your blog posts
As you may already know, a freshly written blog post will not get discovered by itself. So it is time to share your post on your freshly created social media account. You may want to concentrate on a single social media account as it may be overwhelming to be active in more than one. Participate in forums, answer questions in groups, Quora and try adding value without being spammy.
To sum up, we talked about:
What is the goal of your design blog?
Think about your WHY
Find a topic and niche
Pick a domain name and buy it
Choose a self-hosted platform and install it (eg. WordPress)
Get a professionally looking theme
Add necessary plugins
Write and discover your own unique voice
Promote, promote, promote
If you follow the link to BlueHost and Theme Forest, I may earn a little commission from them to buy me a coffee (which fuels my mind!). You will not have to pay anything for me!
I am curious about your blogging yourney! Feel free to share your insights on Instagram stories while tagging @authenticinterior_ !
[block rendering halted]
Follow AUTHENTIC INTERIOR on Instagram for more inspiration, backstage and news.

Are you a design decor brand, interior designer, a hospitality space, artist looking for unique content created for your brand? We are professionals in this field and can help you grow – please use contact form and we'll send you media kit.